About this item
【Film-level 4K Ultra HD Resolution】Wireless dash cam offers top quality 4K(3840*2160P@30FPS) videos with superior sensor, help you read most details from street signs, license plate etc. 170° wide angle lens capture all pedestrians and vehicles around the car, providing sufficient evidence for rear-end collisions or collisions etc.
【170° ultra wide-angle lens and WDR technology】: Capture the road ahead with a 170° ultra-wide-angle lens. Superior WDR technology allows the camera to perform at its best in any lighting condition by adjusting exposure to create a balanced image and shot. Provides sharper images than most dash cams, even at night. The WDR function can automatically balance the lighting in areas that are too bright and too dark, and can capture clear license plates under strong vehicle lights at night.
【Excellent Clarity Both Day and Night 】 Dashboard camera recorder equipped with superior WDR technology, which improves low light sensitivity allowing clear imaging in low light environments. Thanks to the excellent F1.55 large aperture and 7-glass lens, it can better adapt to various light environments . Get crystal-clear picture quality, whether day and night or through tunnels.
【Hands-free Interactive Voice Control】 The car dash camera can be controlled through simple voice commands. No need to press the buttons if you want to stop recording when answer the phone, just say the command. What's more, the 4K dashcam supports turn on/off the switch sound, key sound,audio recording, offering you a safer, more comfortable driving experience.
【WIFI Connection】: Use the app interface to view, save and share the dash camera recordings wirelessly on your mobile device.
【Loop Recording and G Sensor】: Video can be recorded in 1,2 or 3 minute intervals. When the memory card reaches its storage limit, the new recording will automatically overwrite the oldest recording. When the built-in gravity sensor detects a collision, the current video is locked to ensure that important footage is protected. Locked videos will not be overwritten.
【GPS Tracking】 The DC12 dash cam supports the GPS function (optionally on or off), recording real-time speed, time and GPS route in a video file, allowing compatible viewers to display the data during playback. Date and time stamps embedded in the recorded footage provide further additional evidence.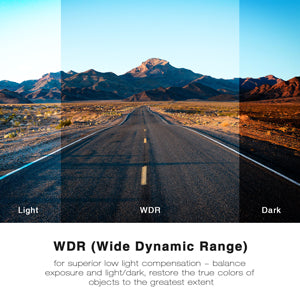 Real WDR
Thanks to the excellent chip and program, the DC12 driving recorder has a powerful WDR function, which can automatically balance the lighting of light and dark areas, and can shoot clear license plates even under strong lights at night.
Extreme Temperature Resistance
The dash camera uses the latest high temperature lithium battery built to withstand extreme weather. This heat-resistant car dash cam can operate smoothly in temperatures as high as 149°F and as low as -4°F.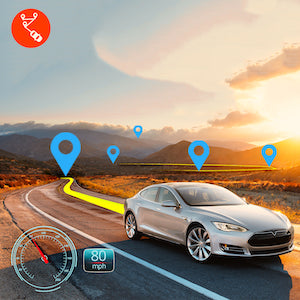 Optional GPS Function
You can choose to turn the GPS function on or off. Replay your driving journey with GPS recorder software powered by Google Maps, which accurately records your driving route, time and speed. Great for when you need to prove where you've been and where you've been.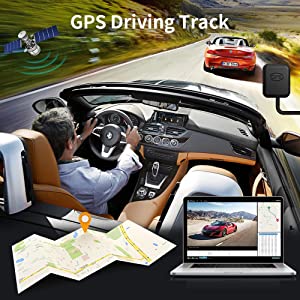 Wifi
The WIFI Connect mobile app provides instant viewing and management of dash cam recordings on your IOS and Android devices. It can view videos in real time, play recorded videos and download/share video files.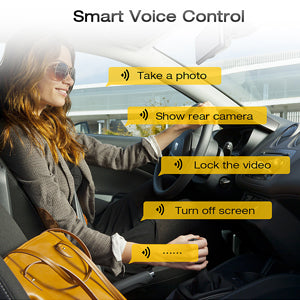 Voice Control Commands
The in-car camera with voice commands allows basic settings to be operated while driving without touching the screen. You speak, it listens to your commands and provides you with a safer and more comfortable driving experience.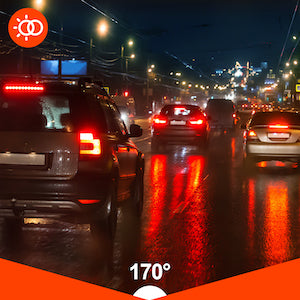 170° Wide-Angle Lens
Capture the entire road ahead of you with an ultra-wide lens that automatically adapts by fine-tuning the camera's exposure to create balanced images and videos. Cover multiple lanes ahead to capture more road information.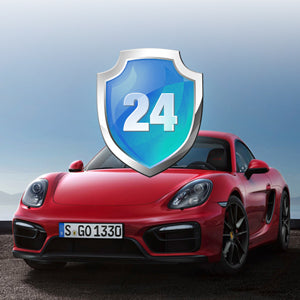 24/7 Parking Mode
With Parking Monitor mode, when the camera detects any motion or movement, it will immediately turn on and start recording. (Note: If you want to implement parking monitoring, please ask the Campark support team for a hardwired kit.)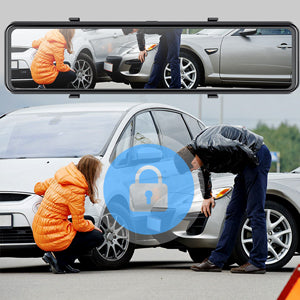 Loop Recording And Gravity Sensor
When the memory card is full, loop recording will automatically overwrite the oldest unlocked video and make room for new files.
Tips:
Please format SD card on your camera directly. Before you start using a new memory card, you must format the card within the camera using the format function.
This driving camera records video at high resolution Be sure to

 

use U3 high speed Micro SD card

,memory card with writing speed over Class 10 or above is recommended 32GBto128GB cards are recommended.
The car USB port may not support enough power for the dash cam, please use the car charger that comes with the dash cam, or Rexing Smart hardwire kit (Sold separately)
We are constantly improving our products through firmware updates.
Absolutely Trustworthy: Certified by FCC, CE, RoHS
Package
1 * DC12 Dash Camera
1 * In-car power cable (12ft)
2 * 3M adhesive mount
1 * USB computer cable
1 * User manual