About this item
【WiFi Connection and APP Control】: This trail camera is designed with built-in innovative WiFi and APP control features. You can adjust settings, preview and send pictures/videos to your phone via APP. Please search "Wildlife camera 4K" in google play or APP store, it supports both Android and IOS system. (The app is free). No need to uninstall wildlife camera from the tree. Friendly for cameras set up in high or hard-to-reach places.
【32MP images and 4K video】: This WiFi Trail camera is equipped with a premium optical lens that provides 32MP crystal clear images and 4K HD video day or night. The Wildlife Trail Camera will provide vivid moments of wildlife and more details of spectacular nature. Video file format is: AVI
【Excellent Night Vision】: The Wildlife Camera is equipped with 36 850nm low glow infrared LEDs that provide the light needed for filming. But this light is virtually invisible to animals. So it will not affect the animal's activity. The detection capture range is up to 30m(100ft) daytime / 20m(65ft) nighttime. With this, you won't miss any exciting moments even in the dark.
【0.3 second trigger speed】: Activated motion wildlife camera equipped with central and lateral dual PIR motion monitoring system. The detection angle is 120°. Amazing 0.3 seconds trigger speed will quickly and accurately capture and record any detected motion. You won't miss any exciting moments in the field.
【IP66 Waterproof & extra long standby 6 months】The entire deer camera is waterproof with IP66 specification to maintain reliability in any weather. With the extra-long standby time, this rugged camera can work long enough to record the whole season. To ensure you have enough storage space to capture all your adventures, we recommend using a maximum of 128G SD card/SDHC memory card. (SD card is not included)
【External solar panel available】 TC04 supports external solar panel. There are two power sources available. You can choose to use batteries or external solar panels to power the camera. Also it has a dc port to plug in auxiliary power source.
Easy connection to your smartphone
Pair with the camera's Bluetooth in the "Wildlife camera 4K" app, then go to your phone's WiFi list to connect to the camera's WiFi hotspot. You can view/download wildlife images or videos through the user-friendly app, and also adjust various functions of the camera. It is more convenient than pulling a micro SD card or viewing images on a small digital screen inside the trail camera. Your smartphone screen will display more clearly than any trail camera.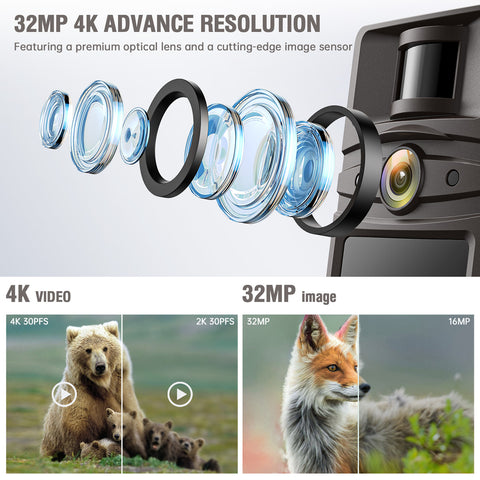 32MP images and 4K video
It is capable of capturing 32MP images and 4K high quality footage with outdoor spatial audio. Enjoy the beautiful sounds of nature. The camera's built-in anti-blur feature allows you to take sharper photos. No grainy, blurry or pixelated images when zoomed in.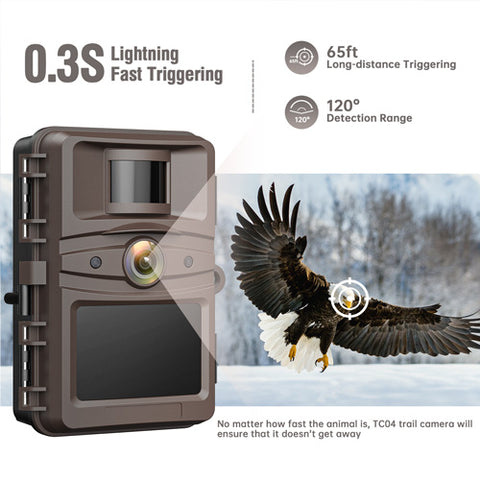 Ultra-fast trigger speed of 0.3 seconds
The game camera has an ultra-fast PIR smart sensor that gives you better accuracy. This makes shooting faster and more efficient. It can capture up to 10 consecutive images. You can also set the interval between trigger events so your memory card doesn't fill up with footage of the same show-off deer. No matter how fast your game is going, this trail camera will make sure it doesn't run away.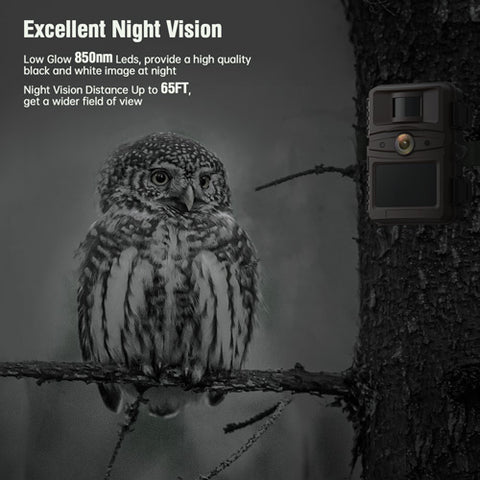 65 Feet Full IR Night Vision
This hunting camera with night vision uses invisible 40 high-output infrared LEDs to illuminate pitch-black areas up to 65 feet away. Ensures no interference with the natural behavior of nocturnal animals.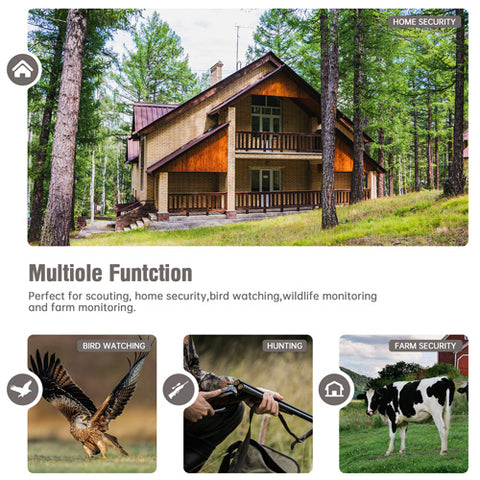 120° detection angle and 65-foot detection range
Features 3 PIR smart sensors provide a detection range of 120 degrees will capture more wildlife movement. Its motion-activated sensors can detect objects up to 65 feet away.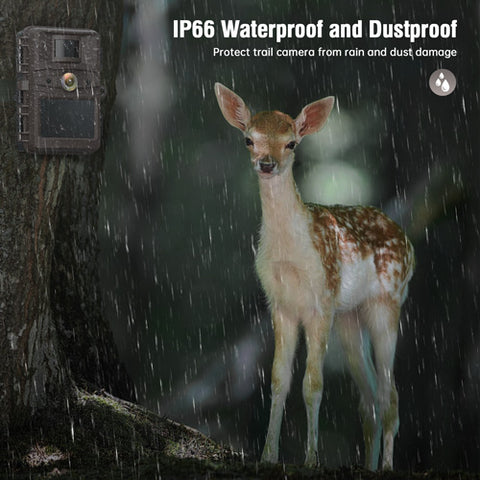 IP66 Waterproof
The TC04 trail camera has advanced waterproofing built into its design to ensure reliable performance in rain, snow and any weather. The operating temperature range is -4° F to 140° F. Perfect for extended use in any outdoor environment.
How to connect the tracking camera on APP
Step 1: Download the app (APP Store/Google Play: Wildlife camera 4K)
Step 2: Click APP ''Turn on Bluetooth''
Step 3: Select the Bluetooth device in your "Device List"
Step 4: Click on APP "Turn on WiFi"
Step 5: Click "WiFi Settings" to connect to the hotspot of the track camera
Step 6: Return to APP and click "+" to connect to the track camera
Tips
When the WIFI connection is successful. If there is no information interaction between the camera and the phone, the camera will automatically disconnect after 3 minutes and enter the dreaming mode.
To get a clear night image, please eliminate obstacles in front of the camera as much as possible.
It should not be connected to home router, WiFi hotspot. In open areas, WiFi range can reach up to 80 feet.
Real-time alerts are not supported. You can open the app to check the capture area of the camera or view the video or images in the Gallery tab.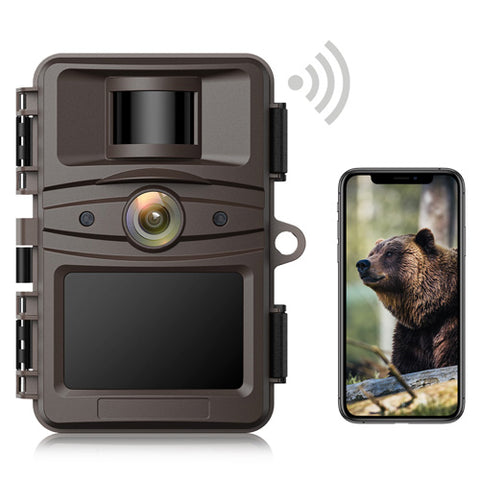 Specification
Photo resolution: 32MP/6480*4860, 20MP/5200*3900, 16MP/4608*3456, 12MP/4000*3000P, 8MP/3264*2448P, 5MP/2592*1944, 3MP/2048*1536, 1MP/1280*960
Video resolution: 4K/3840*2160, 2.7K/2688*1520, 1080P/1920*1080, 1280*720, 1280*720, 848*480, 720*480, 640*480, 320*240
Power supply: 4 or 8 AA alkaline batteries, external 6V DC power supply, at least 1.5A
Micro SD card: Support up to 128GB Micro SD card, Class 6 or higher speed card.
APP: Wildlife camera 4K
Package
1 x WiFi tracking camera
1 x USB cable
1 x User Manual
1 x 55 inch (1.4m) strap
1 x mounting bracket
3 x Screws