About this item
【Wireless CarPlay & Android auto】 - Wireless Carplay adapter support wireless connection CarPlay &Android auto.It can completely replace the cell phone while driving.You can wireless access the music, gps navigation, messaging and other functions of your phone while safe driving, Never worry about heating and battery damage caused by using your mobile phone for navigation for a long time
【Voice Control Helps You Drive Safer】 - The Bluetooth 5.0 hands-free system and built-in clear mic allows you to answer the phone while driving, without having to hold your phone all the time, and support voice control at the same time, so you will always keep your eyes on the road ahead. Ensure that you reach your destination safely. And you can listen to wonderful music on the way home from get off work
【Easy Installation】 - This touchscreen radio carplay can use suction lock fixes securely to your dashboard or fixed on the windshield with strong suction cup, then adjust the height and length according to personal visual habits, the base supports 360 degree rotation, plug and play, so you can save a lot of installation costs.
【12-24V Supports Cars and Trucks】 - Compared with the general car radio bluetooth 12V voltage setting, the working voltage of this non-embedded car radio with navigation is 12-24V. Both cars and trucks can be used. The car radio with screen is suitable for most motor vehicles, such as cars, trucks, vans, buses, pickups,ect.
【Smart Auto Connect with Apple Carplay】 - When you use the bluetooth connect your car stereo for the first time, the system will remember your phone, and next connect you just need to turn on WIFI and bluetooth, then click carplay/Android Auto, the car stereo will be connected automatically. Tips:Please turn on the bluetooth and WIFI.
【Professional Tech Support】 - The touch screen car stereo has strong tech support team. We offer a 2-years warranty and lifetime tech support. We will answer any of your questions and resolve any ongoing issues as quickly as possible.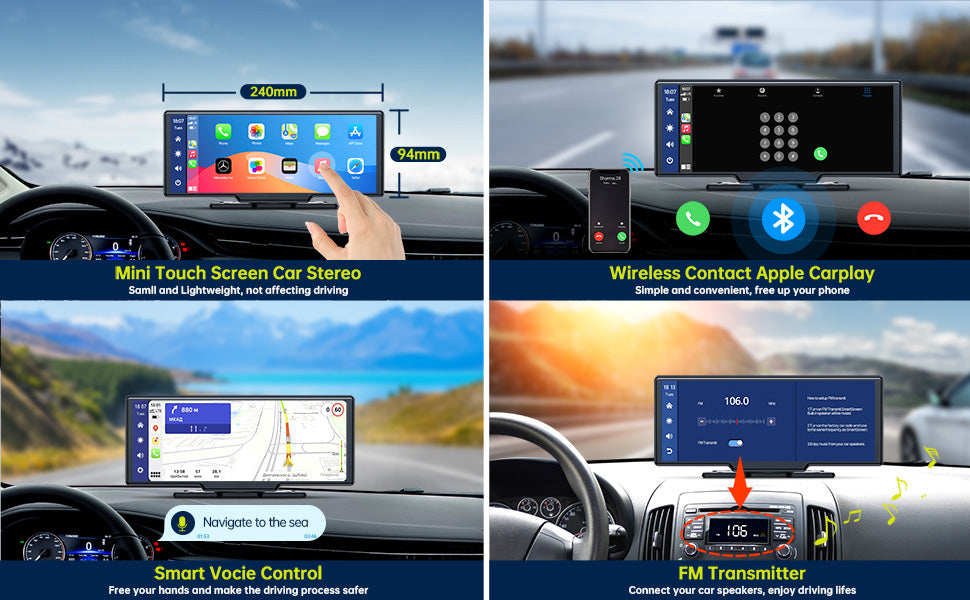 Product description
Portable Car Stereo with Bluetooth - 10" IPS Wireless Carplay Car Radio Touch Screen Compatible Multimedia Player, FM Transmitter, Voice Control, Siri Assistant, GPS.
Compared with the traditional 1DIN, 2DIN car audio, the RC04 portable car stereo empowers the home mechanics with its professional-level functionality but entry-level difficulty, you don't need to engage the services of an electronics technician to assist with the installation, help you to save money.
Compatible with Apple CarPlay and Android Auto: Sync your Apple iPhone or Android smartphone for seamless access to all functions of your phone via the integrated display. Just connect to your phone via Bluetooth to enjoy this amazing feature.
Standalone GPS/Navigation: The real-time map information is enlarged and displayed in the car stereo, connected to the car speaker, and the directional information is transmitted out loud. There is no need to purchase professional navigation, and mobile navigation can be updated to the latest version at any time, allowing you to avoid traffic jams, change lanes, change gas stations.
AM/FM Tuner for Real-Time Radio Stations: IIn-dash touchscreen car stereo with AM/FM tuner allows you to listen to real-time radio, weather forecast, news, etc.
Voice assistant for easy control: Easily control everything on the go so you can focus on driving.
Built-in Bluetooth: Car stereo with Bluetooth Support answering/making calls hands-free/without distraction.
Internal Microphone and Additional Front Microphone: The built-in high-quality microphone and the external anti-noise microphone allow you to have a clear Bluetooth call.
Subwoofer Output: Upgrade this car stereo with subwoofer output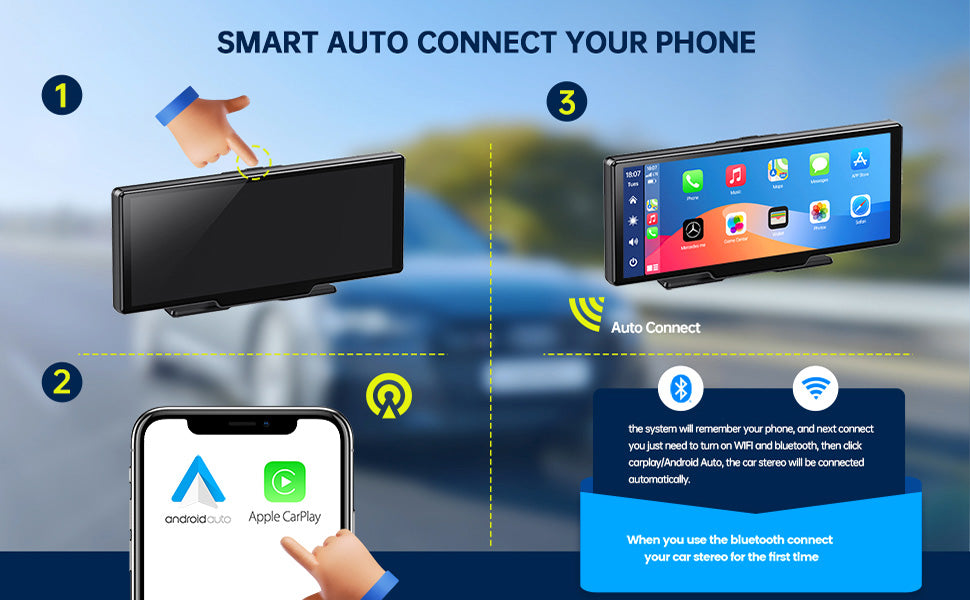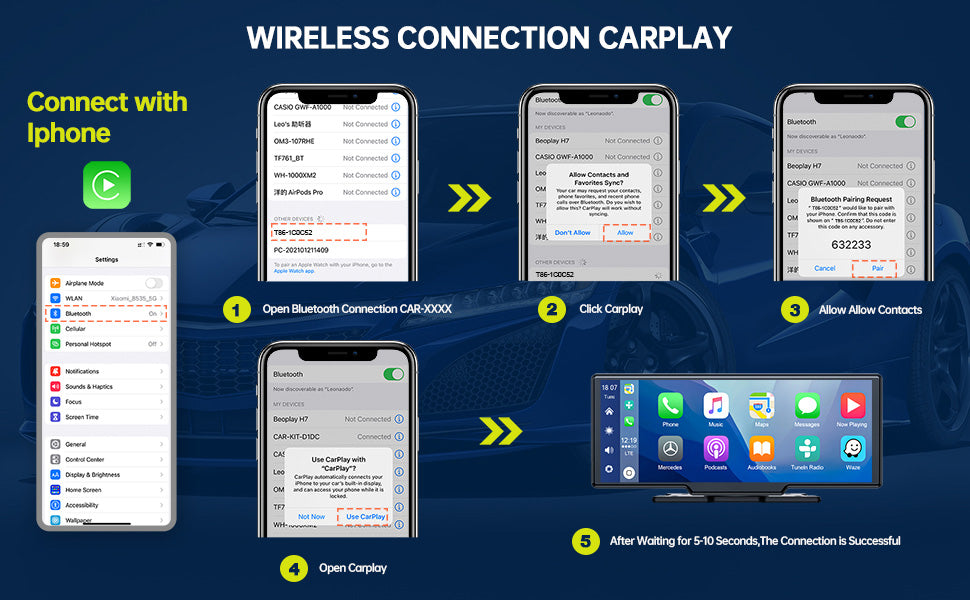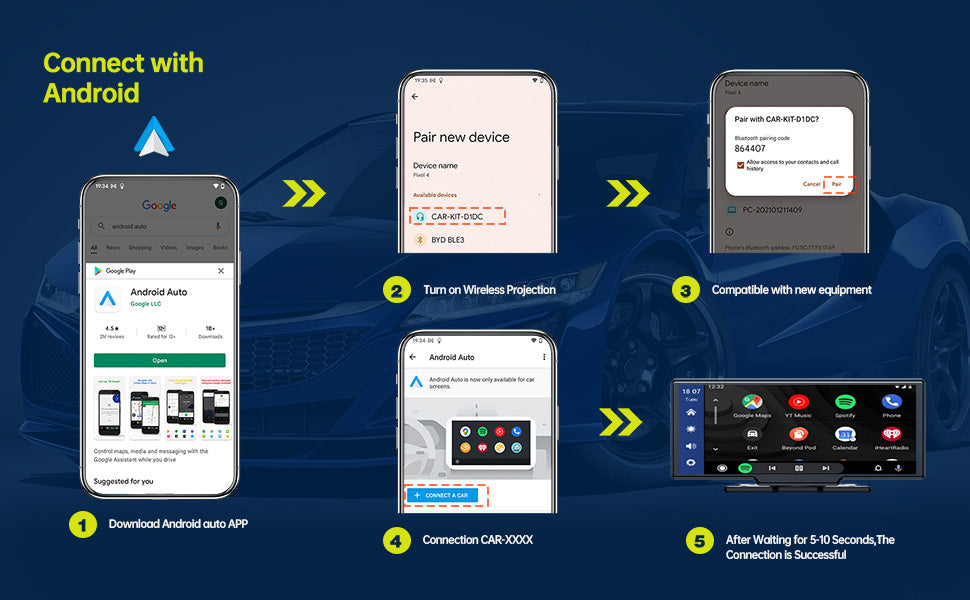 Technical Details
Tuner Technology: FM
Compatible Devices: Smartphone
batteries required: No
Connector Type: Bluetooth
Contains Liquid Contents: No
Includes Rechargable Battery: No
Parcel Dimensions: 27x13.9x10.4cm;  1.04 K
What't the Package:
1 x 10 Inch AHD Monitor
1 x Cigarette Lighter power
1 x AUX Cable
1 x Desktop Bracket
1 x Stand Sticker
1 x Manual