Campark is offering a variety of action cameras that are slightly different. The same cameras are also offered under different brands, making researching a problem more complicated. 
The Campark 4K action camera model that I got is the
Campark ACT74  action camera
with the Sony IMX179 image sensor and AllWinner V3 chipset. The description said I need to use the EZ iCam app to connect via Wifi and remote control the camera and view the live video stream. The app is though not connecting and throws an error.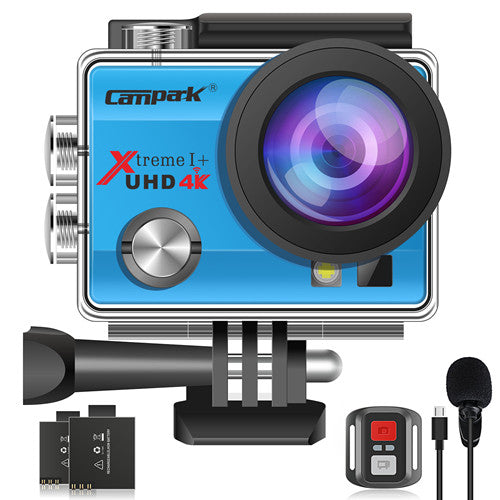 As each brand has a different camera app, i have tried about 5 or 6, until I finally found the app that works with the Campark ACT74. The app is called XDV. Just search for XDV in the iTunes app store. This app works perfectly.
I also installed the latest firmware update for the Campark ACT74, which supposedly fixes the 4K resolution to be fully 3,840x2,160. The firmware is pretty new with a release date of 07/08/2016. The current ACT74 firmware version is C20160708V03. The camera shipped with firmware version C20160523V03.
Campark published the instructions to upgrade the Campark ACT74 firmware here. It is a fairly easy process involving to download the firmware file and placing it on a microSD card. Make sure the Campark is charged with more than 50% before upgrading. After placing the SD card back in the camera, go to the firmware Version option n the settings and push the Up button. 
A dialog pops up asking if you want to upgrade. The installation takes a couple minutes and then your Campark ACT74 good action camera is up to date.
I bought this dirt cheap action camera for my kids to make Lego build videos in time lapse mode. The Campark camera supports time lapse recording as well as slow motion. I don't care necessarily about 4K. I have set the camera to 1080p/60fps recording. The camera should deliver acceptable image quality on HD. A GoPro is just too expensive for the purpose. This will be my boy's first action camera. Let's what else they will do with it besides making Lego videos.
I will eventually publish a little review of the Campark ACT74 best budget action camera. If you have questions about the Campark ACT74 top action cameras, feel free to email