Most homeowners consider security and energy efficiency to be the most important components of their homes. The problem with traditional security cameras is that they require electricity and long cables to operate, which is both cumbersome and expensive. When you use traditional battery-powered security cameras, you will have to worry about battery life and replacing batteries frequently. Once the batteries are discharged, your security system will not work.
For environmentally friendly and energy efficient surveillance, investing in the best solar security cameras is the ideal choice. These cameras are powered by solar energy. This way, you don't have to worry about running out of power for your cameras, having long wiring and incurring high electricity bills. Trust that a solar powered outdoor security camera is the best choice for you. with its amazing features and price, the Campark SC02 solar powered security camera could very well be your next solar powered security camera.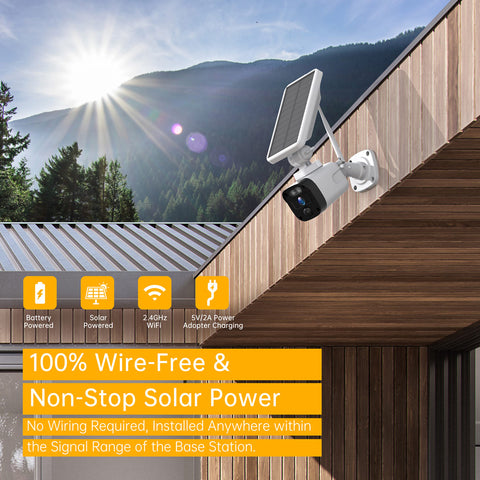 Campark SC02 Solar outdoor Security Camera
Solar Power Security Camera
This security camera is a solar powered device that can be easily installed without cables. Each solar powered security camera is equipped with a 6700mAh battery and a 2W solar panel that converts solar energy into electricity for storage and continuous power for the camera. The low power consumption technology used by the camera allows it to stay working for months on end even when the environment is harsh and with a full battery, you can not worry about its battery power situation at all; providing great convenience while saving you a lot of money and energy.
Wifi base station
This security camera is equipped with a wifi base station, you can put the base station security at home. The base station can be inserted into the 128G SD card used to store video, and the camera can be placed outdoors, and the camera no longer needs to be inserted into the SD card. This can effectively avoid theft of SD cards placed in the outdoor solar camera, to prevent video loss and more secure. And it also has a benefit to save money to buy SD cards, as well as eliminating the trouble of multiple removals and installations. It is very easy to see the detection of several different cameras by simply removing the SD card in the base station. In addition, a base station can be bound to up to 4 cameras, you only need 1 SD card, you can easily monitor 4 different camera locations, very convenient.
100% wireless
You don't need to install any cable, you just need to screw the solar wireless security camera system into the location you want. Linking of the base station and all cameras can be done both in 4G wifi. Also support iOS/Android different system link, you just need to download CloudEye in the store, you can realize the real-time view and playback of multiple camera surveillance images on your cell phone, and you can share the video with your family or friends by QR scan; truly realize 100% wireless link.
1080P & IR Night Vision 
With 6 built-in infrared LEDs and a 4mm lens, this solar-powered, secure outdoor system provides 2MP (HD 1920×1080P) clear images throughout the day within a wide 120° field of view at 32FT. With a 3D digital noise-canceling microphone and speaker, you can talk to people from anywhere with two-way audio from this camera using your phone or tablet. 
Smart PIR Human Motion Detect & Instant Alerts
The solar powered outdoor camera system uses an intelligent PIR human motion detection system to capture human figures and animals in time, when a suspicious person enters the surveillance area, it and automatically sends 12 seconds of motion activated video to your phone without worrying about being interrupted by a bunch of false alarms caused by insects, tree branches.
Flexible installation
Because this is 100% wireless installation, it's very flexible, you just need to install it to any place or thing you want to monitor, such as doorway, yard, or you want to detect that naughty puppy you just brought home, or potential package thief found in your neighborhood.
IP65 Waterproof
This solar-powered security camera is waterproof, freezeproof, dustproof and lightning-proof. It can withstand a temperature range of -20°F to 50°F. Very stable and durable.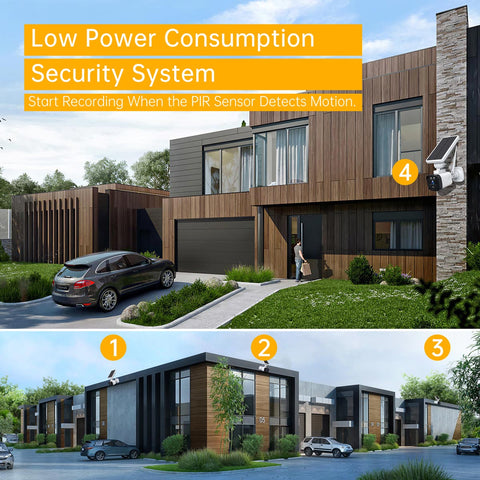 Features:
Equipped with WiFi base station for stronger and more stable WiFi connection
Uninterrupted solar power and low power consumption
Real-time video streaming
1080P infrared night vision and two-way audio
Intelligent PIR body motion detection and instant alerts
128G SD card storage and multiple compatibility
100% wireless installation
common problem
1. lf the phone receives alarm messages too freguently the camera will consume battery power greatly. It is recommended to lowerthe motion detection sensitivity, set the alarm intervaland start the alarm plan.
2.If you find that there are no moving objects in the alarm picture that the phone frequently receives, it may be that there is a sensitive heat source in the motion detection range,which causes the PIRto be triggered by mistake.It is recommended to lower the motion detection sensitivity
3.If you detect that someone is passing bythe camera but cannot receive the alarm message,itis recommended toincreasethemotion detectionsensitivity
4. If you find that the alarm picture or video is delayedor you can only see the back of peopleitis recommended to increase the motion detection sensitivity.
5.The PIR sensor will be disturbed by the ambient temperature.It is recommended to increase the motion detection sensitivity in a hot environment and decrease the motion detection sensitivityin a cold environment At the same time when the temperature is extremely low heavy clothes will hinder PIR sensor detection.
6. The ultraviolet rays of the sun willinterfere with thePIRsensorWhen the PIR of the camera is directly facingthe strongsunthere is a probability that the alarm will not be sensitive.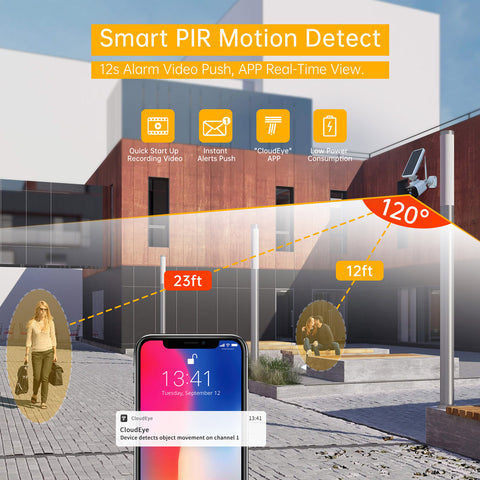 Benefits of solar camera camera
1, Effective monitoring of home perimeter security, can effectively protect your property and family safety. Installing cameras around your house can let criminals know that you take security seriously and don't give criminals any chance. 
2, keep evidence. If anything happens to you within the view of the camera, it can provide you with favorable evidence. This will make it easier to determine the facts of the incident in a criminal prosecution, civil lawsuit or insurance claim. 
3, there are very many kinds of cameras, but Campark's SC02 outdoor solar camera, you do not need to install any additional cables, and do not have to pay high electricity bills, only need an SD card, but also the freedom to choose any location you want to detect, it can detect all things around your house. Saving you a lot of money and effort, Campark's SC02 outdoor solar camera is a great choice for monitoring your home or office.