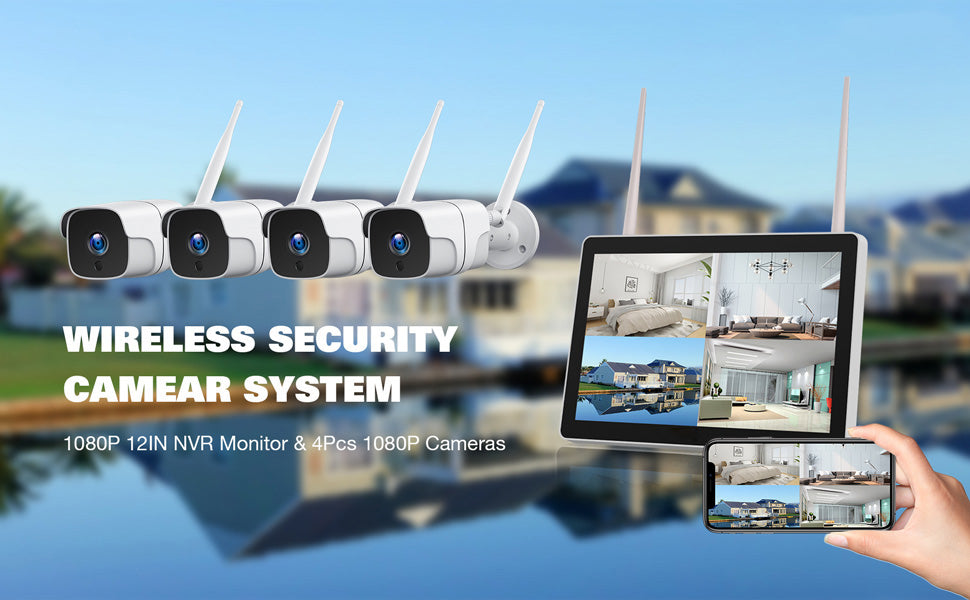 About this item
【Wireless connection and easy operation】 Since it is a wireless anti-theft camera, it is easy to install and wireless connection that does not require wiring. Just connect the IP camera and the power of the recorder together and the data cable will be automatically matched, and when monitoring locally, it can monitor and play without the Internet. For remote operation, it is necessary to connect the NVR system and home router.

【IPS monitor NVR all-in-one machine】It can record video for more than 24 hours and 90 days: 12-inch LCD liquid crystal display integrated, will not take up space. Wireless automatic pairing, no complicated settings required. The model adopts advanced high-compression technology, which saves hard disk capacity, and has a built-in 1TB hard disk, which can record for more than 24 hours and 90 days (4cam). When the video data is full, it will automatically overwrite the old data. (Please test the camera system before installation.

【8 additional cameras can be added and remote monitoring】8 main channels, 8 additional cameras can be installed. When watching the screen, 4-point screen and 8-point screen can monitor multiple devices at the same time. Remote monitoring, you can download a specific application program, real-time remote monitoring on your home computer and smart phone. 1920×1080P provides a more stable and clearer real-time viewing picture. (The camera closest to the NVR can be used as a WiFi Extender to enhance the network signal for the farthest camera)

【AI Person Recognition・Waterproof and Dustproof】Equipped with the new technology AI person recognition function, it realizes the optimization of video content, quickly locks the target person and searches for related videos. The high-performance IP66 waterproof and dustproof function can be used with confidence even in rainy and snowy weather.
【Application・Free 1TB HDD】 It can be used in various places such as monitoring of residences, villa management, convenience stores, and warehouses. Power it on and it's ready to use right away. In addition, since a 1TB hard disk is installed, it is possible to record for 24 hours x 90 days. After the video data is full, the old data will be automatically overwritten, so you can use it with confidence. Note: Please use 12V/2 A power supply for NVR power supply. If you do not understand something during use, please feel free to contact us.
【APP Remote Access, Playback anywhere】 This camera system supports video preview, recording, sync-playback, backup, motion detection, and email alarm. Connecting the NVR to the Router, download the free EseeCloud APP to your smartphone, then You can view or playback the video on smart devices (IOS8.0/Android4.4) by WiFi or 2G/3G/4G anywhere anytime.(support add up to 8 IP cameras)
【Display size】: 12.0 inches
【Video capture resolution】: 1920×1080p Full HD
【Mounting type】: Protruding
【Lens type】: Wide Angle
True Plug & Play and Auto-Pair
The IP cameras have been paired to the NVR monitor. Actual Plug and Play. Simply connect the network cable and wires to the NVR monitor and the IP camera to the power supply for 24/7 monitoring purposes. There is no cable between cameras and NVR monitor, but Cameras and NVR require a power supply all the time.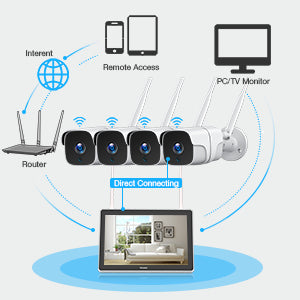 Local and Remote View
Local Viewing: No Network Needed. Just connect the surveillance camera system to the monitor via HDMI and enjoy multiple-cam views on one screen. Remote Viewing: Connect the NVR to Network. Download the EseeCloud on your smartphone (Android & IOS system), Or download the EseeCloud± PC client on PC(advise IE Browser). Create an account and connect the NVR device to view live and record videos.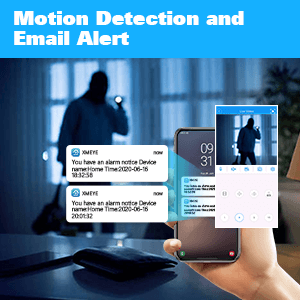 Motion Detection and Email Alert
Customize your own detection zone for each camera exactly to your needs. When motion is detected, smart notifications with email/ snapshot alerts will be pushed to your phone via iPhone/ Android App or Email. The motion detection function of the security camera system uses intelligent algorithms to minimize false alarms. Sensitive motion detection can be chosen for different needs.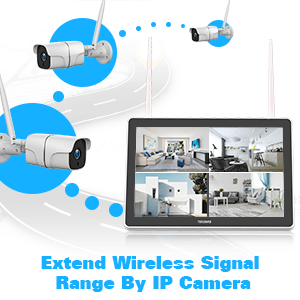 WiFi Range Extend & Repeater Set up
Campark IP Camera can work as a signal transmitter to help strengthen the poor signal camera caused by long-range installed or physical obstacles such as walls. The repeater is also supported.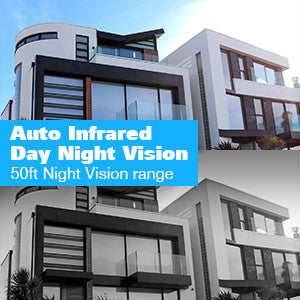 Infrared Clear Day Night Vision
Features 3.6mm LEDs with IR-CUT function, 110° viewing angle, 50ft Night Vision range. The camera's infrared mode is automatically activated in low lighting conditions. It can clearly monitor everything even at night.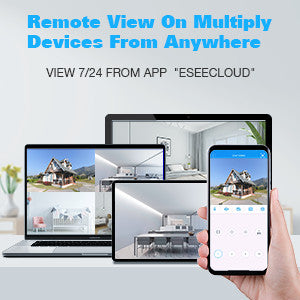 Easy Remote Access
Campark Security Camera System supports different devices on remote viewing.(It need to connect to WIFI) Download app "EseeCloud" into your Phone, Pad, or PC. You can remote access simultaneously on smart devices at any time, anywhere.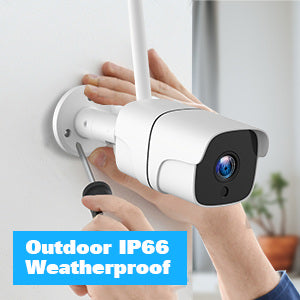 IP66 Weatherproof & Outdoor Night Vision
Campark wifi security camera is rated with IP66, the working temperature ranges from -50℉~122℉ (-20℃ to 50℃) made with dust-tight and waterproof and cover with durable housing. It is vandal-proof and can work well under harsh weather, even in the storm and snowy weather. Features 3.6mm LEDs with IR-CUT function support up to 20m/65ft Night Vision. Best choice for your outdoor home security.
Observing What You Love From Every Angle and Keep Your House Under Control
NVR Kit supports sync-playback, video backup, motion detection, email alert. Night Vision, Waterproof and 1080P image sensors allow you to view more clear and stunning pictures and videos at night even on rainy days. Smart security for your home. Save videos automatically and you can watch videos on your phone, laptop, and computer at any time. Also, you can share interesting things with your other family members and friends.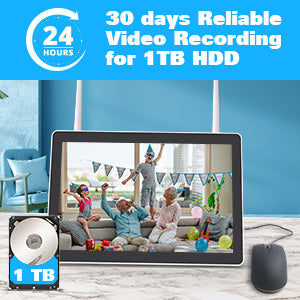 Surveillance System Provides for 24/ 7 Recording
Campark Security Camera makes your life safe and monitors what matters most. When the WIFI signal cannot be covered, you can set up a wired network to transmit video. (If you want to use a wired connection, the NVR monitor needs to be connected to the router with an Ethernet cable). A surveillance system is suitable for various occasions, such as houses, offices, shops, schools, enterprises, warehouses, or other places. 
Campark 12-inch LCD 8-Channel WIFI NVR, 4PCS Camera Surveillance Camera Kit with 1TB Hard Drive
1, See what you like from every angle and keep your home under control.
2, NVR kit supports sync play, video backup, motion detection, email alert.
3, Night vision, waterproof and 1080P image sensor let you view clearer and better pictures and videos at night even on rainy days.
4, Smart security for your home. Automatically record your videos so you can watch them on your phone, laptop, and computer whenever you want. You can also share fun things with other family and friends.
Question
1: Does every camera record?
A: Hello, yes. Please enable recording for the camera.
 2: Can we add a Campark WiFi camera to this camera system?
A: Yes, you can, all Campark wifi cameras can be added to the system except for the battery cameras.
Question 3: Does this system work with other brands of IP cameras?
A: Hi, although Campark cameras are perfectly compatible with Campark NVR, it is not recommended to add non-Campark cameras to Campark NVR as compatibility cannot be guaranteed. You can purchase Campark cameras with the ideal features for Campark NVR.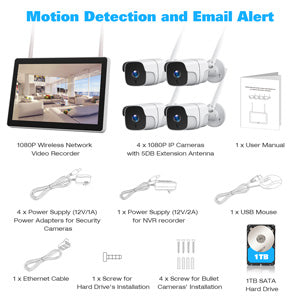 Specification
Video input: 12-inch LCD 8-way WIFI NVR (up to 8 IP cameras can be connected)
Hard disk interface: 1x built-in SATA interface, up to 8TB (we are equipped with a 1TB hard disk)
Image resolution: 2.0 megapixels
Video resolution: 1920*1080P
Lens: 3.6mm, 90 degree view
IR LED quantity: 36 IR LEDs, night vision distance up to 20 meters
Video output: 1CH HDMI and 1CH VGA
Interface: LAN/DC
Power input: DC12V-1A
Power consumption: ≤6W
Camera material: metal housing, waterproof IP66
Temperature: -10℃~+60℃ (14°F~113°F)
Package
1 x 8CH 1080P Network Video Monitor
4 x 1080P IP Cameras with 5DB Extension Antenna
4 x Power Supply (12V/1A) Power Adapters for Security Cameras
1 x Power Supply (12V/2A) for NVR recorder
1 x 1

TB Hard Drive

4 x Screws for IP Bullet Cameras
1 x Screw for Hard Drive
1 x Ethernet Cable
1 x USB Mouse
1 x User Manual