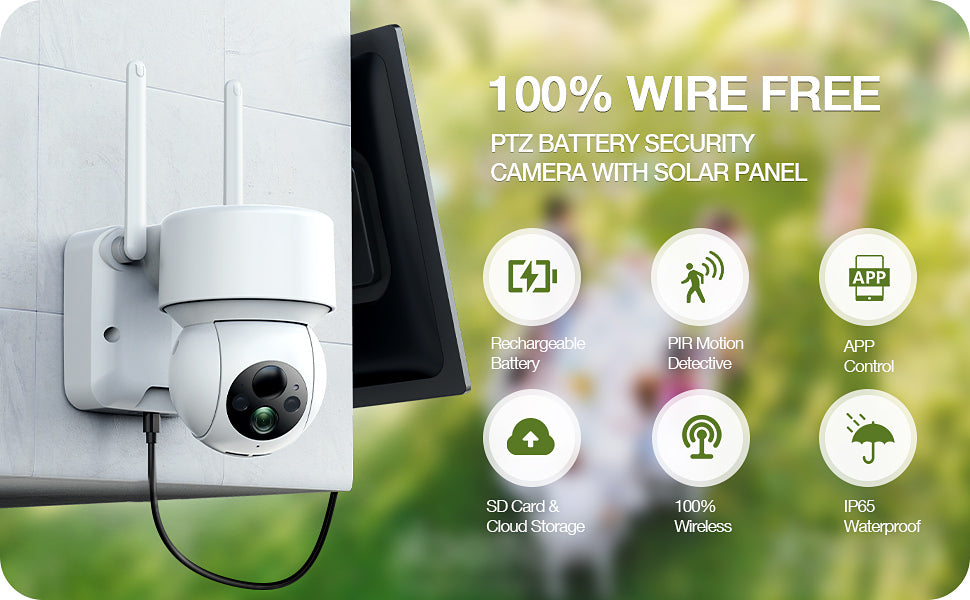 About this project
No need to remove the camera to charge. 3dbi dual antenna enables the camera to get stronger and more stable network reception. (2.4Ghz WiFi) "CloudEdge" app feature signal diagnostics to find the best location for signal gates
2 infrared lights automatically sense ambient light and switch to night vision mode, monitoring distance up to 50 feet/15 meters.
You can even customize the alert schedule, alert interval, and sensitivity level from 1-to 10. The built-in photo diode supports instant alarm notification (0.2s-2s), you can download and share events with others anytime.
IP65 waterproof design completely prevents dust and splash water from entering. Solar Camera Security Outdoor can work perfectly outdoors, no matter heavy rain or sun exposure. The standard operating temperature should be -13°F to 140°F (-25°C to 60°).

2.4GHz Wifi: Simply manually change the 5GHz to 2.4GHz in your WIFI network to make sure the camera WIFI connection is done. If you need help on this please feel free to contact support.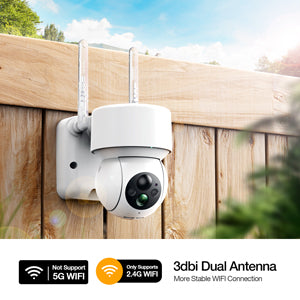 100% wireless and easy to install
No wires or power cords are required. Just mount the bracket to the wall, fasten the camera to the bracket with simple tools, and easily set up the solar wireless security camera in 10 minutes. Tips: The installation height should be between 8 feet - 10 feet, and the camera should be tilted 15 degrees.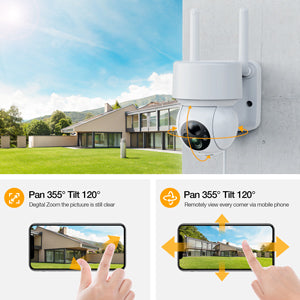 Flexible horizontal and vertical rotation
Support APP remote control camera rotation with PTZ function. You can move the camera left and right/up and down to freely change the location to where you want to be located via your smartphone/tablet. Click to enlarge to see more details.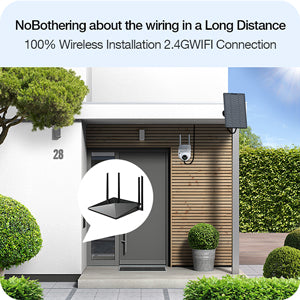 360° adjustable solar panel
The solar panel mount allows 360° mounting to ensure maximum sunlight and continuous battery charging for the Campark Solar Outdoor Camera. The solar panel comes with a 10ft/3m USB cable, plug it into the camera to get 365 days of uninterrupted solar power.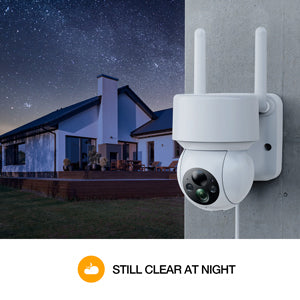 1080P FHD 49ft Night Vision
Campark wireless security camera with 2 infrared LEDs provides excellent night vision up to 49ft/15m. View everything in real-time in full HD in any dark environment.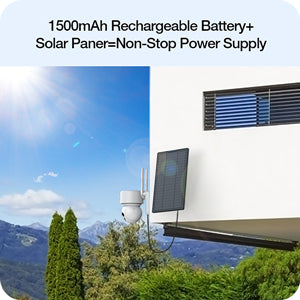 15000mAh large capacity rechargeable battery
Built-in 15000mA rechargeable battery, support USB cable or solar panel charging The battery can last for 3~5 months (Note: It depends on the frequency of motion detection. The lower the frequency, the longer the battery)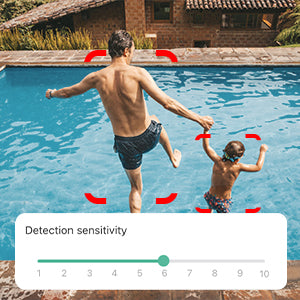 10-level adjustable detection sensitivity
The PIR sensor has 10 levels of adjustable detection sensitivity, which can accurately capture human movement and reduce false alarms caused by bugs and leaves. If you want to detect cars or animals, turn off "Human Detection" during the day/night. Pictures and videos will be saved on an SD card or cloud.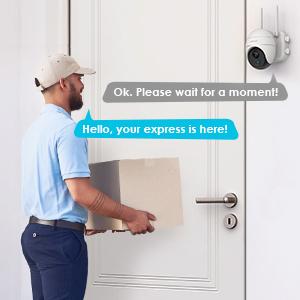 two-way audio
Campark Solar Wireless Security Camera has a built-in microphone and speaker system for clear 2-way audio communication. Chat in real-time with anyone on the camera such as family, friends, intruders. Press the "Player" button to stream live.  Press and hold the "Intercom" key to talk.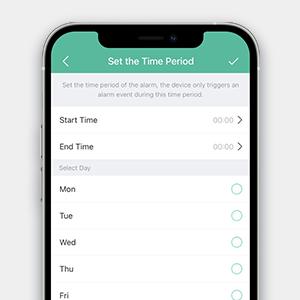 Schedule an alert
Set the alarm time period, the device only triggers the alarm event during this time period. Find it on the "CloudEdge" app! Customized day/night human motion detection for wireless outdoor security cameras.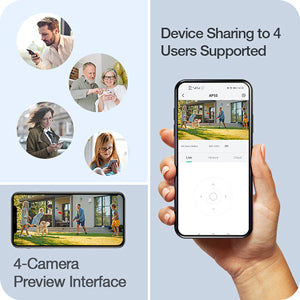 Multi-user and multi-device access
CloudEdge app supports real-time monitoring of 4 different types of devices, you can monitor the front door, driveway, indoor baby room, and other places in an all-around way with one screen. Perfect for the whole family to protect property together.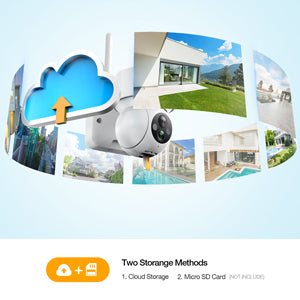 Specification
SD Card Slot: Support local SD card storage(up to 128G)
Lens: Support FHD 1080Presolution
Microphone: Capture sound for your videos
PIR Senior: Can detect moving objects up to 8 meters away
Speaker: Two-way voice call sound output
USB Charge Port: Use a 5V/2A power supply to charge the camera
Wifi Antenna: Using 3DB signal antenna
Battery Pack: Place the battery
Solar panel Standard output 4.3W±5%
Line length: 300mm:50mm
Weight: 300g
Package
1 PTZ security camera
1 x Solar Panel
2 brackets
4 screws
4 hats
1 x User Manual