About this item
【Autofocus HD Webcam】Campark webcam with autofocus feature can focus in three seconds, autofocus always gives you the best focus position with HD 1920 x 1080P at up to 30 fps, HD webcam captures your face more accurately and clearly. 120°field of view lets you see more in a video conference - perfect for remote work or multi-person chats.
【Webcam with Microphone】 The Campark webcam has built-in dual microphones that automatically pick up your voice and filter out background noise, so you can enjoy clearer voice and easy communication. Even in noisy environments, you can capture the sound you want.
【Privacy Cover】Campark 1080P webcam comes with a privacy cover to protect your privacy and security, slide open the webcam cover when you need it and close it easily when you don't to prevent internet hackers from spying on you. It also helps protect the lens from dust and debris to ensure your video stays clear for the entire life of the webcam.
【Plug and Play USB Webcam】Easy to set up, no need to install any driver to make this streaming webcam work, the system reads the hardware driver automatically. Plug the webcam into the USB port of your PC and turn on Zoom/Facetime for video calls.
 【Wide Compatibility】Campark laptop webcam is compatible with Facetime, Zoom, Facebook, Skype, YouTube, PotPlayer, etc. This PC webcam works with multiple operating systems, including Windows XP (SP2, SP3)/Vista /7/8/10 / Mac OS, etc. You can use this PC webcam for online learning, meetings, conferences, games, video calls, and recording.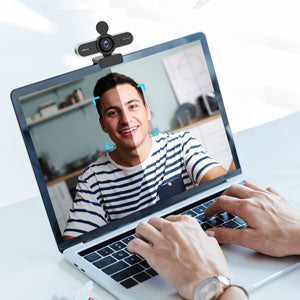 Auto Focus Webcam
The campark webcam features an advanced lens design that captures the ideal focus position as you move, making it easier to get great image quality in HD 1080P resolution. It can reach 30 fps, which makes it so easy to see every detail clearly and smoothly.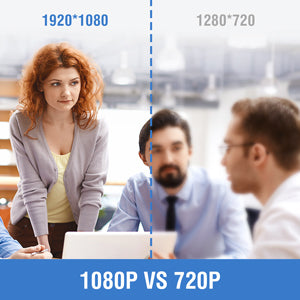 1080P Resolution
This HD 1920*1080P webcam is designed with premium lenses to provide a clear and natural video calling experience. Record vivid HD video clips that capture even the smallest details. It supports streaming videos from Facebook, YouTube, Skype, Twitter, etc.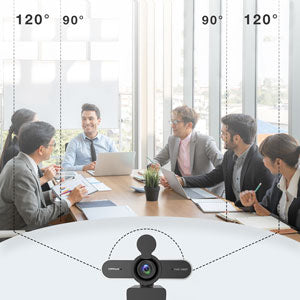 120° wide-angle lens
With an autofocus lens that captures HD video at a wide-angle of up to 120° degrees and displays captured video and images in 16:9 format, the Campark webcam shows more scenes than a regular webcam, making this webcam perfect for live video streaming, online presentations, Instagram and Facebook stories.?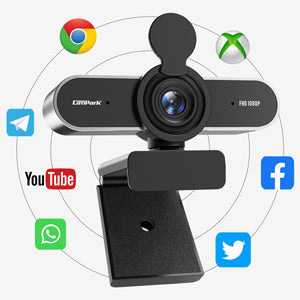 Broad Compatibility
Easy setup, no drivers required. This webcam with USB 2.0 works with a wide range of operating systems including Windows XP/Vista/7/8/10, Mac 10.6 and above, or Android 5.0 and above, and works with instant messaging applications such as Skype, Zoom, FaceTime, Hangouts, YouTube, and more.?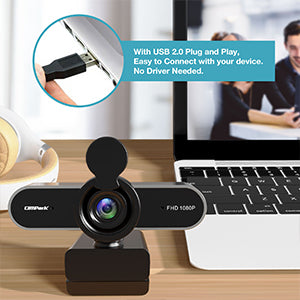 Plug-and-play USB webcam
Simply plug the webcam into your computer via USB 2.0 cable, the driver will be installed automatically and you can open Zoom or Skype for video calls.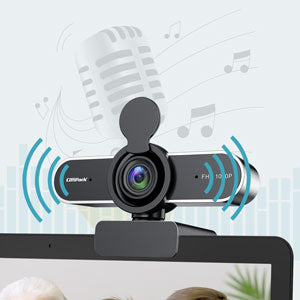 Webcam with Microphone
The built-in dual noise-canceling microphones reduce ambient noise, thus improving the sound quality of your videos. Even in noisy environments, you can capture the sound you want, perfect for video conferencing, online classes, chats, and more. For video capture needs, please contact Campark customer service for software.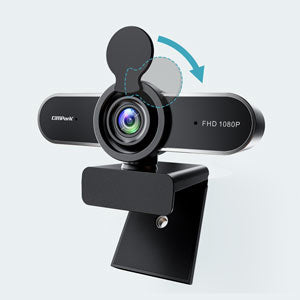 Webcam with cover
The campark 1080P webcam comes with a privacy cover to protect your privacy and security. Slide the webcam cover open when you need it and easily close it when you don't, preventing internet hackers from spying on you.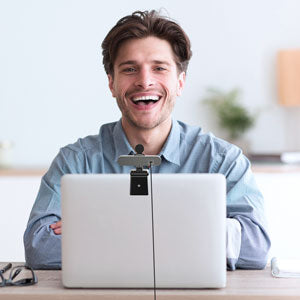 Adjustable Clip
You don't have to turn your laptop to record what you want, just turn your PC webcam. With the built-in 360° left and right rotation, you can easily move the camera to any angle you need.

specifications
Video Resolution:1920*1080P
Anti-spy: Privacy Cover
Microphone: Built-in, noise-reducing (No speakers)
Interface: USB 2.0
View Angle:120°
DSP Chip: Driverless
Rotation:360° horizontal rotation
Base:180° Adjustable base fits standard tripod (Not included)
Focus Range:70mm to infinity
Coding Format: MJPG, YUY2
System Compatible: Windows XP/Vista/7/8/10, Mac 10.6 & Above or Android 5.0 & Above