I think the dash cam is an indispensable thing for every car owner. The main function of the driving recorder is to "clearly record all the driving conditions, stabilize and provide evidence in an emergency, and safeguard the legitimate rights and interests of the car owner." This article will introduce you to the dash cam in detail from the following four aspects.
6 best dash cameras under $200
Precautions for the use of dash cam
People also ask these questions
6 best dash cameras under $200
Campark DC30 Dash Cam
Features
360° Rotatable
360° rotation and 150° tilt allow you to find the ideal angle to record every driving moment. Besides, this dash cam supports up to 256GB micro SD card.
G-Sensor
When the built-in G-Sensor detects a sudden collision, it will automatically lock the current video, avoiding the video being overwritten in loop recording mode and protecting important evidence. Sensitivity can be adjusted. (We recommend to set it to 'Low')
Seamless Loop Recording
The loop recording will record video in 1/3/5-minute clip, and automatically overwrite the oldest UNLOCKED file when your micro SD card is full. Free your hands from manually canceling unnecessary videos.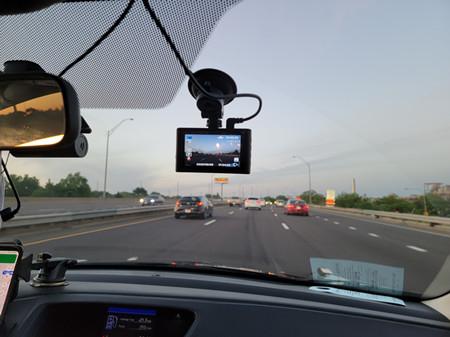 Outstanding Night Vision
With F1.8 6-glass lens and advanced WDR technology, this dashboard camera can automatically capture more lights, adjust the brightness to take clear, color-accurate video even in low-light environments.
24 Hours Parking Monitoring
The best dash cam for cars will automatically record a short video when it detects a sudden bump or impact, providing your car with 24-hour protection. Hard wire kit is needed for this function. Please contact Campark support team how to get it.
Superior High Definition
Dual Dash Cam: 4K(Front)+1080P(Rear), 1080P(Front)+1080P(Rear)
Equipped with 3-Inch Ultra HD IPS screen, the Campark DC30 4K Dash Cam provides you top quality videos and excellent visual experience, monitoring the roads ahead and behind the car simultaneously.
$109.99
Campark DC40 3 Channel Dash cam
Features
Sony sensor
With high-performance Sony sensor, a F1.8 aperture 6-glass lens observing road front, IR cabin camera and rear camera, this car camera is perfect for rideshare drivers such as Uber, Lyft and Taxi.
All Round Recording
The DC40 uses 170° front camera, 120° inside camera and 140° rear camera to simultaneously record all directions around your car, and the inside camera lens is 45 degree vertically rotatable for best viewing angle.
Seamless Loop Recording
Powerful loop recording will record video in 1/3/5-minute clip, and automatically overwrite the oldest UNLOCKED file when your micro SD card is full. Free your hands from manually canceling unnecessary videos.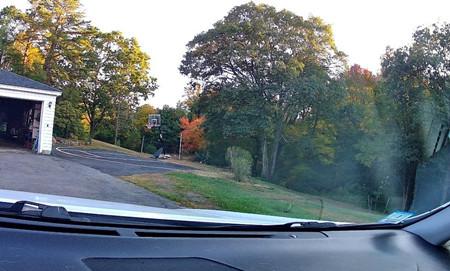 G-sensor---Emergency Lock
The built-in G-Sensor with variable sensitivity will lock the current video once it detects a sudden collision, avoiding the video being overwritten in loop recording mode. A reliable witness for accident. (Hard wire kit is needed to use "Parking Monitor").
24 Hours Parking Guard
Monitoring your car condition for 24 hours with continuous power supply. Motion detection automatically record once it detects movements, while G-sensor will activate the cam and record when there is a collision. Hardwire kit is needed for this function.
4K Ultra HD Dual Recording
This 4K dash cam for car records 4K (3840 x 2160) front and 1080P inside in dual recording mode. License plates in distance can be recorded in a very crisp 4K video.
$139.99
Toguard CE60H 2.5K Mirror Dash Cam
Features
Sleek Look and Works Like a Regular Mirror
The ultra-thin rear view mirror dash cam looks like the original mirror. The display fits easily over the existing mirror with rubber straps. With the screen saver function of dash cam or holding down the power button, you can use it as a regular rear view mirror.
Loop Recording and G-sensor
Loop recording will automatically overwrite the earliest existing unlocked footage to ensure continuous ongoing recording. With G-sensor enabled, it will automatically lock and save the video during a collision if you are in an accident and need video evidence for insurance and legal purposes.
Flexible Front Camera Lens
Front camera can be extended out from mirror to help view around windshield intrusion bars. The sleek body of the mirror dash cam perfectly fits over the existing factory rear view mirror. Swivel the lens of the front camera to align your viewing to the road ahead.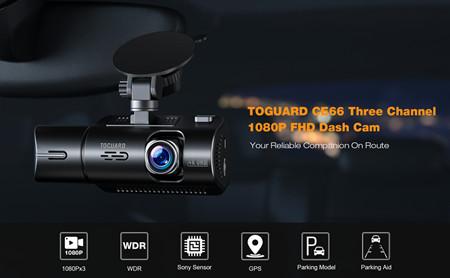 Super Night Vision
Equipped with advanced Analogy High Definition (AHD technology ), the 1080P backup camera enhances night vision in low light conditions and prevents video overexposure while driving and backing up, giving you an exceptionally sharp image at night.
Compared to the Traditional Rear View Mirror
Compare this new Toguard Mirror Dash Cam with your traditional rear view mirror and see what you've been missing! Eliminates blind spots giving you a much wider field of vision than a standard rear view mirror, especially at night and in poor weather.
Auto Adjustable Rear View Angle
The backup camera automatically provides an adjustable display at different angle while driving or reversing, and you also can manually adjust the display range either up or down to reach the best field of view. Brightness exposure can be easily adjusted by swiping the screen right.
Default Rear View Camera and Wide View
Mirror dash cam will immediately default to rear camera full screen upon startup. This provides drivers the highest level of confidence and visibility while backing up. The 170¡ãwide view of front camera and the 140¡ãview of backup camera will not let you miss anything when driving.
$109.99
Toguard CE66 Dash Cam for Cars
Features
Durable Weather Resistance
The best dash cam 2021 3 channel works well in14¨H- 150¨H, more durable in horrible surroundings than other dash cam.
Timelapse Video Recording
Timelapse video will be accelerated recording per second, the wireless dash cam can sustain longer operational period while reducing video file size. This feature saves the storage space of the memory card and captures fantastic scenes for you.
Perfect Infrared Starlight Night Vision
Built-in high-performance Sony sensor and starlight night version, this driving camera is able to increase exposure automatically in dark situations to capture clear video footage inside and outside car.
4K Ultra HD Car Dash camera
The TOGUARD CE66 dash cams for cars adopted Sony sensor, 2 channel or single front recording, front camera captures native 4K UHD (3840 x 2160@30fps) footage with clear details. License plates in distance can be recorded in a very crisp 4K video.
High Dynamic Range
Equipped with HDR technology, the front camera provides great exposure and dynamic range in low light conditions such as driving into the sun or oncoming traffic headlights at night.
$134.99
Mio MiVue 798 Dash Cam
Features
Perfectly clear picture quality
Ultimate Connectivity
Track and record your journey
Created for your safety
Traceable movements
Record at all times with parking mode
Style and quality combined
Sony's premium STARVIS CMOS
2.5K QHD 1600p
Built-in WIFI – WIFI OTA update
GPS safety camera warnings
$179.00
Nextbase 522GW Dash Cam
Features
Supports up to 128GB microSD cards (not supplied)
140° Wide Viewing Angle
Intelligent Parking Mode
10x GPS module
Emergency SOS
Alexa built-in
Bluetooth Low Energy
Free cloud storage at mynextbase.com
Android and iOS app available
$159.00
How to buy a dash cam
Look at the budget
If you have a high budget, you can choose a model with a better configuration. Generally, you can choose a model with high cost performance.
Seeing resolution
It is better to be above 1080P, the resolution will be blurred when zooming in on the computer if the resolution is low
Seeing frame rate
The best frame rate is 60 seconds, if the frame rate is low, it will freeze
Looking at the aperture
It is best to be around F1.5, the night vision effect is not good if the aperture is low
Looking at the brand
We can choose some well-known brands or the latest good brands
Price
The price of recorders on the market is rather confusing. There are cheap and expensive ones. The cheap ones are as low as one or two hundred yuan. The expensive ones can even cost several thousand yuan. However, the more expensive the better, the best for you. important. We only need to buy a recorder that can record driving images with good quality.
Number of cameras
The best dash cam for car can be divided into single camera, dual camera and multi camera according to the number of cameras. The single-camera type is more common, which is used to record the driving information of the front of the car; the dual-camera is also equipped with a camera at the rear of the car to record the rear information; the multi-camera is more for some cautious car owners. Learn about the car in all directions throughout the journey. Generally speaking, a single camera is sufficient for a family car. Multiple cameras will not only increase wiring costs, but also cause information redundancy.
Video mode
The dashcam for cars is mostly equipped with a loop recording mode. It performs loop recording and storage according to the set time interval. When the SD card is full, it will overwrite the recording, leaving only the emergency recording and the video clips set by the owner. However, these functions generally need to be clarified by the seller when purchasing, to avoid unexpected phenomena such as not automatically covering the video during use. In addition, with regard to memory, 32G has basically met the storage needs.
Precautions for the use of dash cam
First of all, it is recommended that the car mainly perform data processing on a regular basis to prevent inconvenience caused by data loss when necessary. In addition, be sure to buy regular products with 3C quality assurance.
For the installation location, install it as close as possible to the rearview mirror in the car, so that the field of view is better. It is also necessary to confirm that the lens shooting position is within the wiper cleaning range to ensure clear shooting in rainy days, and the installation position does not affect the range of car airbags.
In addition, friends who have used the car owner suggested that because the high-definition processing of the driving recorder heats up, the car will be exposed to the sun for a long time and the car power supply for a long time will also cause the crash and black screen. Therefore, it is recommended to use battery recording instead of using an external connection for a long time. power supply.
Choose wide-angle as much as possible to record "no dead ends". According to different classifications, beste dashcams can be divided into many types, with screens and without screens; it is more convenient for car owners to choose products with screens, ultra-wide-angle large-aperture lenses, and high-definition designs. This can not only prevent the recording of dead ends, but also collect evidence in time when encountering a wrangling accident, reveal the evidence, and solve the problem quickly and worry-free. In addition, using these characteristics, you can see the situation ahead at close range, and you can also early warn you when you encounter a situation.
People also ask these questions
Is it worth buying a best dash cam under $100?
The simplest way to answer the question of whether dash cams are worth it, is yes. For a relatively small investment, a best budget dash cam has the potential to prove your innocence in the event of an accent, or capture crucial evidence like a number plate of another vehicle that could lead to a conviction.
Does a dash cam reduce insurance?
Is car insurance cheaper with a dash cam? Insurers do look favourably on dash cam users, so they might offer you a cheaper car insurance quote if you have one. It shows them that you're willing to have your driving scrutinised – the camera doesn't record just other drivers.
Do you remove dash cam when parked?
It is a good idea to remove your best dash cams 2021 once you have left the vehicle to avoid your car being broken into. If you have parking mode on your camera or want to keep it in the vehicle it is best to place it in a discreet place.
Can a cheap dash cam be left on all the time?
Higher battery consumption – Although the dash cam is always actively recording in Parking Surveillance Mode, it only saves footage on the memory card when its motion and / or impact detection is triggered. ... Needless to say, we do not recommend that you leave your good dash cam running in Continuous Recording Mode overnight.
Do Dashcams record when parked?
Do dash cams work when parked? Yes, best cheap dash cams can be used when your vehicle is parked. In order to record when you're not driving your dash cam will need power from a hardwire installation or from its battery if it has Intelligent parking mode.
The above is about the sharing of relevant knowledge about the dash cam, I hope it will be helpful to you.