About this item
【Wireless Instant Sharing】 From anywhere in the world, you can send photos and videos to the wireless digital photo frame through the free APP to share beautiful moments with your friends or family. This is a great Christmas gift for parents, grandparents, newlyweds, family or friends.
【10.1-inch IPS Ultra HD Touch Screen】 This digital photo frame is equipped with a 10.1-inch IPS touch screen with a resolution of 1280 x 800 and an aspect ratio of 16:10, which can clearly display exquisite photos. With the IPS HD touch screen, you can easily adjust the digital photo frame and view or delete photos, stop slideshows, change brightness and adjust sleep mode in the settings.
【Automatic Rotation & Mass Storage】 The wireless electronic photo frame supports automatic rotation of photos and videos, so you can place the digital photo frame in portrait or landscape orientation or hang it on the wall for the best viewing experience. The integrated storage space of the digital photo frame is 16 GB (approx. 40,000 pictures). It also supports SD cards (up to 32GB).
【Multiple people sharing】 The 10-inch digital photo frame supports APP multi-user connection. Protect your privacy with no email or account required. With our digital photo frame, you can upload unlimited photos for free for life. The photo frame supports JPEG/BMP/PNG picture format and WMV/MOV/MP4 and other video formats.
【Multifunction】 More functions such as playback order, picture zooming, hiding/publishing pictures, displaying subtitles, adjustable brightness, sleep mode, and photo interval.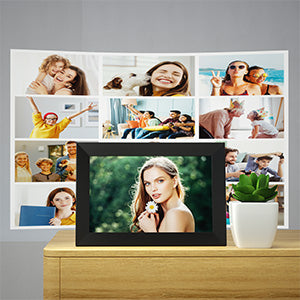 Wonderful Picture Display
Digital photo frame with HD IPS touch screen display with 1280*800 resolution stays clear in any light, that enables perfect display with families at any angle, recalling your precious memories. Touch screen allows you to set up the frame and view the photos conveniently.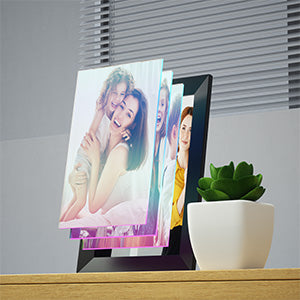 Large 16GB Memory
Digital photo frame provides built-in 16GB huge capability of memory (12GB available for photos and videos), you can also import pictures in batches with the micro SD card (max.32GB, Not Included). Note: please remove all your external devices when you reset the photo frame.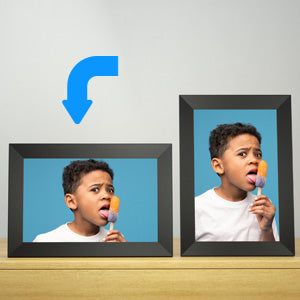 Auto-Rotate Function
The digital picture frame wifi with app can automatically rotate photos to adjust the direction, which allows you to place the WiFi photo frame in either portrait or landscape mode. Enjoy your intact photos in best viewing experience.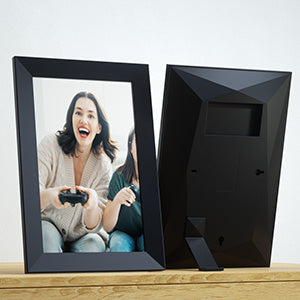 Stylish Design
This digital photo frame comes with a classic design and sleek finish. It makes a great addition to the decor of any room of your house or office. Looks great on your mantel, living room table, kitchen or workspace.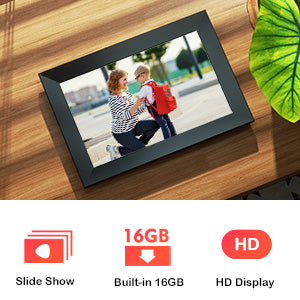 Customized Settings
You can personalize the digital photo frame with your own preferred settings, such as play order, image zooming, hide/publish images, display caption, adjustable brightness, sleep mode, photo interval, etc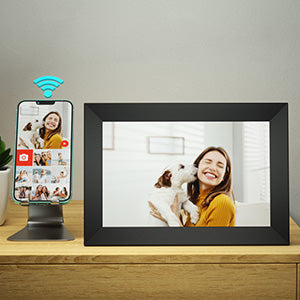 Wireless Share Photos/Videos Anywhere
The digital picture frame is not a traditional frame which can only display photos, it can also play lively videos with max.15 seconds! The videos support MP4 format and can wireless share pictures/videos via app "Frameo" anywhere. Besides, you can put a unique caption on photos and videos.

Frequently Asked Questions:
1. Why my SD card can't be recognized?
- Answer: Please choose over Class 10 branded SD card(max.32GB support,SD card not included in the package). Please make sure the photo frame has been turned on first and then the insert card.
2. Why is my photo distorted?
- Answer: Please set the photo size to the original size in the settings.
3. Is it a wifi digital picture frame?
- Answer: Yes, this digital photo frame can receive photos and videos (built-in 16GB) with WiFi (2.4GHZ) connected
Warm Tips:
Please format Micro SD card on PC, then format it again on dash cam before first use.
The Rear camera cable length is 18ft, please feel free to reach us if you need longer 23ft cable.
This 12" dash cam Weight is about 0.82 pounds, please check whether your mirror can hold it before purchasing.
The built-in battery capacity is small, it's impossible to supply 2.5A of current independently. In order to make the driving recorder work stably, the car charger needs to be plugged when recording.
Please be sure to use the original car charger in the package, other car charger may affect the sensitivity of the touch screen.
Specifications
Resolution: 1280 x 800
Supported memory card: Micro SD card (max.32GB) (NOT INCLUDED)./p>
Image formats: JPG / JPEG / BMP / PNG
Video format: MP4 (only)
Cable length: 1.2m/47.2 inch
Tips:
The digital photo frame must be connected to the power supply at all times.
The digital picture frame supports videos in MP4 format and can only be uploaded from the "Frameo" app.
Digital picture frame has 16GB of built-in memory, 12GB are available for photos and videos besides the existing applications.
To protect your privacy, please reset the digital photo frame before sending it back.
Package Included
1 x Digital Picture Frame
1 x Power Adapter
2 x Digital Picture Frame Stand
1 x User manual