About this item
【Come with Endurance U3 64GB SD Card】 This 3 Channe dashcam comes with a U3 64 GB SD Card, whose premium performance allows dash cams to run longer. Ensure that the dashcam captures high-quality footage at any time or location. Avoid purchasing an unsuitable memory card and wasting your hard-earned money. It is the most reliable, cost-effective, and overall safest choice.
【WiFi & APP Control, Instant Share & Playback】When a rear-end /collision occurs, the camera will emergency lock the current video. You can connect high-speed 2.4GHZ WIFI easily view, download and share videos to Police with "GuardCamera" app. Reduce the trouble of using a computer to read the memory cards. Also, you change dash cam settings directly from your phone.
【Upgraded GPS, Directly View Location/Route/Speed by APP】Compared with the traditional GPS market, Our 4k dash cam can directly view the Location/Route/Speed of the recorded video by the mobile phone. it can provide accurate time date and location speed and route video to protect your legal rights. Reduce your Insurance burden, allowing you to drive without worry.
【3 Channel High-Resolution Records 】With Sony STARVIS IMX335 sensor and cabin 4 infrared LED lights, which can capture clear 2K (1440P/30FPS) front +1080P/30FPS inside+1080P /30FPS rear 3 channel recording. also, capture UHD 4K (2160P/30FPS) front +1080p/30FPS cabin dual recording during the day and night. Gives you the front 170° +rear 150°+Cabin150° full protection.
【Time-lapse & H.265 & H.264, More Functions 】Time-lapse and H.265 & H.264 compression technology can help increase the recording time, save memory space, and ensure video integrity quality better. More functions:①Parking Monitor ②WDR ③ f/1.8 large aperture④ Screen Saver 3 Options ⑤Audio Recording Option ⑥Motion Detection⑦Inside and Rear Camera adjustable mirror Mode.
【Two Mounting and Quality Warranty】We provide two kinds of mounting brackets, which can better adapt to your installation needs, simple and beautiful hidden installation. If you have any questions, please feel free to contact us.
Campark (DC14) 4K Ultra HD 3 Channels camera Dash Cam for Cars—— Enjoying Car Life
campark adheres to the concept of higher quality, safer, and further expert, and has created the most top-end, full-featured, DC14 3-channel Wi-Fi GPS car dashcam. Using sony's CMOS IMX335 and IR Night Vision and more, high-definition three-way recording, during the day and night time can capture higher details, and come with a U3 64 GB SD Card and two easy mounting option. It is the rigid demand and best investment for Uber/Taxi /Ridesharing/ Drivers.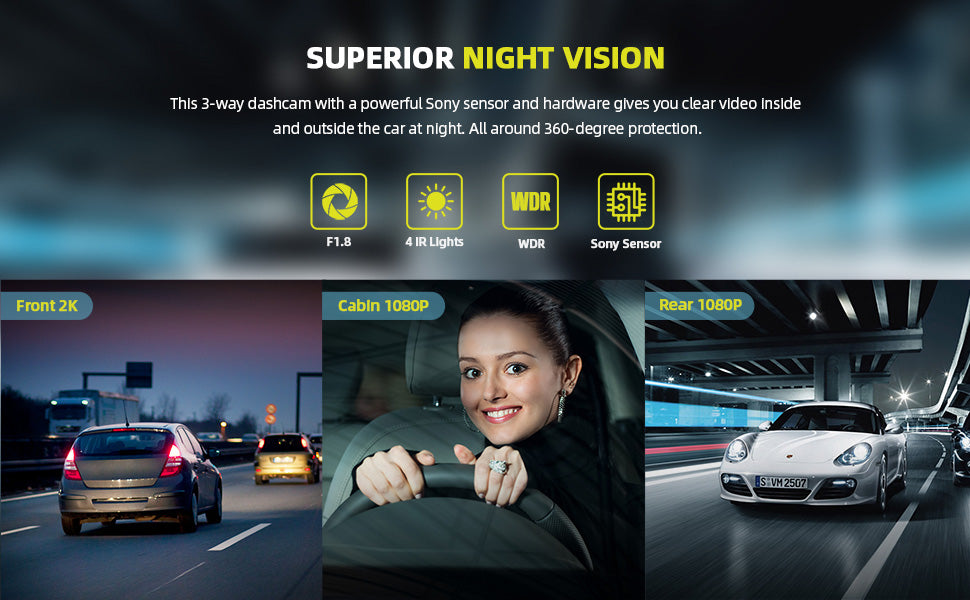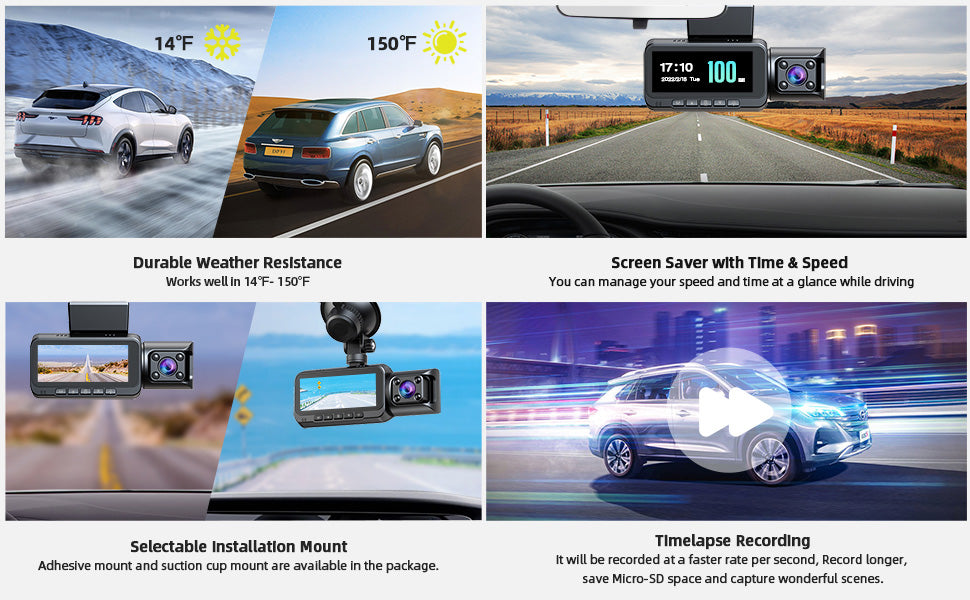 Why choose this dash cam?
1.Must be Key Features for DC14 Dash Cam :Continuous Loop Recording, Lock and Save Critical Footage, G-Sensor Detection, Parking Monitor
2. Built-in WIFI, more convenient and fast setup dashcam, more convenient playback and sharing on your phone.
3. Upgraded GPS Display Mode, directly view the speed and track position, say goodbye to the troublesome computer view.
4. 3 Recordings All-around Protection with 4IR Night Vision Interior Camera.
5. WDR Technology and Sony STARVIS IMX335 sensor for Clearer Shooting.
6. Screen Saver Option: Can Set Screen Time And GPSTime Display, Avoid Speeding.
7. Inside /rear Mirror Rotation: Can Better Match Your Driving Habits.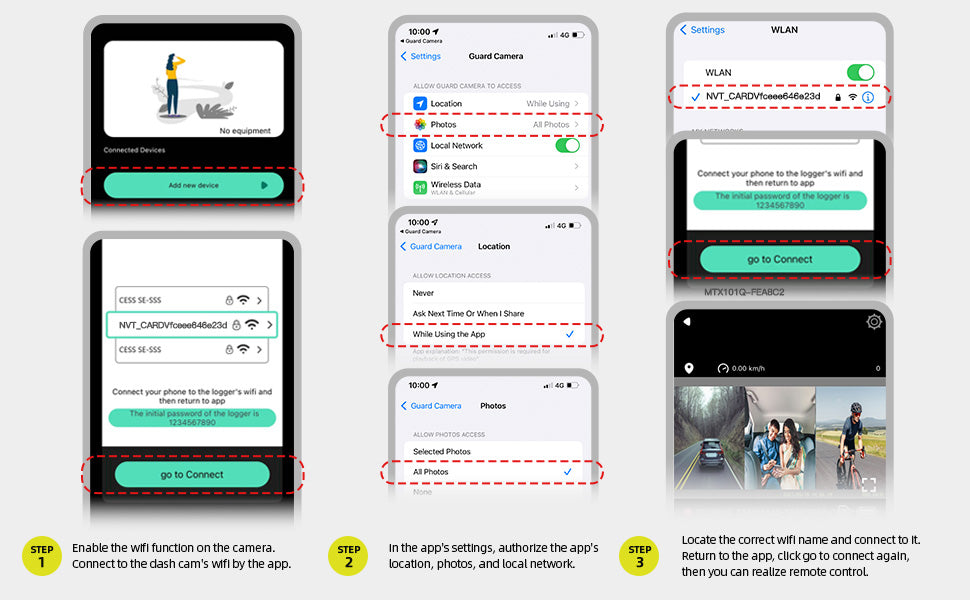 About 3-channel Dashcam tips before buying
Our products are beautifully packaged and fully configured, Please check the function of the dashcam with its all accessories before installation. (Especially test functions before routing wires)
The Rear camera cable length is 19.6ft, please feel free to let us know if you need a longer 24ft cable.
4K dash cam requires a constant power supply, the built-in battery is only designed for emergency power If you need to record 24 hours, please purchase the matching hardwire kits.
A U3 64GB Micro SD Card has been inserted into the dash cam, and you can use the camera right out of the box. ( In order to improve the life of dash camera and memory card, it is recommended to connect the app regularly every month to check whether there are too many locked videos. Save your important files before regular formatting )

package
1x Three Channel Dash Cam (Come with U3 64GB micro SD)
1x Rear Camera with Cable,1x Micro Mini USB cable
1x Car Charger, 1x User Manual 4x Cable Clamps, 1x Crowbar
1x Static Stickers, 2x Replacement Sticker
1x Adhesive Mount, 1x Suction Cup Mount