Campark Dash Cam Front and Rear Full HD Dual Dashboard Camera for Cars with 3 Inches Screen Night Vision 170° Wide Angle G-Sensor Loop Recording Parking Mode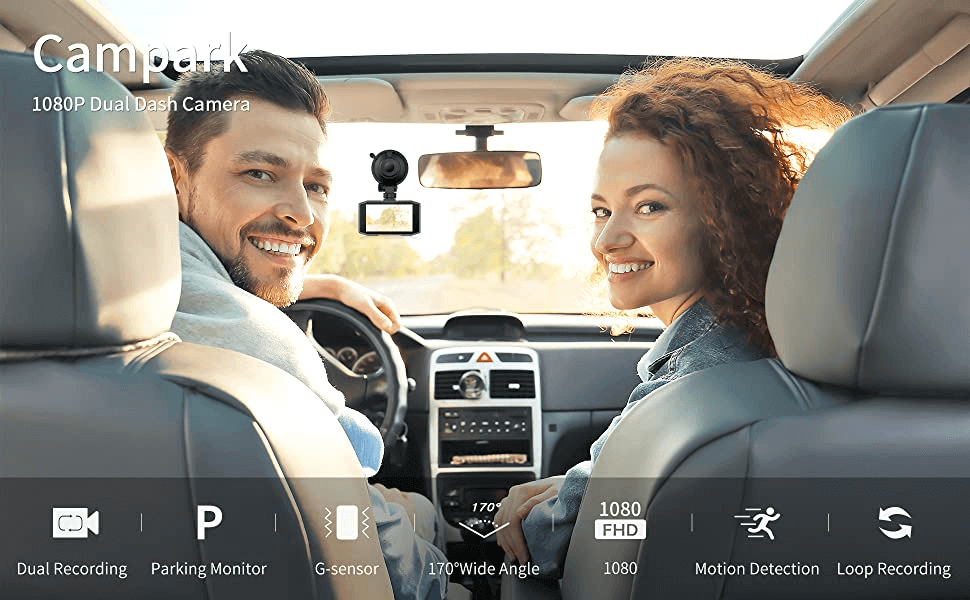 Dual Dash Cam
Features 1080P FHD front camera and 720P rear camera, both cameras can display and record continuously and monitor the roads ahead in super clear definition vividly capture the license plates and road signs on driving records quality video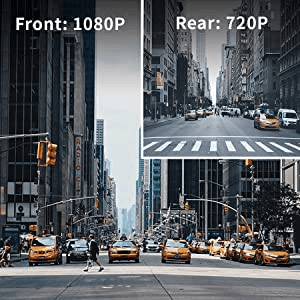 Full HD 1080P Video
Dual dash cam features 1080P Full HD front camera and 720P rear camera, captures driving moment clearly and vividly, and provide critical video evidence when an incident happens.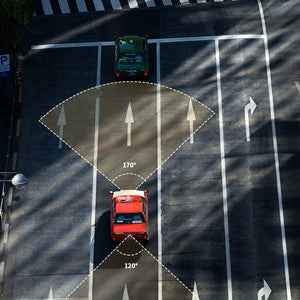 Front and rear car camera
Equipped with 170° front and 120° rear ultra-wide dual lens, provide you a full view of 5 lanes of the road, eliminate the blind spots of your vision, which means dual safety for your journey.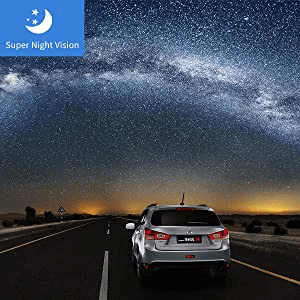 Superior Night Vision
With 6G lens and advanced HDR technology, campark car camera with a large LCD screen could capture more details of driving, delivers clear and vivid images/video even in backlight or low-light situations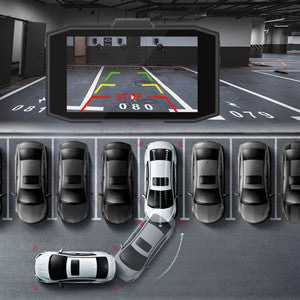 Reversing Assistance
While you are reversing dash cameras for cars will automatically switch over to the full screen to show the auxiliary line, with 4 LED lights and waterproof camera, allow you to know the situation behind your cars even on the rain condition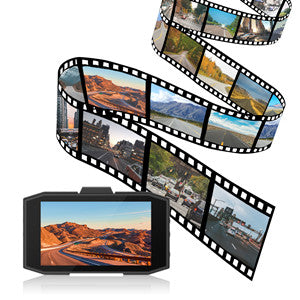 Seamless Loop Recording
Recording optionally in 1/3/5 minutes clips, the camera will automatically overwrite the earliest footage when the micro SD card is full. Get you out of manually deleting the useless video clips. (Locked video will not be covered)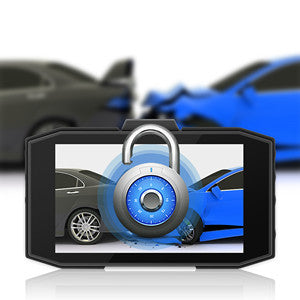 Emergency Accident Lock
When detecting bumps and shocks, the built-in high sensitive G-sensor will automatically lock video surrounding an incident, keeping the video safe so it doesn't get overwritten even with loop recording. Sensitivity can be adjusted. (We recommend setting to 'Low.')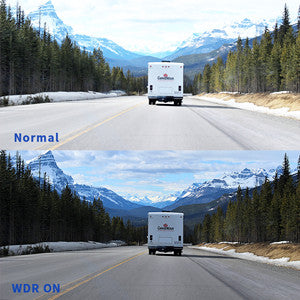 Advanced WDR Technology
The car camera comes with a special WDR(Wide Dynamic Range)system that automatically adjusts the video brightness to achieve a balance in a low light environment, especially cloudy or nightscape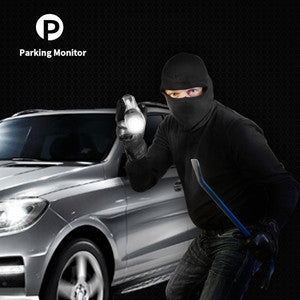 24H Parking Monitoring
Dashboard Camera protects your car all day and night. When your car is parked (power off when the engine stops), the camera will be activated if it detects any types of a shock to your car, and then automatically record a 30-second-video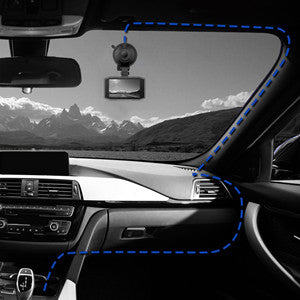 Front Camera Installation
Mount your DC02 front camera to the windshield with the included suction mount; Plug in the power cable and adjust angle; Automatically start working when you start your car.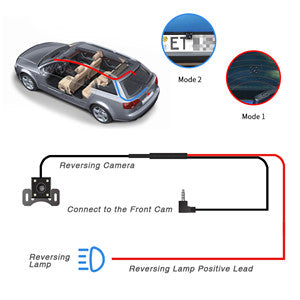 Rear Camera Installation
Connect the rear camera's Terminal (2.5 mm diameter) directly to the AV IN, the red cable is the power cord used to illuminate the rear camera LEDs Two way to hide the cable (as the picture shows)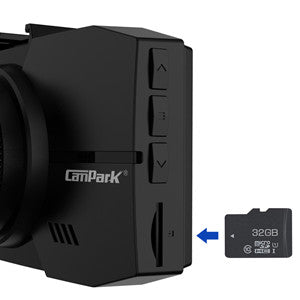 Memory Card (NOT included)
This dashboard camera supports micro SD card up to 64GB.
Recommend to use Class 10 or above, 16GB ~ 64GB micro SD card. Please format the micro sd card before using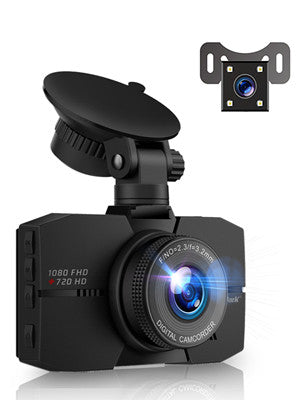 The Campark DC02 is the latest in our popular series of dash cameras
Adopting the most advanced design ideas and industry-leading technologies, we have made great improvements in the quality and camera sensors.
Supports a Class 10, 64 GB max micro SD card (Not Included)

. Please format it on the camera before use
The battery of the cam is only for emergence file back up. External power is required for operation with

 

original cable

To ensure seamless video recording, please kindly

 

turn off "motion detection"

 

of this dash camera while driving.
Note: If you have any questions or needs, please feel free to contact our after-sale support team

The default rear view camera extension cord is 16 feet long which is suitable for most small cars. Kindly contact our Campark support if a longer extension cable (Length: approx. 23ft) is needed.
Package Include
1* Front camera
1* Rear camera
1* Car charger
1* Suction mount
1* Mini USB cable
1* Wiring buckle
1* Suction mount
1* 3M adhesive mount
1* Plastic crowbar
1* User manual