About this item
【7 inch HD monitor】: 7" CCTV monitor with HD 800 * 480 resolution, aspect ratio 16:9, video. System support: PAL / NTSC. brightness and contrast adjustment.
【Wide range of applications】: Security camera monitor supports HDMI, AV, VGA, USB input. This monitor is perfect for surveillance systems with security cameras, reversing systems, CCTV security systems and DVRs.
【Easy to install】:It can be installed with pivot and adjustable bracket (provided) and used as a common desktop accessory, or can be hung on the wall, you can freely carry or install it on the desktop or hang it on the wall. Specially designed ports allow the connectors to be hidden on the back of the monitor, no more cluttered wires on the desktop.
【Other Accessorie】: The monitor will be equipped with a stand and remote control, built-in high quality speakers, easy to install, remote control included, image brightness and contrast can be adjusted by remote control.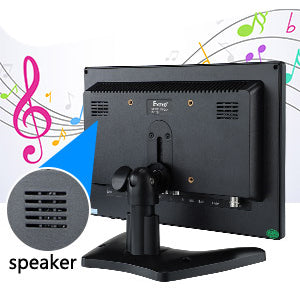 Audio Speakers
Built-in high-quality speakers provide clear audio output while watching movies and playing games. Press the buttons on the back of the screen to adjust the backlight and volume as needed.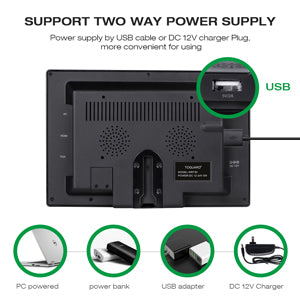 Wide compatibility
Compatible with Windows PC, Raspberry Pi 4/3/2, Switch, PS4, Xbox One, and other devices with HDMI, AV, VGA, and USB ports.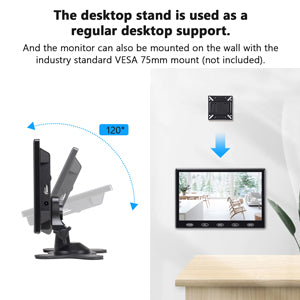 Removable support stand
The brass post included in the package can be used as a support stand with mounting holes on the back so you can also mount it elsewhere, making it very easy to install and remove.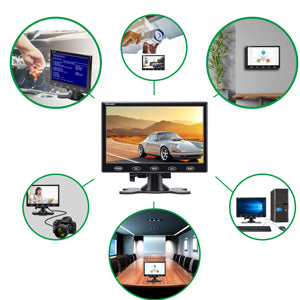 Multifunctional monitor
Can be used as a CCTV security monitor to display images and videos and focus on home security. Can be used as a backup camera auxiliary monitor to make you safer and easier when parking. Can also be used as a car LCD monitor to make your driving journey easier and more enjoyable.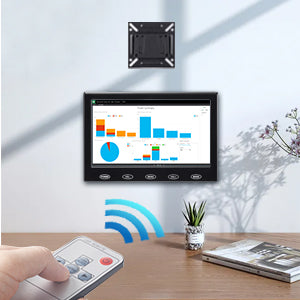 With Remote Control
The remote control design of this 7" compact security monitor makes operation more convenient, just use the remote control to control the monitor in real time. Simple and convenient.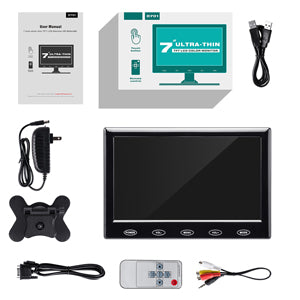 Warm tips
Please refer to the label instructions on the back of the machine for the working voltage.
Be careful not to reverse the red line and black line.
When reversing, the monitor will automatically turn on and display the AV2 screen.
When the screen shows "no signal", please switch to the correct signal input mode.
Package
1x7inch Monitor
1xBracket(with Double-sided Adhesive)
1xVideo Cable
1xUSB Cable (ONLY for power supply use NO data,transfer function)
1xVGA Cable(Mini USB to VGA)
1xPower Adapter
1xRemote Control
1xUser Manual