About this item
【4K 16MP ACTION CAMERA/Webcam】: Campark ACT76 Action Camera delivers ultra HD videos with Professional 4K/30FPS and capture 16MP photos. With a wide angle 170 degree lens, you won't miss out on any background details. It can work as a webcam for Video Conferencing, Online Work, Home Office,YouTube, Recording and Streaming.
【Wireless Remote Control】: 2.4GHz remote control within 8M range. WiFi connect via APP(XDV), control the WiFi action cam or download files on phone. Red button for photo taking and gray button for video recording. Quite convenient for you to take photos or record videos in places you can't reach.
【Built-in Wi-Fi Sports Cam】: With Wi-Fi connected, the camera is completely under your control in "XDV" APP. You can see what is displaying in camera without delay. Resolution setting, video recording, files deleting can be all realized. You are able to share your happiness to social medias.
【30M Underwater Camera 】: Adhering to the concept of environmental friendliness,this waterproof action cam case comes with is made of IP68 material.In addition to the waterproof case to take a photo underwater 98 feet deep, you will get helmet mount kit,4 zip ties, 3 straps, one bicycle mount and more. Perfect protection from rocks, dust and scratches. Ideal for water sports like swimming, drifting, surfing etc. Take you to have a nice travel underwater world.
【Longer battery life】: Campark ACT76 action camera comes with 2 rechargeable 1050mAh batteries.Please choose 5V/1A charger(no charger in package )The sports camera can last recording for 90 minutes when WIFI is turned on.No more worry about the recording time for this Action camera.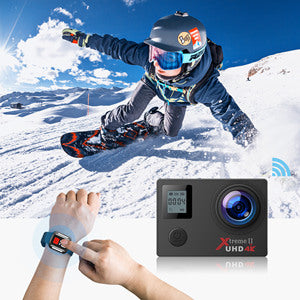 Wrist 2.4G Remote Control
2.4GHz wireless wrist remote control let you easy to control the action camera while skiing, cycling, surfing, etc. The remote control is waterproof but cannot be used underwater.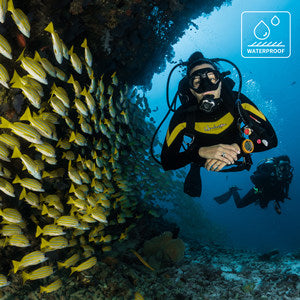 Rugged + 30M Waterproof Case
This underwater camera comes with a rugged housing, allows you dive deep up to 98ft (30M) and share experiences which you can't capture with your phone.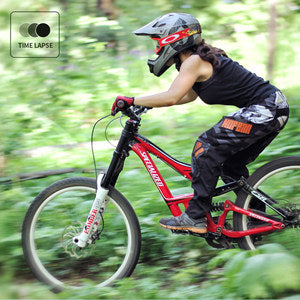 Time Lapse Recording
The sports camera has time lapse function which can concentrate a long time in several minutes video. It is a perfect camera to record sunrise and sunset, flowers bloom, tide ebb, etc.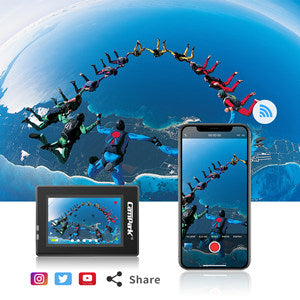 Instant Sharing with WIFI
The built-in WIFI and APP "XDV" allow you to preview photo/video in real-time, playback, download videos to your phone, and then share them to Facebook, YouTube and so on.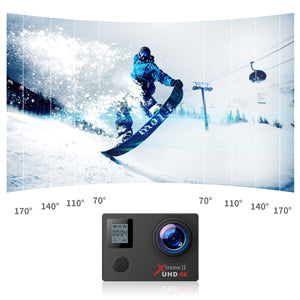 170°Wide-Angle Lens
170° shoot vertically allow you to capture wider angle view than those of 120° or 90° action cameras, Take beautiful, vibrant 4K Photos as awesome as the moments.
Multi-function Action Camcorder
Mount this 4k action camera in your car, Turn on loop recording and screen rotation, used as a dash cam. It also can work as a webcam for online conference, video chat, study and live stream.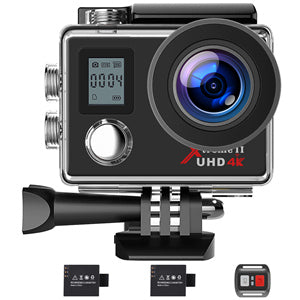 Specifications:
Image Resolution: 16M; 12M; 8M; 5M; 2M
Video Resolution: 4K/30fps, 2.7K/30fps, 1080P,720P
Wi-Fi Connection: Android/IOS supported
Battery: Removable 3.7V 1050mAh Li-ion battery
Charging Time: About 2 Hours

TWO 1050mAH batteries Included in the package. 

The charger isn't Included. You can charger the battery in camera through the included USB cable.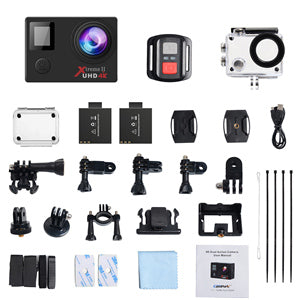 Package list
1* ACT76 4K Action Camera
1* Waterproof case, Protective Door(not waterproof)
2* Batteries(1050mah)
1* Remote control
1* Bicycle stand, Base1, Base2,Clip, Fixed base
1* Adapter, Helmet Base,4*Bandage,4*Ribbon, 2*3M sticker
1* Wire rope, USB cable, Cleaning cloth, User Manual wiper
3* Switch Support