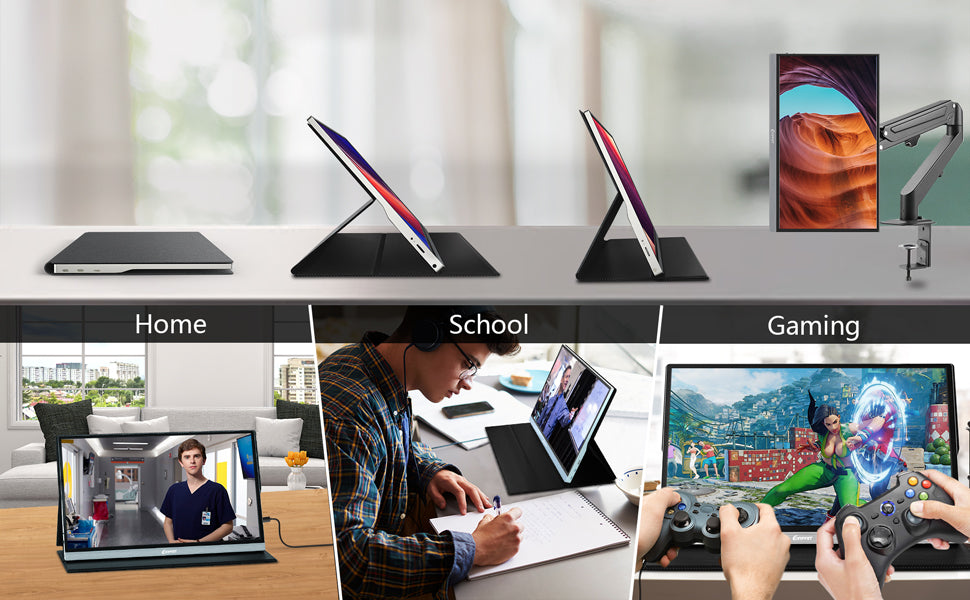 About this item
【High quality resolution & visual enjoyment】1920x1280 resolution, you can enjoy clearer movie images and crisp photos. Equipped with stereo sound speakers for better visual and audio effects. 2000:1 high original color contrast, can restore the subtle brightness and color. Even when you see dark images and pictures, you can clearly confirm the fine colors. The screen resolution is ideal for gaming, video viewing, and office operations.
【Sound, picture, and charging via 1 cable】 The video output and power supply can be connected with a single cable by connecting via an oype-C cable. In the case of USB Type-C, the computer needs a USB Type-C port that supports DisplayPort Alt Mode. Type-C-Type-C cable is included. SBType-C one can be connected to Nintendo Switch for operation, no need to move! Compatible with most HD input devices, no additional drivers required. The main body has a built-in speaker for sound output, and you can enjoy the charm of movies, etc. Note: According to (PC output, when the voltage is insufficient, you need to use the adapter power supply) the most suitable for PC games.
【Can be widely connected to the use of】: for laptop computers, computers, security cameras, smart phones, iPad, PS4, PS4 pro, 360 XBOX one, Nintendo Switch, SLR cameras, Raspberry pie (Raspberry pie), industrial equipment, such as the use of universal monitors. Suitable for dual screen office, game console projection, appreciation, SLR camera, etc. 60HZ recovery rate, 15.6 inches, 5ms response speed, 4KHD resolution, tweeter built-in, suitable for smart phones, Nintendo switches, PC's games. (HDMI adapter required to connect to security cameras)
【Comes with a protective case that can be used as a stand & horizontal/vertical display & VESA applicable】 Comes with a folding smart case that can be used as a stand, after connecting the dual displays become horizontal placement mode, the working screen expands the working environment and improves work efficiency. The portrait display makes it possible to see the reports that continue at a glance, meeting the need to open the content for more trips. It can be carried anywhere and anytime. You can also connect it when you go on a business trip or travel. The standard VESA M3 screw hole on the back allows it to be mounted on a wall bracket or arm bracket, so you can find the best configuration even in small spaces.
【Lightweight and portable】Contrast 10 inch screen is too small to see, 20 inch screen is too big to hold up. 15 inch screen, thin 0.07 only weighs 1.94 pounds, more convenient to carry. You can put it in your bag like a book, easy to travel
【Leather Case】 Considering that the most important thing about the monitor is the surface of the screen, we use the most advanced material design to effectively avoid screen scratches, foldable smartphone case allows you to adjust the camera to the right angle at any time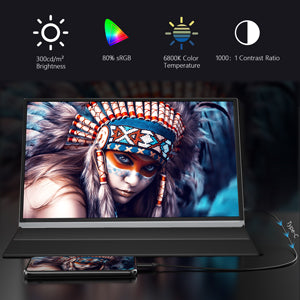 Full HD 1080P IPS Screen
Campark portable monitor is equipped with LED IPS screen, 1920*1080 resolution provides you with vivid image quality, portable monitor makes your life diversified.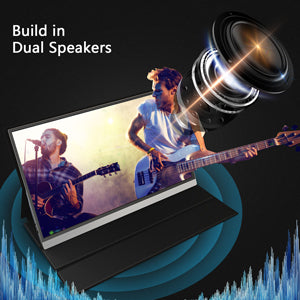 Built-in Dual Speakers
With 2 built-in stereo speakers for louder sound, this portable external monitor lets you reduce your computer's power consumption by eliminating the need for additional speakers and eliminating the need to play sound on your own device while playing videos or games.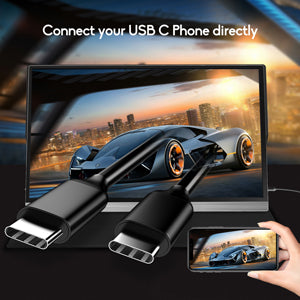 Supports C-connectivity
Compatible with most smartphones, this portable second monitor features a full-featured Type C port, and you can repeat screen playback on this monitor from your phone. This portable screen monitor lets you watch videos or play games on a larger screen.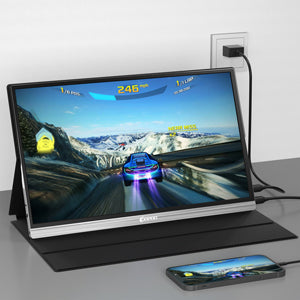 Versatile device connectivity
This hdmi portable monitor with dual USB C and mini HDMI easily connects to laptops, PCs, Macs, security cameras, cell phones, XBOX, PS4, security cameras, and more. You can freely set it to landscape or portrait mode using Copy/Expand/Second Screen mode can improve your business or gaming entertainment efficiency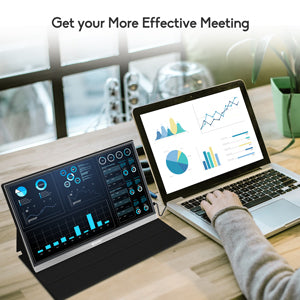 Extend your screen
When you need to video conference at work and read important meeting documents, this laptop screen extender offers you the benefit of extending your screen so you don't need to switch pages frequently.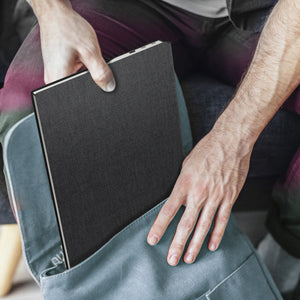 Smart Shield
This computer screen with protective cover is waterproof, dustproof, and scratch-resistant when you're not using it, and it folds to different angles when you use it as a stand.
Specification
Product: Portable display
Product size(mm): 363*263*6(10)
Color: 1080P:262K.80%SRGB
Viewing angle: 85/85/85/85
Best perspective: Full view
Brightness: 300cd/m2
Input interface: mini HD interface(sianal), Type-C interface x 2
Output Interface: 3.5mm headphone port
Package
1 x 15.6" Portable Monitor
1 x USB Type-C Power Cable
1 x Type-C to Type-C Cable
1 x Mini HDMI to HDMI Cable
1 x Power Adapter
1 x User Guide