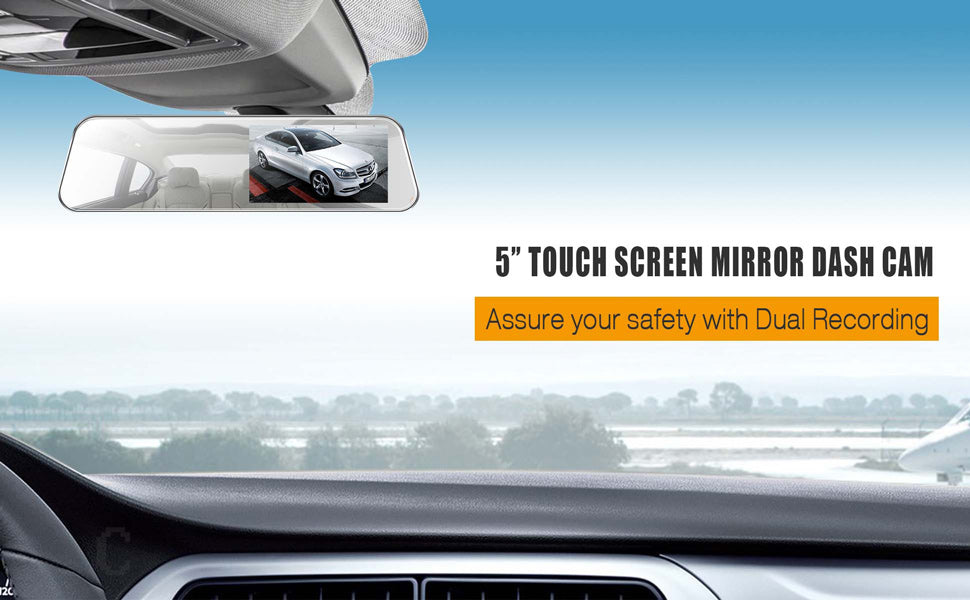 About this item
【Intelligent Reversing System & 1080P Dual Recording backup camera】 Parking guidelines are activated as soon as the driver engages in reverse gear, helping drivers in distance measurement to avoid collision and scratching backward when putting the car in reverse. The 1080P resolution with a 170°wider field of view provides you with crystal clear image quality. It overall works perfectly as a rearview mirror with less glare.
【5 " Touch Screen & Non-mirrored Images】Responsive touch screen and the icons of the 5" back up. camera are simple and elegant, which presents the screen that is responding quickly to the contact shows HD pictures. Different from other rearview mirror camera, our 5" backup mirror camera records normal non-mirrored images which are also normal display in the Plackback Mode. It solves the trouble that the imaging and the real scene are opposite.
【Night Vision & HDR】The backup camera has 4 LEDs for night driving, ensuring clarity and safety in your driving. The HDR function, can make the photos more realistic and clear, and render a better and more realistic scene. Especially in the case of a large difference between light and dark environments, the photos taken can be softer and clearer, and the bright parts will not be too bright due to overexposure, and the dark parts will not be too dark due to insufficient exposure.
【Parking Monitor & Auto Recording】Simultaneous recording by dual camera, one-click switching video recording view. A parking monitor provides around-the-clock protection and surveillance for the vehicle, which captures footage while parked to prevent hit-and-runs. A double guarantee of these functions can provide strong evidence for the driver. The reverse camera starts recording when turned on the car. When the car gets off, it will automatically shut down to avoid running out the car battery.
【Ultra-thin Backup Camera & Easy Installation】Compared with those wireless ones, this 5-inch backup car camera receives a more stable signal via wired transmission, which ensures a crisp and sharp image without delay. And don't worry complex installation, no fancy wiring has to be done just to hide the wire running from front to back in the top liner., user-friendly with easy setup. And the mirror camera is extremely thin, only 0.3 inches thick.

5'' Touch Screen:
The user interface of mirror dash cam is very simple to use and the capability to select any camera, PIP or split view. With it being touch screen, you would be left with finger prints all on the mirror, flexibility to adjust dual dash cams to capture the desired area of concern.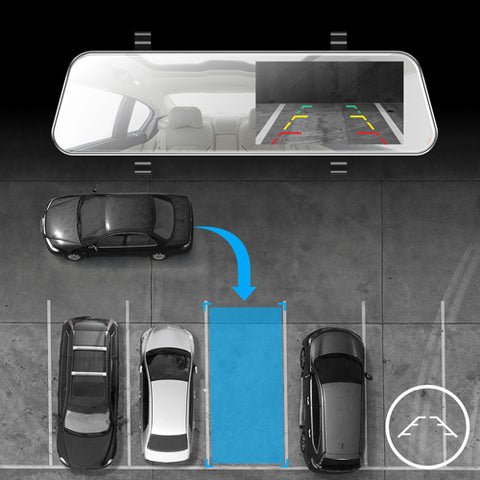 Backup Camera for Safe Parking:
Backup camera with parking guide lines can help you park more quickly and safely, which gives the driver a much clearer view of obstacles behind the car. It automatically comes back on when shift the car into reverse after connecting the backup camera wire to the reverse light power.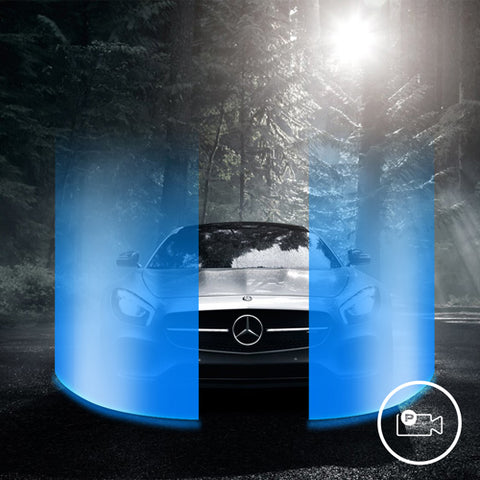 Parking Monitor:
The mirror dash cam continues to monitor the vehicle whilst it is turned off and parked. If crash/collision is detected by the mirror dash cam, it will automatically turn on and records 30 seconds. After that, it will automatically turn off and return to monitoring mode.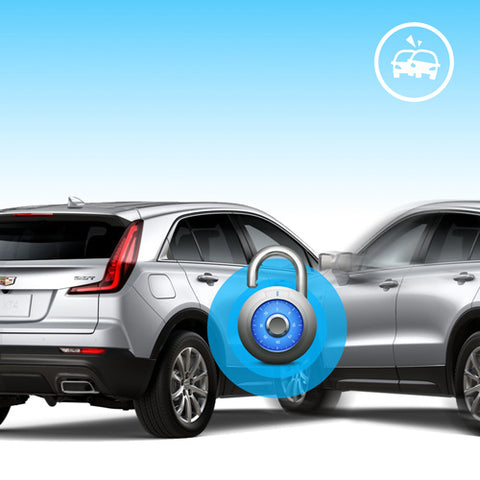 G-Sensor:
This function is that when dash cam detects the emergency braking of the vehicle, the video of that time period will be saved independently and will not be deleted automatically, which is helpful for accident investigation.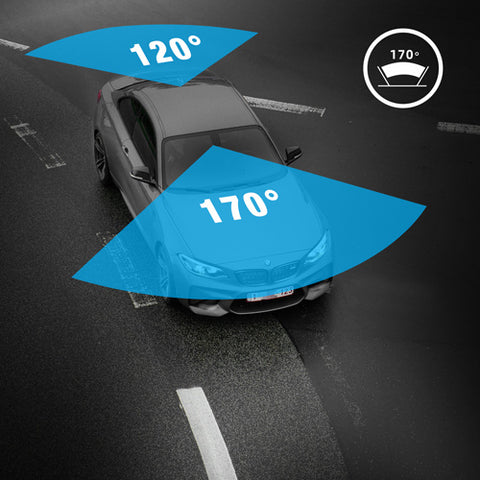 Wide-Angle View:
The mirror itself is big and clear. The wide angle with 170° front camera and 120° rear view camera captures the entire road in the front and back, which makes it more accurate and clear recording without blind zones.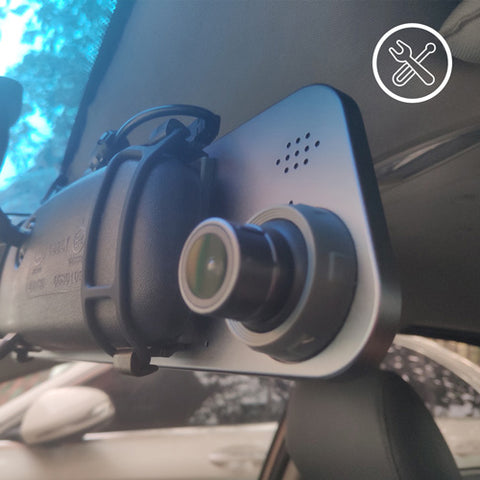 Easy Installation:
The mirror dash cam is very sleek and easy to install, you just needs to mount it over original rear view mirror with the rubber straps. Plug it into cigarette lighter by car charger and use the pry tool which we provided hide the extra cable in the dashboard. Package Included:
hgkjh oipo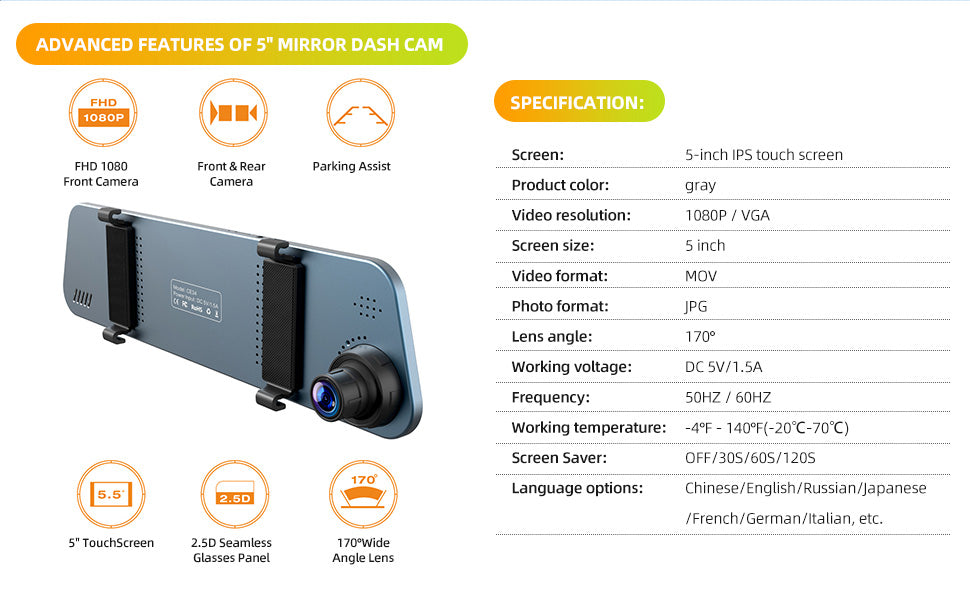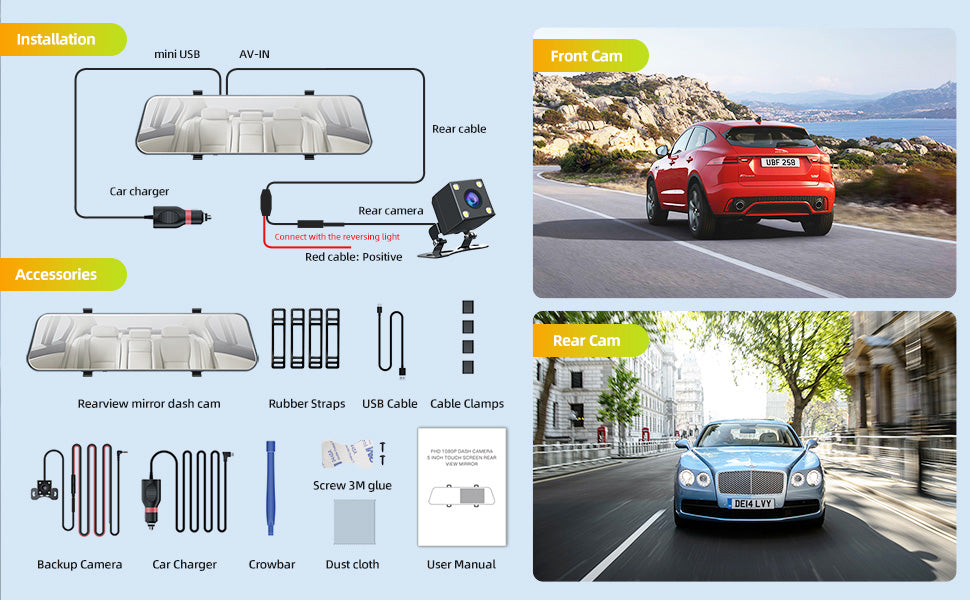 Warm Tips:
1. The 5" mirror dash cam records video at high resolution, 16GB or 32GB cards SANDISK brand class 10 or above is recommended. Before using it, please insert the SD card and format it in the setup menu.
2. Please do not splice rear camera wire to extend by yourself, it will cause that there is no image of backup camera on the display, please reach us if a longer extension cord if needed.