About this item
【Wireless Camera with 7" Portable Monitor】This wireless security camera system features an all-in-one design equipped with a 7 inch LCD monitor and 2 cameras for a clearer, wider viewing angle, and a built-in rechargeable battery so you can carry the monitor anywhere in your home. And the camera system comes with a 32GB memory card pre-installed, which supports 24/7 continuous recording and will automatically overwrite once the memory card is full.
【Auto Night Vision & Expandable to 4 Cameras】Outdoor wireless security camera with 4 arrays of IR LEDs that automatically switch to night vision when there is not enough light, keeps your home and business safe even in the dark. Cameras and monitors are paired at the factory and only need to be plugged into the power adapter to be automatically connected. This wireless surveillance system supports up to 4 cameras, if you need to extend your camera, please contact our customer service team!
【The WiFi installation is more convenient】When using, please insert the network cable and power cable into the NVR monitor, while the surveillance camera needs to be connected to the power supply, the video captured by the 4 cameras will be displayed on the screen at the same time. the NVR monitor and the camera are connected via WiFi. Note: the longest distance between the camera and the host WiFi communication is 150 feet; camera and camera wifi distance can be linked to effectively expand the monitoring range. Wall thickness also affects WIFI signal strength. All videos can be safely stored on SD card (up to 128G, not included) and in the cloud (30 days free storage)

【1080P Full HD】2.0MP presents 1920*1080 megapixels with 4 IR lights, giving you up to 49ft (15m)of night vision even in the dark The AI body detection alarm on the security camera is so innovative that it not only monitors your home, but also proactively protects it! Once any suspicious object is triggered, it will automatically light up your yard or scare away intruders.
【App control and two-way conversation】: the surveillance camera set with monitor supports app remote access, communicate with the baby via the screen and the mobile app, you can communicate with the courier when it comes to your door, and when you go out, you can visit the surveillance and communicate with your family members, and if you find a thief, you can call in time to to stop its behaviour. Avoid financial losses. Of course, you can also install the indoor camera in the baby room as a baby monitor, when you are cooking or yoga can be clearly heard and view the baby through the monitor, and does not require a WiFi connection, safe for babies.
【Alarm sound reminder and alarm email reminder】: the surveillance camera with outdoor monitor supports the setting "Human Detect", when someone passes by, a reminder sound sounds on the display and a character is displayed at the bottom of the screen. Alarm reminders can be set in the mobile app. When someone passes by, the app sends an alarm reminder
【IP66 Waterproof & wifi Connection】With IP66 waterproof design, the security camera can operate well in most weather and work perfectly even in low temperature environment (-4℉~122℉), which is perfect for outdoor or indoor use. Wifi connection between monitor and camera, true plug and play. When the camera and the monitor are separated by a wall, the stable connection distance can reach about 100ft-130ft. Perfect for doorways, baby room, nurseries, offices, garden,and convenience stores. The CCTV surveillance camera set provides all-round safety for your safety.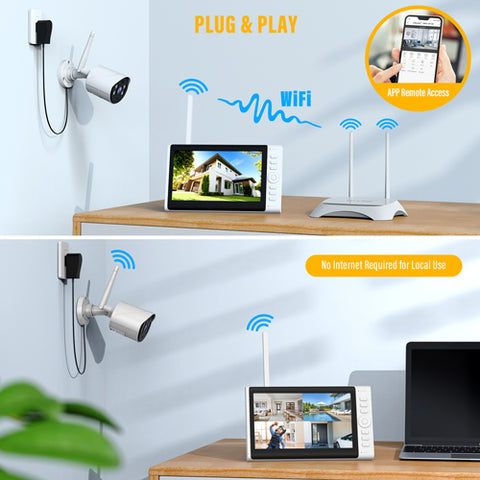 The simplest security system
Please connect the network cable and power cable for the NVR monitor and the wires for the surveillance camera to complete the installation. Turn on the power and it's all done! It frees you from messy wiring. No configuration, no need to hire an installer! A true plug-and-play security camera system!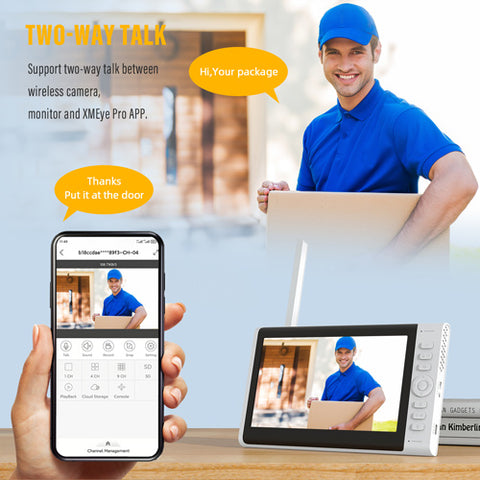 24 hours 30 days of reliable video recording
32GB SD Card drive pre-installed in wireless NVR for 30 days of video recording (up to 128GB TF support) The system allows all cameras to record simultaneously.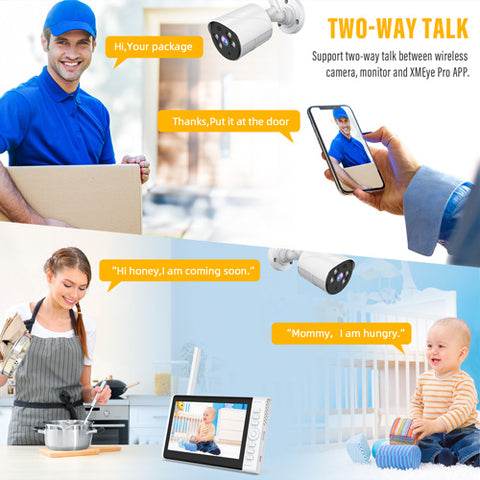 Two-way audio capability
Built-in microphone and speaker so you can not only watch video, but also clearly hear people on your phone app or monitor. And talk to or warn others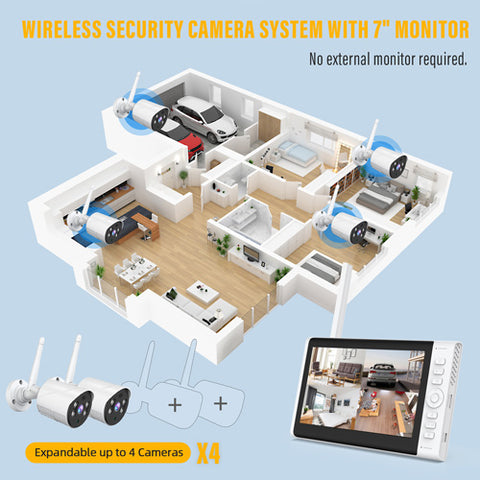 Easy remote access anytime, anywhere
Once you've set up your camera, you can use your phone, laptop, tablet or PC to view video remotely. The app lets you group multiple systems to view up to 4 cameras at once, anywhere, anytime.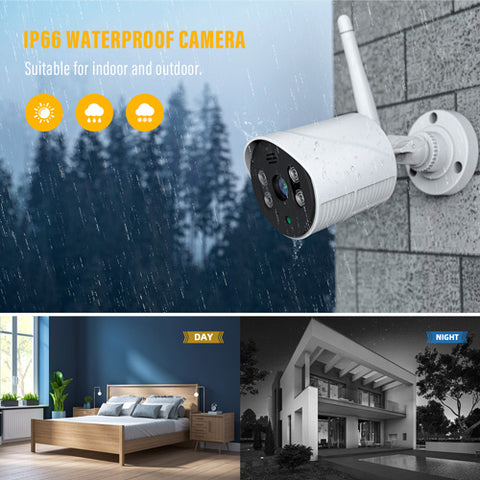 Play back videos at any time
Replay important evidence or interesting video recordings. Quickly search for any active video. Play any video in different days, hours or minutes by controlling the timer axis under split screen.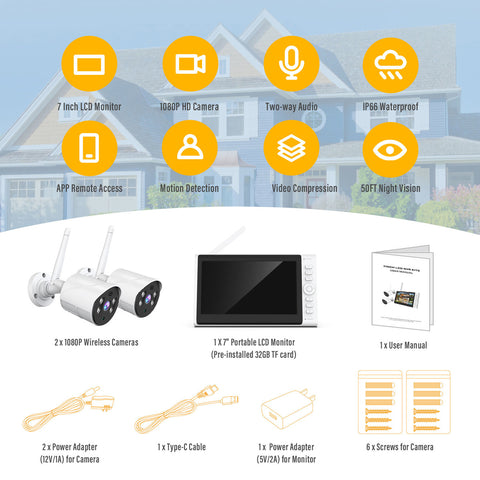 Features
7" LCD screen
Monitor Resolution: 1024*600 resolution
Built-in 3600mAh Li-ion battery
Support up to 128GB TF card (not included)
Support WIFI connection router
Type-C port for power supply & charging
Camera: 2MP pixel, HD1920*1080 resolution
Daytime color, nighttime black & white
4 infrared lights, night vision distance of 49 ft(15m)
Self-marked, speaker
IP66 waterproof
Rating Host can be moved at will maximum transmission distance up to 492ft (150m)
Package
1 x 4CH 7" LCD Monitor Wireless NVR (Pre-installed 32GB Memory Card)
2 x 1080P IP Cameras Supported Two-way Audio
2 x Antenna for IP Camera
2 x 1m power cables (12V/1A) for IP cameras
1 x Power Adapter (5V/2A) with Type-C Cable for Monitor
1 x User Manual
2 x Screws Kit