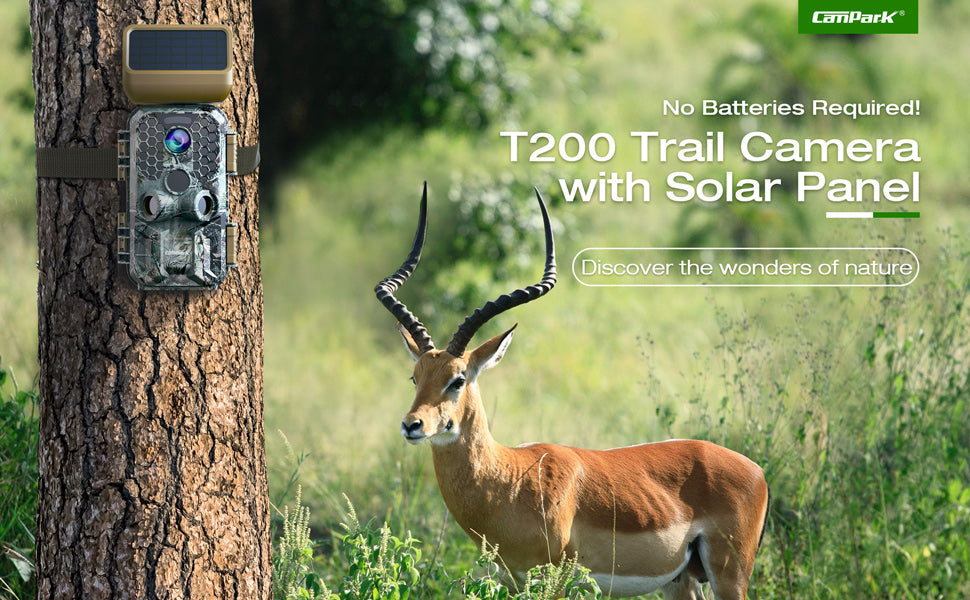 About The Campark T200 Game Cameras:
【Equipped with Solar Panel & No Battery Required】Trail camera is equipped with a solar panel. This makes the hunting camera work longer and you can save dozens of AA batteries a year. (Tips: Before using the trail camera, please charge the solar panel with the provided charger for 12 hours so that it can provide enough power for the game cam.)
【4K Native Video Ultra HD Resolution & 30MP More Clear Image】The wifi trail camera can take a 30MP clear image and 4K Native video (note: black and white at night), letting you feel the realistic animal world even on the screen. (Important Note: Due to app maintenance, If you need to install the application, please click to download.)
【0.2S Trigger Speed & IP66 Waterproof】 The solar-powered trail camera will trigger in 0.2 seconds when detecting the movement, allowing you to record every wonderful moment of wildlife. Activated IP66 waterproof design protects the trail cam, ensuring that can prevent rain-proof, drop-proof, and dust-proof. Ensures it will work in any extreme weather outdoors.
【WiFi Bluetooth Connection & APP Control 】The solar panel trail camera has wifi and Bluetooth function, which is very convenient cause you do not need to take it off frequently. When you want to set the trail camera, you can set it directly through the mobile APP (IOS:"Hunting 4K";  Android:"Hunting 4K pro"). 【NOTE: The trail camera's wifi(hotspot) has a distance, usually 10-15m. If the smartphone is far from the trail cam, you will not find the trail cam's wifi.】
【Wider View & Diversified Uses】Trail camera with 3 PIR sensors allows you to observe the 120°detection zone, which can easily capture a wider field of view. The 2.4-inch LCD display shows you the clearest image and video. The trail camera is perfect for hunting, wildlife monitoring, farm burglar, even home security monitoring.
Why choose the T200 Solar Panel Tracking Camera?

1. Equipped with solar panels, no batteries required. The solar tracking camera works alone without putting in a lithium battery.
2, 30MP image and 4K native video resolution. Bringing you crystal clear videos and pictures.
3. APP control and WiFi Bluetooth connection. Wi-Fi connection and APP control make it more convenient for you to take pictures and set up the tracking camera. There is no need to disassemble and install the hunting camera, the mobile phone can easily complete the operation.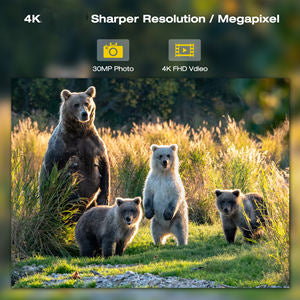 4K UHD Video and 48 Megapixel Image
All trail cameras are in constant pursuit for a better quality image/video, thanks to the most advanced 4K UHD video resolution and 30MP picture resolution our engineers adopted which enables you to monitor wildlife alike watching them in a 4K resolution TV.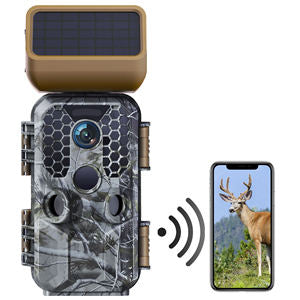 WiFi Bluetooth Connection & APP Control
The T200 is in the WiFi Bluetooth connection and APP control function. Needless to remove the camera from where you installed it to get the pictures and videos captured. Instead, you can do it remotely at the most convenient.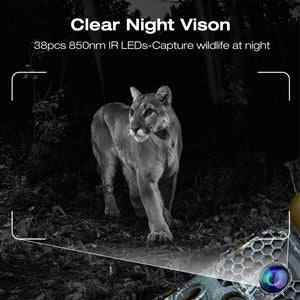 Trail Camera Super Night Vision
The T200 trail camera is equipped with 38pcs 850nm night vision lights with a maximum distance of 65FT(20m). It detects nocturnal animals at night when passing by, capturing wildlife images in high-resolution clarity, much like spotting them with a low-powered beaming torch.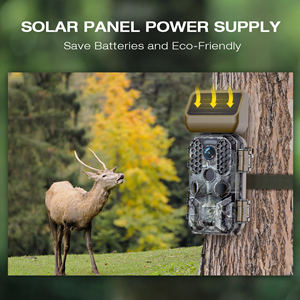 Equipped with Separate Solar Panels
The upgraded T200 tracking camera comes with a solar pane yet supportive with batteries mode. Easy to mount, supportive for tracking wildlife in sunny & rainy seasons both. The solar panel has a battery capacity of 2500mAh and can work in an environment of 0°C~60°C.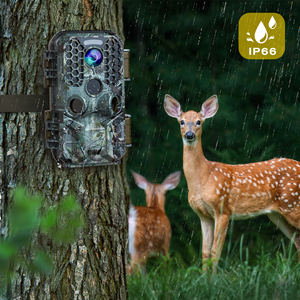 IP66 Waterproof Trail Cam
The IP66 waterproof speaks for itself, able to withstand heavy rains for hunters to track animals during the rainy season. Tested for continuous use for years-long in tough weather conditions in the wild.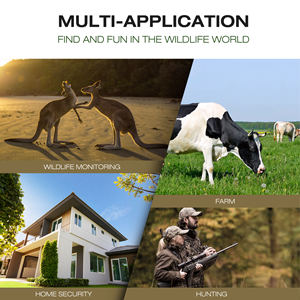 Wider View & Diversified Uses
The trail camera has 3 PIR Sensors and a wide viewing angle of 120° which minimizes the chances of missing any wildlife passing by. Best trail cam in 2021 for wildlife viewing, deer hunting, outdoor hunting, and farm monitoring, great gift ideas for hunters.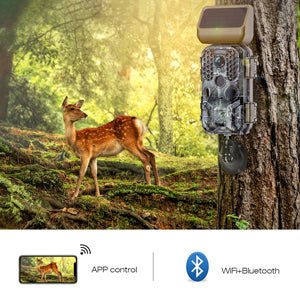 Specification
Photo Resolution: 30MP*24MP*20MP*6MP*12MP

Video Resolution: 4K 48FPS(3840 x 2160), 2K 30FPS(2560 x 1440)

IR Night View: 38pcs infrared LEDs (850nm)

Distance of Night Vision: 65FT(20m)

Screen: 2.4" color TFT LCD

Waterproof: IP66

APP: 

IOS:"Hunting 4K";  Android:"Hunting 4K pro"

USB Connection: Mini USB 2.0

Sensor Detecting Range: 120 degree

Operating Temperature: -20°C~60°C

Pack Dimensions: 10.31 x 7.28 x 4.53 inches

Item Weight: 2.42 pounds
What's in the BOX
1x Wildlife Camera
1x Solar Panel
1x USB Cable
1x Solar Hunting Camera Power Supply Cable
1x User Manual
1x Wall Mount
1x Mounting Belt
3x Screw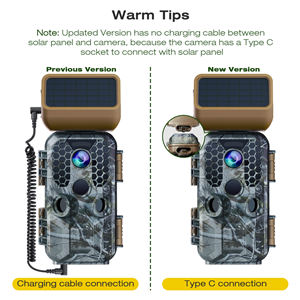 Important Notes:
1) The application program of the T200 solar power trail camera is "Hunting 4k Pro", You can find it in Google Play, or download it by scanning the QR code. If you can't find the app, please contact us
2) Please charge the solar panel for about 12 hours before use.
3) It is the trail camera that has wifi(hotspot), not home wifi. The trail camera's wifi has range limit, about 10m.
4) It is recommended to use SD/SDHC U3 Card up to a capacity of 128GB, please format the memory card before use.