The Campark T300, T150, and T180 solar-powered trail cameras are Campark's top-selling trail cameras for 2021; they are recognized and loved by consumers for their low price, high performance, and excellent quality. Now Campark is adding to its growing line of popular T-Series trail cameras with the introduction of the Campark TC-Series trail cameras in 2022. Taking the T-Series to a whole new level of nighttime image and video quality.
2022 Campark trail Camera TC Series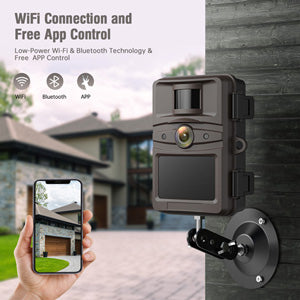 TC03: 4K 32MP No-glow Trail Camera
Campark TC03 is an upgrade of the original T70 trail camera, Campark TC03 both image and video resolution is higher than the T70 trail camera. Image resolution and video quality from the original 16MP, 1080p upgrade to 4K 32MP. both video and picture, there is a qualitative leap. The picture is clearer, and the trigger time is upgraded from the original 0.5s to 0.3s, the trigger time is shorter, reducing the occurrence of less shooting leakage. The new Tc03 is only 59.99 in the campaign, a great ratio of price. If you want to find a cost-effective, low price and picture quality can meet most of the needs of use, I highly recommend this one. 
Click to go Campark TC03 4K 32MP No-Glow Trail Camera
The Difference Between TC03 and TC04
TC03 and TC04 parameters function exactly the same, TC04 in Tc03 on the basis of an additional Wifi function. If you want to achieve the connection between the phone and the camera, you can choose the TC04 wifi trail camera; now the new activity price is only 79.99. The opportunity can not be missed.
Click to go Campark TC04 4K 32MP No Glow Wifi Trail Camera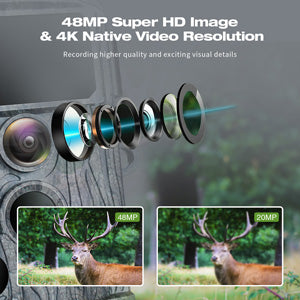 TC05:4K 48MP WiFi Trail Camera with 32G Card
The Campark TC series has been working hard to be able to take clear and vivid pictures. TC05 is improving the clarity of the pictures while maintaining the 4K HD native video. Capable of capturing 48MP images, with a night trigger range of up to 65 feet (20 meters), equipped with a 120° wide-angle lens, it instantly triggers within 0.2s once motion is detected. Even in the dark of night, you will not miss any animal. $139.99 also includes a 32G memory card, this is a very worthy investment in a trail camera.
Click to go Campark TC05 4K 48MP Wifi Trail Camera With 32G Card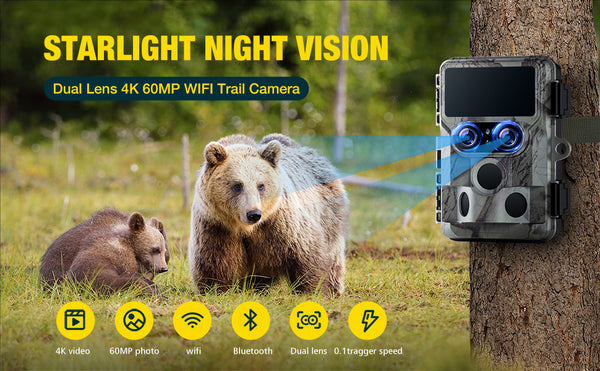 TC06: 4k 60MP Color Night Vision WiFi Trail Camera
The most important feature of Campark TC06 is that it can take color pictures and videos in the night with low light. The video and pictures captured during the day can reach an amazing 4K,60MP resolution. It contains two high-powered 850nm non-illuminated night vision infrared LEDs, equipped with the latest 1/3" CMOS sensor and high-quality F2.0 large aperture lens, can shoot 8MP color photos (with moonlight) and 1080P HD color video in low light night.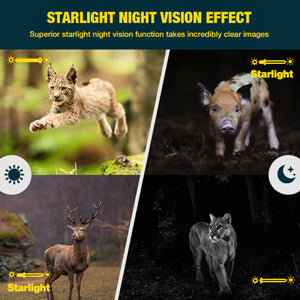 It is also Campark's first trail camera with color night vision function. 0.1s trigger speed without delay, trigger distance up to 30m(100ft) daytime/20m(65ft) nighttime. Also built-in 48 decibel sound capture microphone, allowing you to listen to the wonderful sound of the animal world. This is a high performance camera that can take stunning video and pictures. If you seek high quality video and picture quality, the first Campark TC06 color night vision trail camera, I believe this will be a camera that you will love.
Click to go Campark TC06 4K 60MP Color Night Vision Trail Camera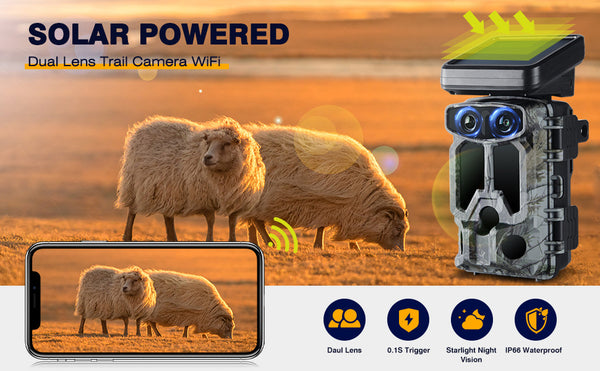 TC07: 4K 60MP Solar-powered Trail Camera with Maximum Clarity and Performance
Campark TC07 is the upgraded version of T180 solar-powered trail camera. It is currently Campark's highest performance and resolution trail camera. It retains the solar panel for continuous charging of the camera, saving you a lot of batteries and money. Using a dual-lens design, the two lenses can automatically switch according to the intensity of light. Compared with ordinary single lens trail cameras, it can provide you with 4K 30fps native video and 60 megapixel ultra-sharp images during the day and 1296P video and 8 megapixel photos at night. Giving you crystal-clear pictures, you can even see down to the hair of each animal. The video is smooth and realistic, with no graininess, and the animals appear as if they are right in front of your eyes.
In addition, when the battery is low, most trail cameras default LED lights do not work, but this camera even in low battery conditions, the night vision lens can still take pictures. You won't miss a chance to catch an animal, which is something you can't do with a single lens trail camera.
Equipped with 3 high-sensitivity PIR sensors, 0.1 trigger speed, 120 ° sensing range and 20 meters sensing distance. You will never miss any exciting moments of wildlife. More advanced features: IP66 waterproof, 3 modes (photo, video, photo + video), time lapse, time stamp, recording, password protection, 2.4-inch color LCD screen, 5-180 seconds video, etc.
From the parameters to the features of this camera, Camaprk is confident to say that TC07 trail camera is the best functional trail camera in the trail camera market. If you are looking for the ultimate in vision and functionality and want to have the best trail camera, the Campark TC07 undoubtedly has its place.
Click to go Campark TC07 4K 60MP Best Solar WiFi Trail Camera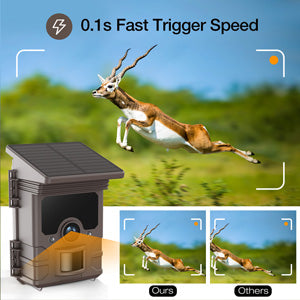 TC09:2.7K 30MP USB Rechargeable Solar Powered Trail Camera
Do you spend a lot of money on dry batteries every year? If you have this trail camera, you may never use the battery. In addition to its own solar panel on top to provide electricity for the camera, you can also charge the camera through the USB cable. Faster, more economical and more environmentally friendly. In the case of a fully charged USB cable and low power consumption settings, the standby state can be up to 1 year. If set to take pictures every day for 10 days, the standby state can still be up to six months.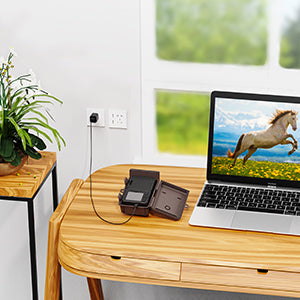 Meanwhile, the quality of 2.7K video and 30mp picture is decided after many tests, which is the best balance of picture quality and SD card memory. 0.1s trigger time and 120° detection range. Support loop recording, when the memory is full, the previous file will be overwritten.This product from IP66 waterproof, power, memory card issues are well thought out, saving you money as well as the trouble of back and forth installation and disassembly, rugged and durable. Ideal for long-term outdoor adventures and animal detection.
Click to go Campark TC09 2.7K 30MP USB Charging Trail Camera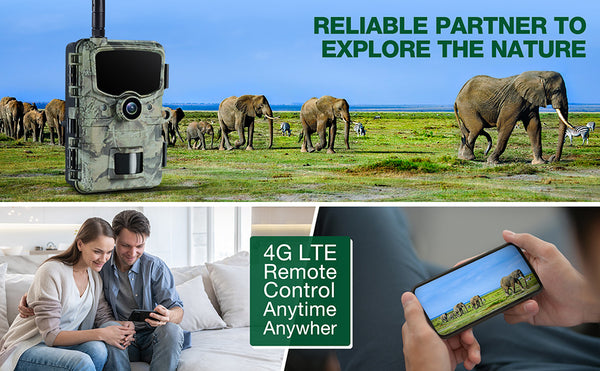 TC14:1080P 24MP 4G LTE Wireless Cellular Trail Camera
The Campark TC14 4G trail camera is the bombshell of the trail camera world.The Campark TC14 is the first trail camera that can use cellular data traffic. Purchase and activate your data plan with the included SIM card and scan the QR code to activate the camera. When the camera detects motion, you can receive pictures and videos of animals taken by the tracking camera anytime, anywhere, whether you're at home or at work. It saves you a lot of time and effort retrieving your SD card, and you can focus on what's important. You can manage camera settings, receive and share photos, monitor power, manage data plans, and set up email/phone alerts through the mobile app.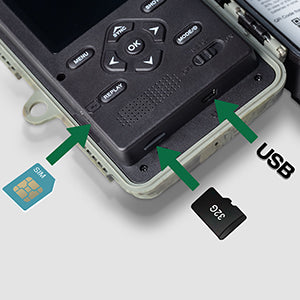 In addition, firmware updates, SD formatting, photo/video downloads and shooting settings can all be easily done with your phone. It can capture 24MP images and 1080p native video, 0.4s trigger speed, 80° detection range and trigger distance up to 65ft (20m). Other features include GPS positioning, multi-tap continuous shooting, computer connection, 3 PIR sensitivity adjustment and other settings.
TC14 4G trail camera is a very revolutionary innovation and experiment. If you are an amateur and enthusiast in observing animals, or as a home monitoring, you may want to try this 4G LTE wireless cellular trail camera. 
Note: this camera only supports the United States, the rest of the region is not available for the time being.
Click to go Campark TC14 1080P 24MP 4G Cellular trail Camera
TC15: 1080P 24MP Solar Trail Camera
Is the Campark TC series all about high performance and parameters? Answer: No. Campark Tc15 is such a camera. The Tc15 is a solar panel camera with a new design that makes the camera easier to hide and less noticeable. 24MP pictures and 1080p video, 120° wide angle lens, 0.1s c trigger speed and IP66 water resistance. You can take it home for only $109.99 USD. Perfect for the animal lover who wants a solar-powered trail camera on a smaller budget.
Click to go Campark TC15 1080P 24MP Solar trail Camera
2022 Campark trail camera new release - TC series, which one will you choose first? How about the Campark TC series of trail cameras? Click to learn more.