If you're looking for an affordable GoPro alternative? Then the Campark V40 4K action camera may be the perfect choice for you. --- From an honest review of the Campark V40 action camera.
I'll be straightforward about how I feel about the Campark v40, good and bad, and I'll be honest. So far (I've only had a camera for a few weeks), I've been very impressed with this action camera. If you're asking me is this camera worth it? Is it a GoPro replacement? I can definitely say yes. And I would recommend it to anyone looking for an affordable GoPro alternative. It looks well made, easy to operate, navigates through the menu system, and shoots great video. The unit retails for $159. But it's now slashed, and it's available directly from Campark for just $129 (June 2022). Add in various coupons and discount codes and I'm sure you can find it online for less than $100. For over a year, I've spent about $60 on another action camera, and while I'm very happy with the price, if I need to add another action camera, I'll definitely spend an extra $40 on the V40.
What's included in the package of the Campark V40 action camera?
The Campark V40 4k action camera comes with a host of accessories, including two batteries and a charger, a wireless wristb and remote, a waterproof case, an external microphone, bike mount kit, helmet mount kit, cleaning cloth and user manual.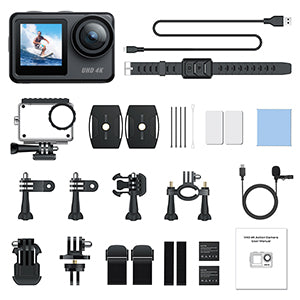 First impression
The first thing I noticed when I unboxed the V40 was that it felt weighty and textured compared to my other action cameras, and it felt full in my hand. My first impression is that it does a good job. It has a rubber grip on the outside of the camera frame, making it easy to handle, and it also acts to protect the buttons and electronics from water and moisture. Because the camera is waterprooft to 10 meters (33 feet) even if the camera doesn't have a housing attached. When the camera is attached to the housing, it can be used in water up to 40 meters (133 feet). Because of the waterproof design, the doors to the battery compartment and USB/HDMI port are tight and hard to open, which I guess is needed to ensure the waterproofness of the camera. I do find it a little odd that the micro SD card slot is right next to the battery, making it a bit difficult to pull out the card with the battery installed. But that's okay, I can understand and accept it. Unlike my other action cameras, the V40 includes a built-in threaded port on the bottom, making it easy to attach it to a tripod, selfie stick, or other type of mounting device. I really like the design, very user-friendly.
The Good
The most attractive thing for me is its resolution of 4K/30FPS, which will allow me to "zoom in" on post-production without losing HD quality. 
Dual screens on the camera
When recording a hunt, I use my other action camera as a second angle camera, as pointing at myself to capture what I'm shooting. But since there's only one screen on the camera and it's still on the back, I can't see the actual shot. So I had to use my phone as a secondary shot so I could check the actual recording. Adjusting the picture while recording, I believe many bloggers know this, it is very painful. However, the campark V40 just solves this problem. I can turn on the front screen and see exactly what I'm recording. The dual-screen design is really convenient and efficient for me, and it also saves me a lot of time and energy. I have to say that this is a great design.
Another major benefit of this camera over my other cameras is the ability to add an external microphone. Not only can you add an external microphone, but Campark includes one in the kit. This is a lapel microphone. I clipped it to the camera and recorded some video of me talking, and it also did a good job of capturing audio; much better than the built-in mics on my other action cameras.
Another added feature is that the camera itself is waterproof. Even without a waterproof case, it is waterproof to 10 meters (33 feet). This means that if there is a sudden rain shower while outdoors, or if the camera falls into a puddle, you can wipe it off and continue recording.
When it comes to the V40's great features, the last thing I want to mention is the friendly touchscreen menu. I found the menu to be very intuitive and easy to navigate. Everything is well labeled, and it's easy to pinpoint exactly what changes you've made to the camera. And so far, the touchscreen has performed flawlessly.
I think it needs to be improved
Although so far I really haven't found much to complain about. But as I mentioned above, the micro-SD card slot is in an odd location, making it difficult to remove and insert the SD card, which is a real inconvenience. Also, I did notice that in standard mode, the camera doesn't seem to perform well in low light, which can be problematic when shooting outdoors in low light. However, I found that the "Auto Low Light" setting on the camera seemed to fix this. One thing I need to say is that I haven't looked at any footage shot with that setting to see how much it affects video quality.
Unknown
Since I only have a few weeks of the camera at this point, with limited use, there are obviously things I don't know right now. One question I haven't answered myself is how long the battery will last in normal use. From my limited experience, they seem to do a good job, and the inclusion of backups makes it great. If this is a major concern for you, you can always carry a portable phone charger with you as a backup power source for it. I've done this with my other camera and it works great.
The last thing I'd like to say is that I have no way of knowing if the camera can withstand the intensity of use, and it would take more time and use to come to a conclusion.
Specifications
Video Resolution: 4K 30fps/2.7K 30fps/1080P 60fps/1080P 30fps/720P 240fps/720P 120fps/720P 60fps/720P 30fps
Video Format: MP4 Photo Resolution:20M/16M/13M/8M
Image Format: JPG
Sensor: SONY
Battery: Two 1350mAh Li-ion Batteries (Included)
Wi-Fi Connection: Android/iOS Supported(8-15 meters)
Waterproof Depth: 33ft body waterproof/131ft waterproof case