Are you all set to set out for the next adventure and looking for a camera to freeze every exhilarating moment? Well Campark is here to help with the wide range of best cameras for vlogging that you can mount on your helmet, bicycle handle, tripod and so on while you are enjoying the action. Buying the action camera is a one-time investment because you would not buy new models every year, so choosing the suitable one is the key. However, if you are new to this field and still not hundred percent sure about investing much to this accessory, there are also affordable choices that cost less than $100 although work efficiently.   
Campark X15 16MP 4K Action Camera
The best budget action camera 2022 Campark X15 comes with two 1050 mAh rechargeable batteries so that you can always have power backup while each battery supports for about 90 minutes. You will also get bicycle and helmet mounting kits to explore the various modes like loop recording, time lapse, screen saver, slow motion and burst photo. With the waterproof case, the camera is waterproof for up to 30 meters under water.
The in-built Electronic Image Stabilization will make capturing faster actions better. There is a 2 inch IPS touchscreen display for previewing and adjusting operation. The action camera lets you shoot at different combinations like 4K at 25fps, 2,7K at 30fps, 1080P at 60fps and 30fps and 720P at 120fps and 60fps while images are captured at 16MP resolution. With Wi-Fi signal that works up to 10 meters, you can use the camera hotspot to share the footages through the Smartphone app called iSmart DV.        
Campark X20C 20MP 4K Action Camera
The ACTMAN Campark X20C can be the best action camera for your next trip with its professional video resolution of 3840 x 2160 (4K) at 30fps speed and image resolution of 20MP so that even the minute details captured. The high sensitivity 2 inch IPS screen lets you view the footages, play videos and also browse through the menus to set the functions by scrolling and touching the screen. In continuous shooting mode, it can shoot 3, 5 and 10 pictures at one go. There are also two 1050 mAh batteries available.
As the best camera for vloggers the X20C has a 180 degree wide field of view for capturing a wide area and it also an in-built image stabilizer so that you do not have to equip external stabilizer for eliminating the jerks and bumps. With the DV King 4K app installed on your mobile device, you can turn on the Wi-Fi function and access the footages and share them. With the waterproof case, it is up to 40 meters waterproof and has 2.4 GHz wireless wrist remote control to adjust functions while you are in middle of the action.       
Campark X35 24MP 4K Action Camera
Among the best action cameras in 2022, the Campark X35 can be the most suitable for its Sony sensor with the video resolution combinations of 4K at 30fps, 2.7K at 30fps, 1080P at 120fps, 60fps and 30fps and 720P at 120fps, 60fps and 30fps. While the videos are saved as MP4 format, the images are saved in JPG format with varied resolutions like 24MP, 20MP, 16MP, 13MP and 8MP. With each supporting for 90 minutes, there are two 1050 mAh batteries included.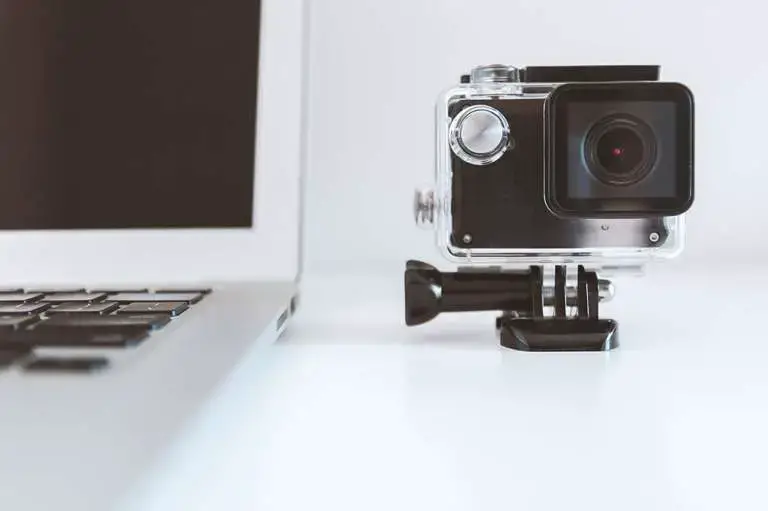 It has EIS function and in-built Wi-Fi function that is compatible for 8 to 15 meters. It has a waterproof case supporting water resistance of up to 40 meters.
It has a wide field of view of 170 degree and you can also choose medium and narrow angle accordingly. While the front screen lets you take selfies with self timer, the 2 inch back screen lets your preview and playback. With XDV Pro app you can access the footages on your mobile. Connecting the USB cable, you can transform the camera into a dash camera in car mode. It can also capture time lapse and long exposure with durations like Auto, 2, 5, 10, 15 and 30 seconds.   
Apart from these, you can also consider Campark ACT76 4K camera, ACT74A 20MP 4K camera, V30 20MP 4K camera, X40 20MP 4K camera etc.