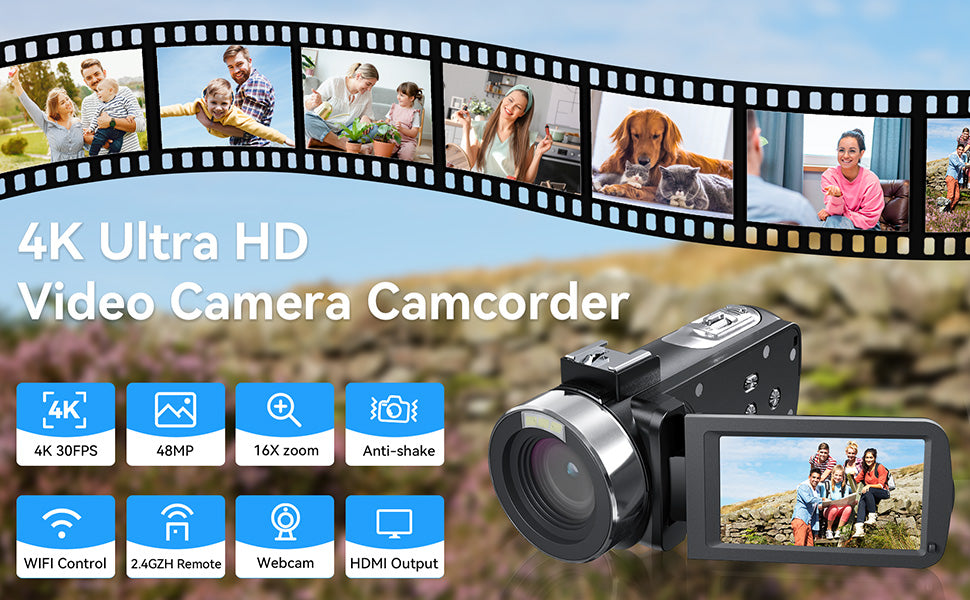 About this item
【Upgrate 4K ultra HD camcorder digital camera】4k video camera Featuring 3.0 inch 270-degree Rotation TFT LCD screen, this Video Camera supports 4K(30FPS) Video Resolution and 48MP photo Resolution, 16X digital zoom with Sony CMOS sensor, the clear and realistic picture quality would surprise you. Built-in Fill Light, Anti-shaking, Self-timer, TV Output, A variety of functions and modes make you have fun for this fashion Vlogging Camera.
【WIFI interlligent remote control】This HD camcorder is equipped with a remote control, you can take photos and videos by anywhere, anytime, you can use the downloaded APP (DV_KING4K) to control the camera, wirelessly transmit photos and videos to your mobile phone or tablet, and then You can share it on Facebook, YouTube, Skype, and other social media. This camcorder also supports lighting function, which can shoot clear images and videos in a dark environment.
【Portable video camcorder】It is a small and lightweight rotatable camcorder, portable for you to carry around. This Flip Screen Camera with LED light and suppor standard tripod. The lens hood can block excess light, to shoot higher-quality images and videos and protect the lens from damage. Also come with an external microphone, really a nice digital video camera for photography beginners and professionals.
【Webcam function + HDMI output】This 4k camcorders video camera also has a Webcam function. Use a USB cable to connect to a computer in PC CAMERA mode, or use it for real-time streaming media such as YouTube/Facebook/Skype, lets you make video calls with friends and family. You can also connect the video camera to the TV with an HDMI cable to play videos and photos, share the wonderful moment your family or friends.
【Recording while charging】This Video Camera Camcorder comes with 2pcs rechargeable batteries. One full-charged battery can be sustainably used for 60-90 minutes. Or you can record videos while charging, in this case, you can record long enough videos as you wish and no need to worry about battery drains. Video camera supports SD card 4 GB to 128 GB (The SD card is not included, please purchase separately) Please format the SD card before using this camera.
【APP】download the APP,the QR code of the APP Or search directly in the mobile store:"DV KING 4K"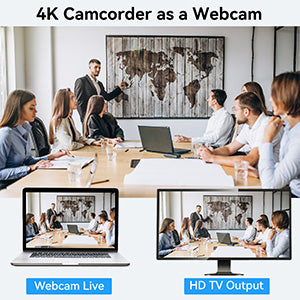 48MP images and 4K Ultra HD video
This new upgraded 4K video camcorder produces vivid images at 48MP and crisp video at 4K/30FPS,produces higher color saturation, and the image quality reproduction is more realistic. This video camera has a 270-degree rotatable 3.0-inch screen, to meet all your shooting angles. Making this the perfect camcorder for taking photos and videos.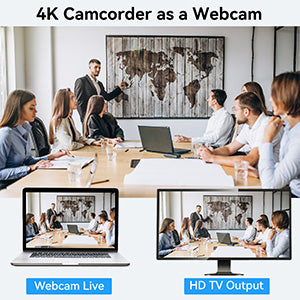 Multiple functions available
UHD video camera with the 16X digital zoom, you can zoom in and zoom out to give you a clearer view of distant objects. In addition, this video camera has many features contributing to recording, including Time Lapse, Slow Motion, Continuous Shooting, Self-timer, Color special effects, Slow shooting and many more!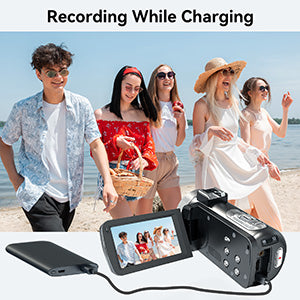 Applicable to a variety of places
The Perfect Gift for Photography Lovers, Capturing All The Wonderful Moments of A Growing Life. To help you record every happy moment in your life, such as baby growth, birthday party, graduate, wedding memory and family travel!
Warm Tips:
1.The camcorder supports up to 128G memory card which is excluded in the package. We recommend a branded class-10 SD/SDHC card which required to be formatted in the camcorder before first-time use.
2.When using AC08 for the first time, please charge the battery for 2 hours full charged before use.
3.The instructions are detailed in the manual and we have a professional after-sales team, please feel free to choose our AC08 4K Camcorder.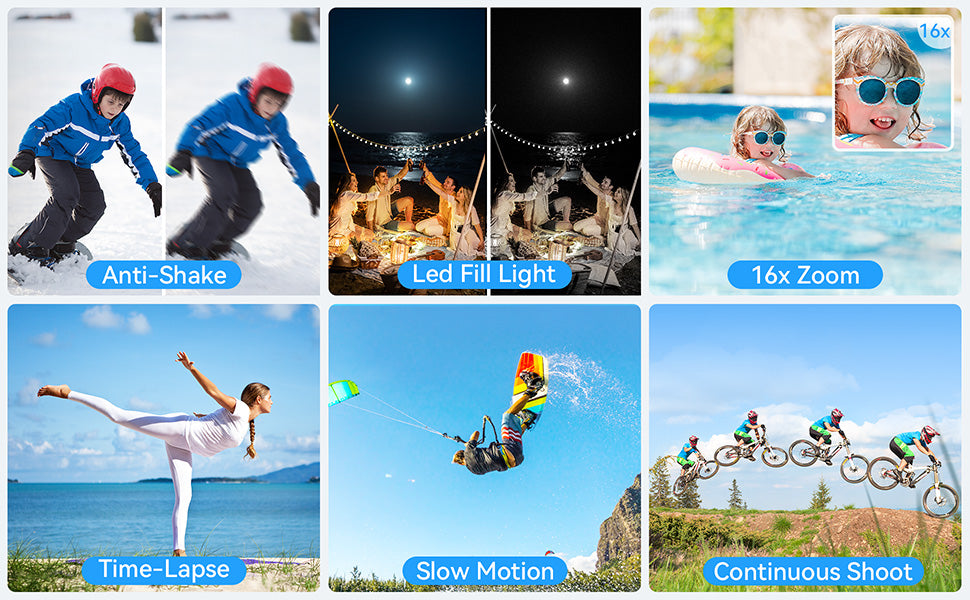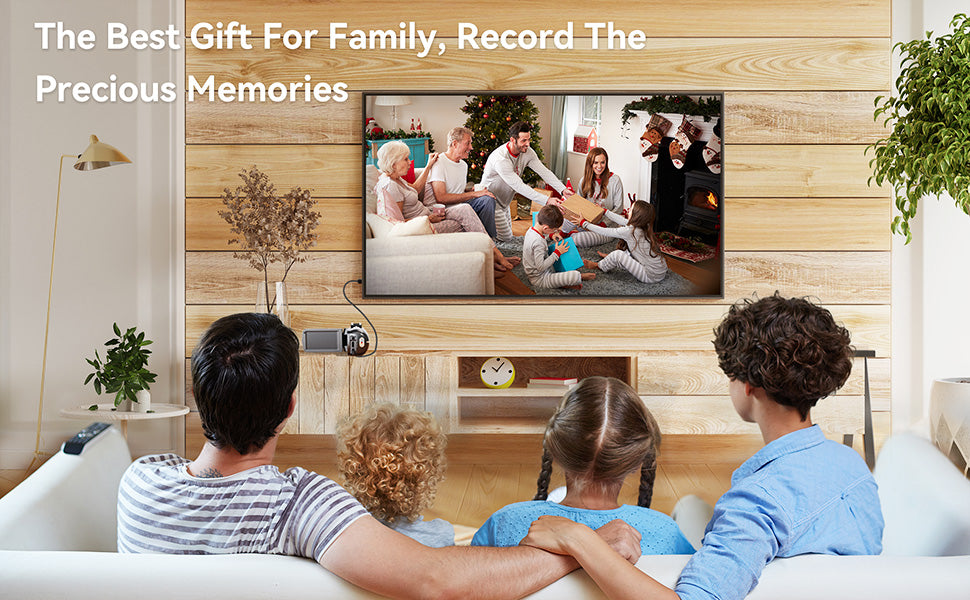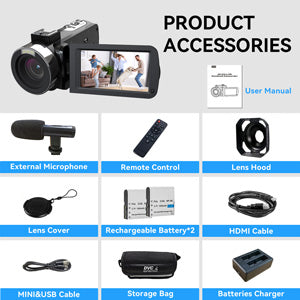 Specification
Video Fomat: Mp4
Photo Fomat: JPG
Data interface: Mini USB HDMI
Storage: MAX to 128G SDHC
Power input:DC 5V/2A
Microphone: Built-in MIC
Speaker: Built-in
Battery: 1350mAh
Zoom: Support 16X Zoom(photo only)
Charging Time: 1-2hours
WIFI: wifi 2.4G
Working Temperature: -10℃ to 60℃
Storage Temperature: -20℃ to 70℃
APP: DV KING 4K
Screen Type: IPS
Screen size: 3inches
Work time: About 1.5 hours
Package
1X Handheld Camcorder
1X Camcorder Portable Bag
1X Remote Control
1X External Microphone
1X Lens Hood
1X USB Cable
1X MINI Cable
1X HDMI Cable
1X Batteries Charger
2X Rechargeable Batteries