About this Item
2.5K Ultra-HD Dual Dash Cams - 2.5K front mirror dash cam and 1080P backup camera can simultaneously record up to 2560 x 1440P and 1920 x 1080P Ultra-HD video, provide clearer road details and license plate video can protect you in the event of an accident or insurance claim.
10" Full Touch Screen & Wide Angle - 10" Streaming Media Full Touch Screen Dash Cam with 170° adjustable front lens and 160° rear camera can grasp the environment around you easily reduce the blind area for safe driving. More visibility, more security.
Night Vision & Advanced HiSilicon Chip - Equipped with advanced sensor and F1.8 large aperture 6-glass. this car camera can capture sharp video and images during the day and night. Powerful HiSilicon 3556 chip with strong image processing capabilities, provides excellent video quality, stability, fast response speed, and brings you a high-quality experience.
Full-Screen Parking Assistance - 1080P waterproof rear view camera when your car is put into reverse. the Full-Screen image will display park assist lines for safe and easy parking helps minimize the chance for potential scratches when backing car into any tight spaces.( the red wire of the rear camera should be connected to the positive pole of the reversing light).
Loop Record & G - Sensor & Parking Monitor - Continuous recording even if the memory card is full. G-sensor detects a sudden collision and emergency locks the collision footage. Parking monitor functions when detecting a sudden shake or collision, it will trigger the car dash cam to record a 20s video and lock the video footage.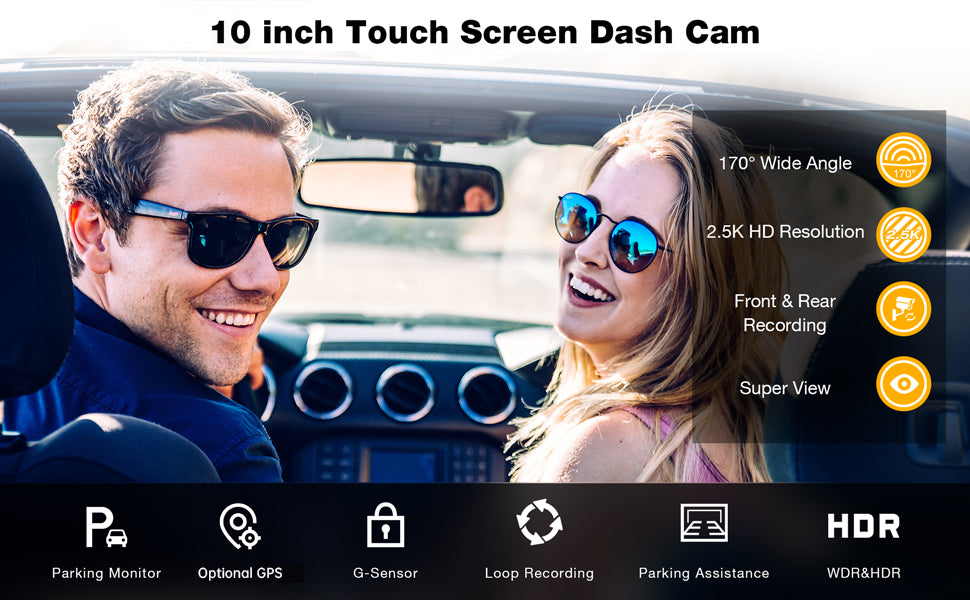 Are you looking for a quality UHD 2.5K Mirror Dash Cam?
The CE61G Mirror Dash Cam You Deserve It
2560*1440p@30fps front and 1920 * 1080p @30fps rear high-resolution rearview camera, the bright full screen makes it possible to clearly read the license plates of vehicles behind or in front of you, both day and night. Both cameras simultaneously record the road ahead of you and behind you, assuring your safety in the event of an accident or insurance claim.
Excellent Night Vision, The stream media mirror dash cam features 6 glass lenses, an F1.8 aperture, high-sensitivity image sensor, which offers you excellent night vision.
2.5K +1080P Front & Rear Camera, 170° front wide angle and 160° back wide-angle recording simultaneously, plus 10 inch anti-glare screen, you can see cleaner & brighter footage behind the car synchronously with less blind spot.
Waterproof Reverse Camera:The rearview cam will switch to a reverse aid system when reversing the car. (Need to connect the red wire of the rear view camera to the reversing light)
More Functions: Support 128GB SD Card:It can store more high-quality video images. Loop recording&G-sensor, Parking monitoring, Support GPS Module (Note: need to purchase our customized GPS Module).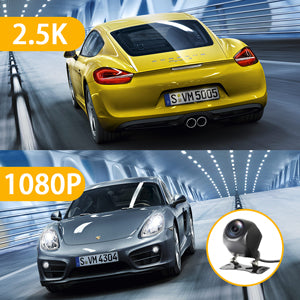 HD Dual-recording & Excellent Night Vision
The camera rearview mirror, which is equipped with a high-resolution 2.5K front camera, a 1080P rear camera, and advanced Analogy High Definition (AHD technology, records clear video, reads license plates day and night, protects you, and provides evidence of insurance claims such as road rage measures and accidents.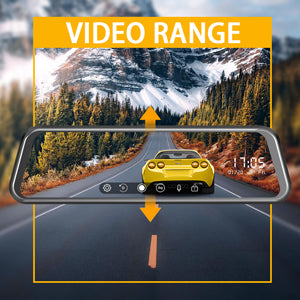 10'' IPS & Adjustable Viewing Angle
The Mirror dashcam with a 170° wide-angle front camera and 140° backup camera, you can manually adjust the display range up and down when driving and reversing, which can eliminate more blind spots and provide a larger field of view, especially at night and under bad weather, to provide you with all-round safety.
Loop Recording and Collision Lock
Loop recording will automatically overwrite the earliest existing unlocked footage to ensure continuous ongoing recording. With G-sensor enabled, it will automatically lock and save the video during a collision if you are in an accident and need video evidence for insurance and legal purposes.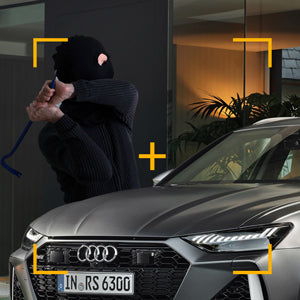 Parking Monitor
When the G-Sensor of the dash cam detects a car shaking during parking, it will instantly come on and record a short locked video to safeguard your car, giving you with important evidence of theft or hit-and-run, ensuring you peace of mind with complete 24x7 monitoring of your automobile. Hardwire kit is supported (additional purchase required)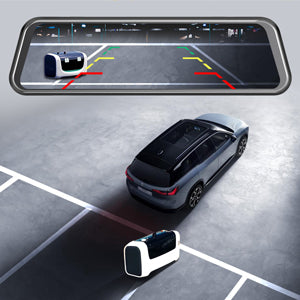 Reversing Aid System
With a parking system, the Mirror Dash Cam will automatically switch to the rear camera screen (Note: Please connect the red line of the rear camera to the reversing lights) and will display park assist lines for safe and easy parking, giving you a full sense of security.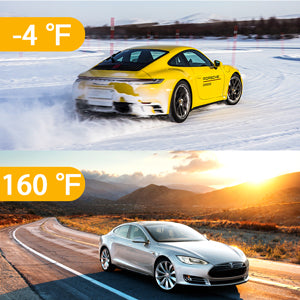 Durable and Safe, Use and Buy at Ease
Working temperature support: -4 F-140F, very durable and safe, and Strict quality control and have a professional QC team customer support team, so that you can buy with peace of mind and peace of mind. with CE, FCC, RoHS & UL certificated.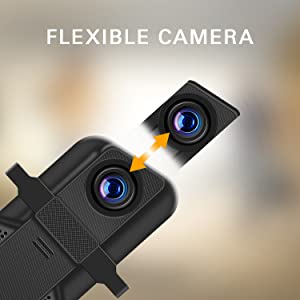 Flexible Camera
The front lens can be adjustable manually. The front camera 2.5K (2560 x 1440P) has a 170° wide-angle, and can clearly display license plates or road signs in the distance.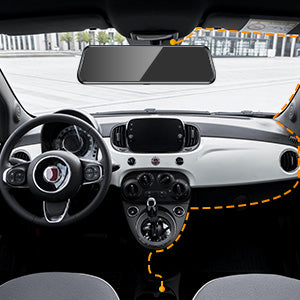 Easy Installing
Mount front camera over original rearview mirror with the rubber straps. And plug the GPS cable into the main body and stick the GPS module to the front windshield.
Package Included:
1x 10 inch 2.5K Mirror Dash Cam
1x 1080P Backup Camera
1x 18 ft Cable for Backup Camera with Screws and 3M Tapes
1x 11 ft Car Charger
4x Rubber Straps
4x Cable Clamps
1x Easy Pry Tool
1x User Manual
Important Tips
We recommend using a high-speed Micro SD card with class 10/U1/U2/U3 or higher, with a maximum capacity of 128GB (Not Included). Before utilizing, first format the dashcam.
A constant power supply is required for the dashcam (This is not a wireless device; instead, use the car charger provided.)
Please contact our customer support if you require any assistance or additional accessories, such as an extension cord or a GPS.