4K+1080P Dual Dash Cam with GPS, WIFI for Taxi/Uber/Lyft/Rideshare Driver
4K Ultra HD Recording: This dual dash cam equipped with ultra 4K 3840x2160 30fps front camera and 1920x1080 30fps inside camera simultaneously records front and inside. Interior car camera provide clear recording for driver and passenger.
GPS Tracking Speed and Location: Features built-in GPS to record your driving location and your speed, this dash cam front and cabin suctions to your windshield and is easy to use and your favorite budget-friendly pick.
WiFi and App: Features built-in WIFI and dedicated app make it easy to view, download footage on smartphone, also share recording to social media.
Wide Angle 170 front and 150 inside: This dual dash cam gives you an extra-wide 170 degree field of view, so you never miss a thing. The 3.2 inch IPS screen makes for clear playback, letting you view the live recording while driving or allowing your passengers to view immediate playback.
Powerful functions: Most versatile interior dash cam on the market to feature a combination of G-sensor lock, Loop recording, Parking monitor, screen saver, etc. The built-in vibration sensor will lock the recording as soon as a collision occurs. Parking monitor will start recording when your vehicle is parked and turned off, and someone either tries to break in or hits it.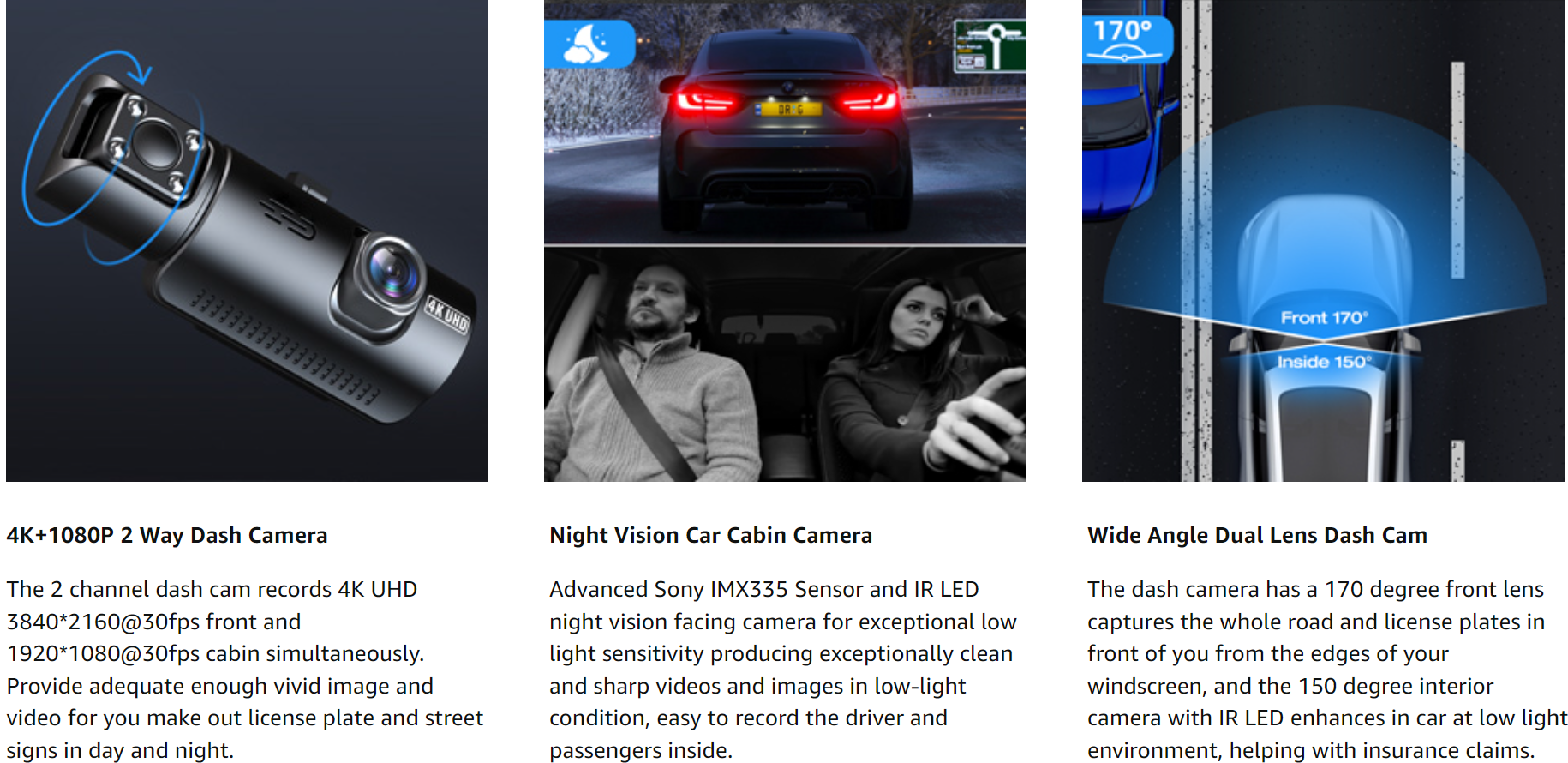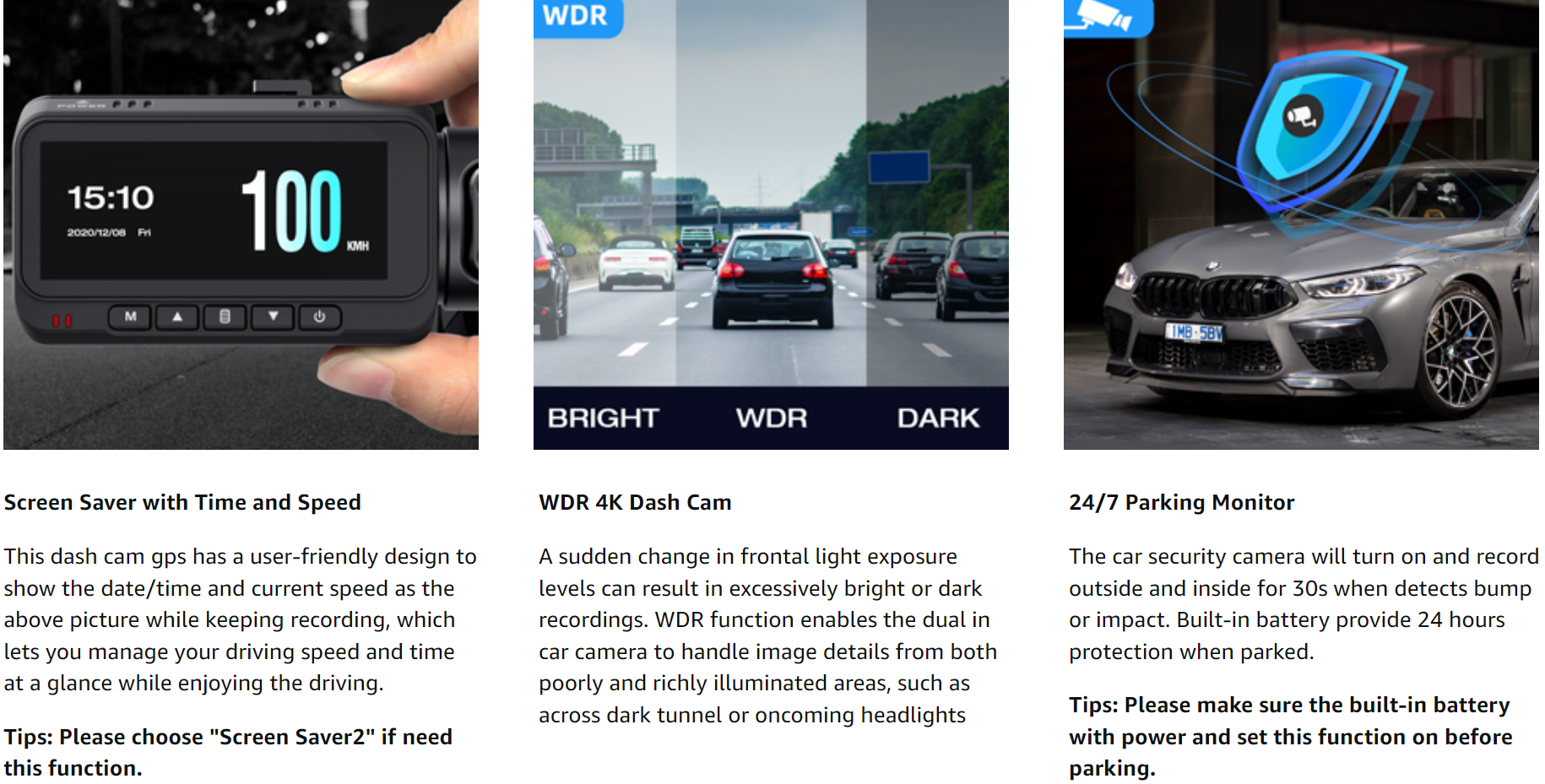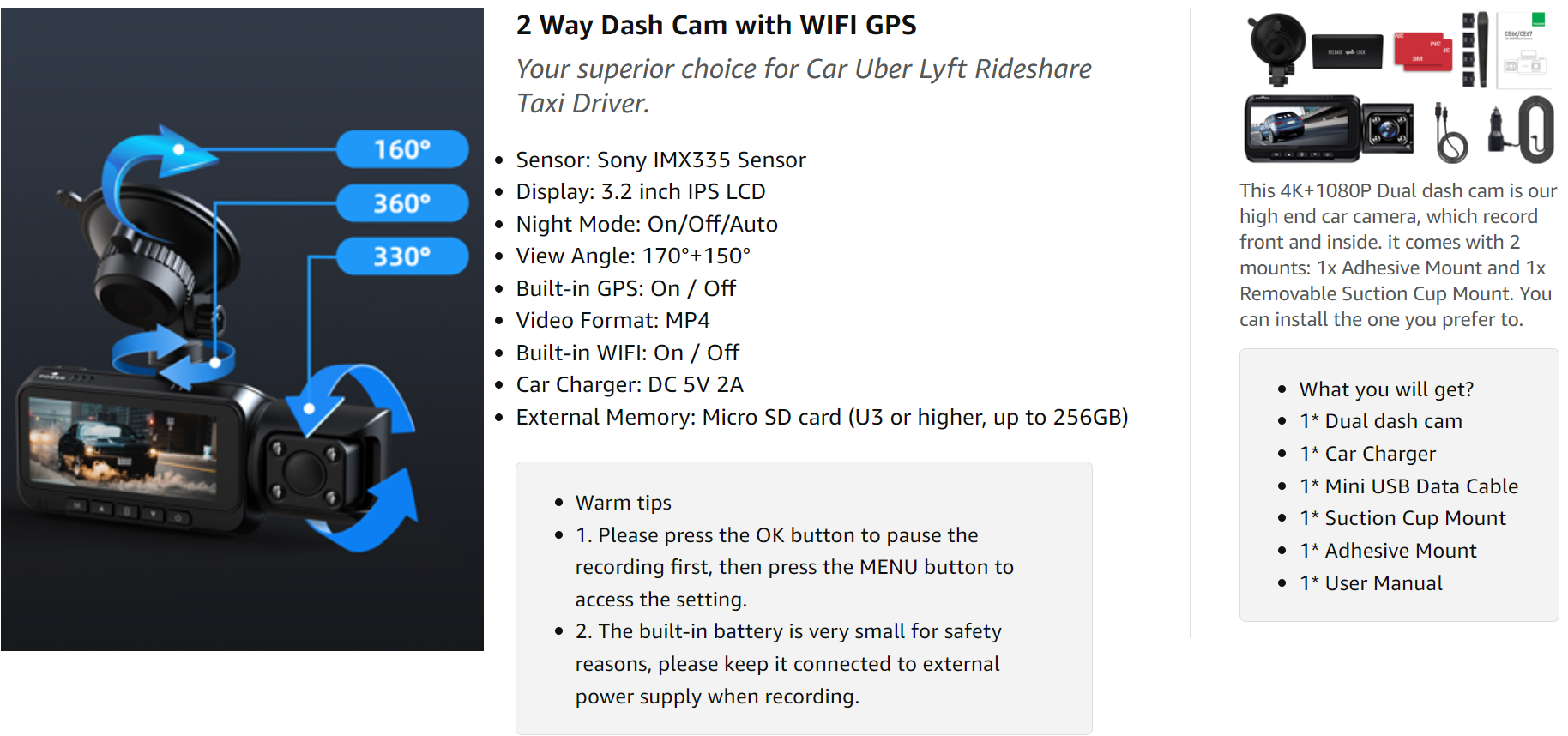 Built-in WIFI and App Control
This WIFI dash cam transfer your dash cam recordings to your smartphone over WiFi by GuandCamera app interface. This makes it easier than ever to share footage from your trips.
How easy to connect the WIFI App GuardCamera:
1. Scan the QR code in user manual or search "GuardCamera" on IOS store/Google Play.
2. Turn on WiFi feature on the dash cam
3. Choose "Add a new device" and select "Car Recording", find the WiFi name and password on the dash cam screen, connect it on the smartphone.
FAQ:
Q: The dash cam keep to show both front and inside camera, even I have set record front camera only?
A: If choose Resolution "UHD" or "FHD", the dash cam will record front camera only. But both cameras will show on screen for driver view.
Q: The menu button doesn't work while recording.
A: Yes, the menu button is unavailable while the dash cam is recording, please have to stop recording then go into menu.
Q: Every 10 seconds turns off and restart?
A: This dash cam has motion detection function, while the dash cam detect moving, it will record 10s then stop. We will suggest do not turn this function on.