About this item
【Instant WiFi Sharing】As long as the digital photo frame has wifi, you can receive pictures and videos anytime and anywhere. In addition, you can also use a micro SD card (up to 32GB, not included in the package) to import pictures in batches. You, your family and friends can easily send pictures via "Frameo" App, email, Facebook or Twitter.
【Auto Rotate】The smart digital photo frame has a very user-friendly operating system. Pictures and videos can be automatically rotated when displayed, in portrait or landscape orientation, as you like. All pictures can be played in a slideshow, with background music (warm reminder: please update to the latest system after receiving the smart photo frame!)
【High Quality Picture】The photo frame supports JPEG / BMP / PNG image format and WMV / MOV / MP4 and other video formats. The 8-inch digital photo frame adopts an IPS touch screen, allowing you to fully enjoy your vision.
【Built-in 16GB Large Storage】This electronic photo frame built-in 16 GB memory which keeps around 45,000 photos of 300KB/pc.You also can insert a micro SD card (Max. 32GB) for keeping more pictures(note: SD card Not Included).
【Perfect Gift 】Digital photo frames can be used as great gifts for Thanksgiving, Christmas, New Year, birthdays and weddings. Use the digital photo frame to share your warm moments with your family and friends!
Wifi Sharing & Frameo App
Digital photo frame can receive photos and videos with WiFi (2.4GHZ) connected. And with the App "Frameo"( it can be downloaded from Google Play and App Store), you can share precious moments with your loved ones anytime, anywhere.
Built-in 16GB, Support Micro SD Card
This Smart digital photo frame has a built-in 16GB large-capacity memory, which can store 40,000 300kb pictures. You can also use a micro SD card to batch import pictures (up to 32GB, not included). NOTE: Please remove all external devices when resetting the digital frame.
Share Photos or Videos
The WiFi digital picture frame is not a traditional frame which can only display photos, it can also play lively videos with max.15 seconds! The videos support MP4 format and can wireless share pictures/videos via the app "Frameo" anywhere. Besides, you can add unique and interesting captions to your photos and videos.
Auto-Rotate Function
The electronic picture frame will automatically adjust the direction of a photo, you can hang it on the wall or place it on a table for the best viewing experience. Enjoy your intact photos in full screen.
Multi-user Management
You can easily maintain your intimate network in this photo frame by adding new users and managing your bound users. You can add up to 20 users, and you can also delete to add other users.
Multi-function Settings
You can personalize the digital photo frame with your own preferred settings, such as play order, show/hide/delete photos, timer, display caption, playback audio, brightness adjustable and sleep mode, etc.
Digital Photo Frame Support FRAMEO APP (iOS/Android)
Frameo App is for Android and iOS. You can download through Google play or App Store to share precious moments anytime, anywhere.
Using Frameo share the unique code to your friends/family to add them to your frame. The code would be valid for 12 hours to keep your frame safe and get rid of strangers' requests.
Share Moments Anytime, Anywhere
No matter where you are, there is don't worry about the obstacles of space distance. The frameo digital frame wifi allows you to wirelessly transfer photos/videos to the frame from anywhere in the world, allowing you to instantly share unforgettable moments with your family/friends.
User-friendly interface design makes it easy-to-use for all ages. Only a few steps to complete the setup.
Tips:
The digital photo frame must be connected to the power supply at all times.
The digital picture frame supports videos in MP4 format and can only be uploaded from the "Frameo" app.
Digital picture frame has 16GB of built-in memory, 12GB are available for photos and videos besides the existing applications.
To protect your privacy, please reset the digital photo frame before sending it back.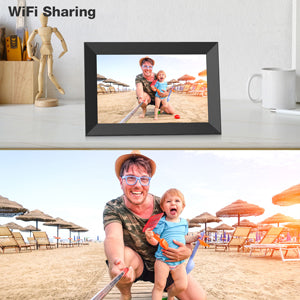 Specifications
Screen Size: 8inch(16:10)
Resolution: 1280 X800
Memory Card Supported: micro SD card (max.32GB)
Picture Format: JPG/JPEG/BMP/PNG
Video Format: MP4
Cable length: 1.2m/47.2 inch
Package
1 x Digital Picture Frame
1 x Power Adapter
2 x Digital Picture Frame Stand
1 x User manual