About this item 

This is a solar-integrated trail camera, which has a subversive or revolutionary significance and value.
【Solar panel trail camera saves thousands of batteries】: CamparkT180 is a self-contained solar-powered hunting camera, which has a disruptive or revolutionary meaning and value. The top of the camera is equipped with solar panels that convert light energy into electricity, and the camera has a built-in 4400mAh low-temperature resistant battery inside that can store the solar energy converted into electricity for the camera's continuous power supply. No need to add AA batteries to use, save a lot of dry batteries every year. (Tips: Please use 4 AA batteries at low temperatures for better performance. It is recommended to charge the solar before using it)
【4K sharper video and 46MP sharper photos】: Featuring a premium optical lens and a cutting-edge image sensor, this trail camera captures 46MP pictures and 4K video during day and night, recording higher quality and exciting visual details. It can install a Micro SD card with a capacity of up to 128GB. (Not included) The video is in MP4 format and can be compatible with any player.
【0.1s Trigger Speed and 120°Wide Angle Lens 】: The motion-activated camera with 3 PIR sensors is motion activated in an ultra-fast trigger speed of 0.1s as soon as animals' movements are detected. 120° wide-angle ensures maximum coverage which greatly expands the monitoring and shooting scope of the objects and captures the details of any movements. It's definitely a great gift for hunters, and it has multiple uses, such as wildlife monitoring, deer hunting, outdoor hunting, and even home security and farm monitoring.
【Loop Recording and Video Compression】Since the Micro SD card is full, the trail camera will not stop recording, the latest file will overwrite the previous one and the device will continue recording. The advanced video compression technology can save up to 80% of memory card storage space compared to MJPG or AVI video used in common trail cameras. For a better playback experience, we recommend using VLC Media Player and Irfanview Player.

【Bluetooth WiFi Connection and APP Control】: This solar panel trail camera has a wifi Bluetooth function, which allows previewing and downloading pictures and videos on the APP ( Please search "Wildlife CAM" in google play or the APP store, it supports both Android and IOS.) When you want to set up the camera, you do not need to take it down, just set it up through your phone. (Tips: Cellular needs to be turned off before connecting to wifi. This trail camera is NOT a webcam, APP control has range limits. The wifi distance between the phone and the camera is about 10m.)
【Advanced Night Vision and IP66 Waterproof】: Equipped 36pcs 850nm infrared LED, provides a night vision range of up to 65ft. Which can provide clear night images and videos in total darkness. With IP66 waterproof, the rugged casing of the hunting camera protects the game camera from rain and dust. (Tips: SD cards need to be formatted on the computer and camera before use)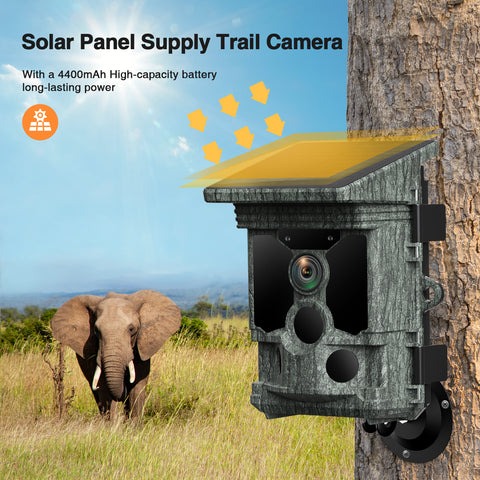 Equipped with rechargeable and solar panels
The CamparkT180 camera is equipped with a solar panel on top, which converts light energy into electricity to keep the camera working properly. (Note: The solar panel is fixed to the top of the camera is not removable and cannot be used in other cameras.) and you don't have to spend a lot of money on batteries, saving money and time installing the camera.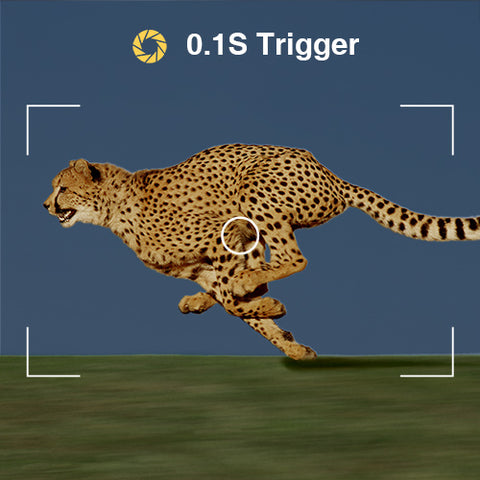 120° wide-angle lens and 0.1-second trigger speed
Solar-powered tracking camera equipped with 3PIR Sensors, with a 120°detection angle and an ultra-fast trigger speed of 0.1s and 0.5s recovery time, you can easily capture a wider field of view and quickly capture every moment.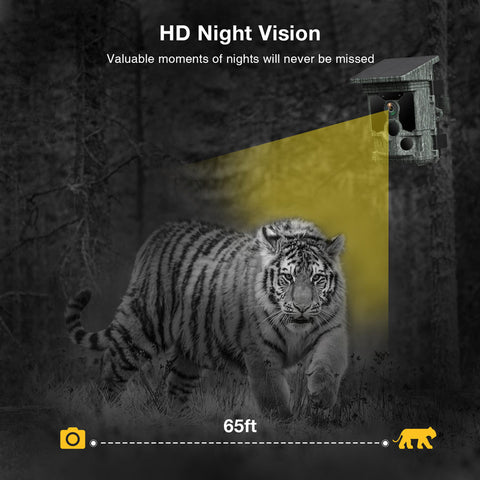 Advanced Night Vision
The tracking camera with 36 850nm IR LEDs has smart illumination technology, reduces blur, and provides a clear picture at night. No illumination technology makes your camera unnoticeable at night.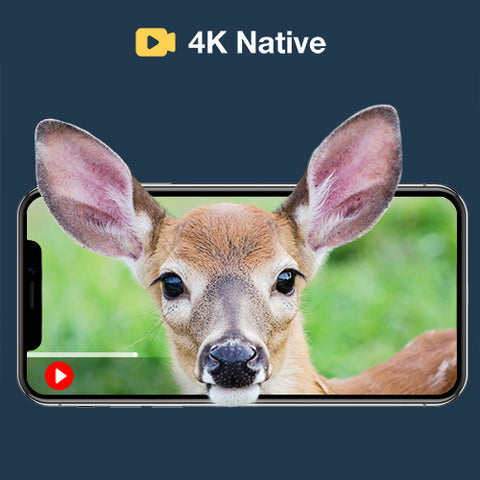 4K video and 46MP photos
Equipped with cutting-edge optics and image sensors, the 4K Wildlife Camera is capable of capturing crystal-clear images up to 46MP and ultra-high-definition video up to 4K. The optional image and video resolutions make for a good balance of image/video quality and storage space.
Support 10 consecutive shots
The rechargeable solar panel tracking camera supports up to 10 continuous shots, when the camera is triggered, it can take ten pictures at a time, with photo numbers from 1~10 available. You can see the details of each captured shot, which is convenient for you to get more detailed information.
Time-lapse shooting
You can press "On" in "Time-lapse" to set the time interval. If you need to record the process of plant growth, time-lapse will be good. The tracking camera will automatically record at each set interval.
Support Powered by AA batteries
The camera has a built-in 4400mAh low-temperature resistant battery, which can store solar energy into electricity, when encountering extreme weather, the AA lithium battery can continue to power the camera to ensure that the camera works properly. (AA batteries are not included)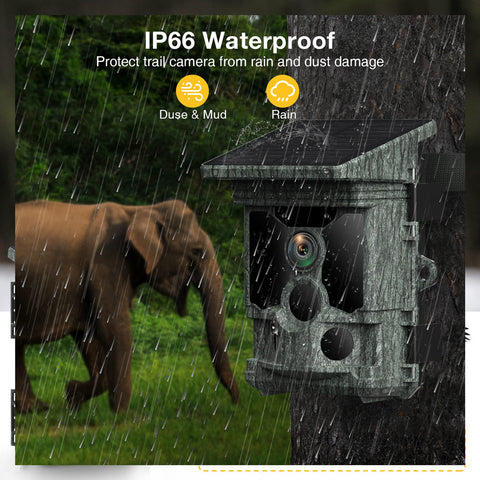 IP66 waterproof
Both the trail camera and solar panel are IP66 waterproof, protecting your hunting camera from rain and dust damage even in harsh environments such as deserts or rainforests.
WiFi Bluetooth connectivity and APP control
The T180 rechargeable solar panel game camera has built-in WiFi capability and APP control. You can control the camera, adjust settings and view pictures and videos directly from the App in case you mount the camera in a place where it is not easy to install. Use Bluetooth to connect your phone, turn on (and off) WiFi, and enjoy every moment you record at any time.

APP connection

This QR code is applicable to both Apple and Android, you can directly scan the QR code on your cell phone to connect. In addition, the phone can be linked to the camera by downloading the APP ( "Wildlife CAM" in google play or the APP store, it supports both Android and IOS).
Step 1: Click the APP "Turn on Bluetooth"
Step 2: Select your Bluetooth device in the "Device List"
Step 3: Click the APP "Turn on WiFi"
Step 4: Click "WiFi Settings" to connect to the hotspot of the trail camera
Step 5: Return to the APP and click "+" to connect the trail camera

Warm Tip
MICRO SD/SDHC U3 card with a capacity of up to 128GB is recommended. (Not included)
4*1.5V alkaline AA LR6 batteries are recommended for use at low temperatures. (Not included)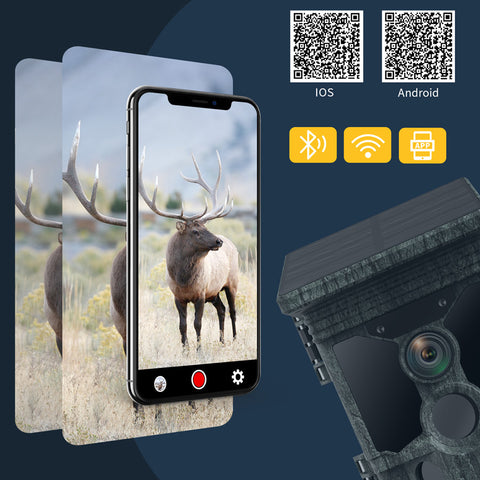 Specification
Photo resolution: 46M/30M/24M/20M/16M/12M/2M
Video resolution: 4K (3840 X 2160, 30fps), 1296P (2304 x 1296, 30fps)
Night vision distance: 65FT (20m)
IR flash: 36 IR LEDs (850nm)
Screen: 2.0" color TFT LCD
Waterproof: IP66
APP:

 "

Wildlife CAM", supports Android and IOS
Package
1 wildlife camera with solar panel
1x USB data cable
1x User Manual
1x Threaded tripod
3x Screws
1x Mounting belt