Trail camera is a special kind of camera, so it will be very different from ordinary camera. It does not have the gorgeous appearance and exquisite size of ordinary cameras. It pays more attention to application. Its definition requires it to have higher reliability than ordinary cameras. Let me summarize the points that everyone is most concerned about as the criteria for choosing this camera:
1. Firstly, I will introduce you to the one with wifi function, so that you can directly connect to mobile phone, send pictures and videos to your mobile phone, the pictures will be more clear, and you can manage your camera through your mobile phone

2. The image quality of the camera is usable and clear (may not be compared with the image quality of ordinary Japanese cameras, but it has made considerable progress)

3. Camera start shooting speed. The starting time of taking pictures around 1S is the hot spot in the market now (because when starting taking pictures is too slow, animals may disappear from your camera's perspective)

4. The PIR sensing distance of the camera is generally 20m away (if you can only shoot a few meters, then the camera's shooting range is too small)

5. Standby time of the camera (for cameras are used in the field, you cannot change the battery every day, so it has to work longer)

6. The stability of the camera (this information needs that the market slowly feedback then everyone can get)

7. The photo is bright at night (the effect of infrared LED is determined)

8. The waterproof performance of the camera

9. Whether there is LCD on the camera(this is what you will find when you use it for a long time. You can't use PC to view photos every day, so LCD is very important)
Here is an introduction to a trail camera with WiFi function that meets the above advantages, and the price is very affordable: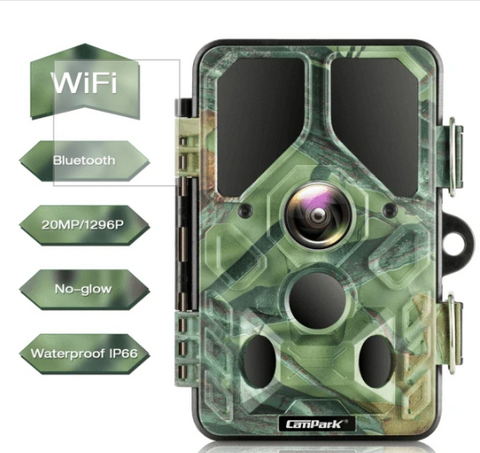 Camera Specification
WiFi + APP Control
Built-in WIFI and APP control function. Download the APP(Hunting Camera Pro) in your mobile phone and then connect with WIFI. You can adjust setting View/download the photo/video on the phone directly. This trail camera is not a webcam, remote control has range limits.
Bluetooth Upgrade
Compare with Campark T80 trail camera, it upgrade in Bluetooth, Connect Bluetooth to control the camera WiFi turn on/off, don't need a remote control. Make it easier for hunters to view/download videos/pictures in the camera. 20MP Ultra-high Resolution Photo
Featuring 20MP picture resolution, help you capture vivid characteristics of wildlife and show the most primitive pictures
1296P HD Video Record
The game camera support 1296P high-resolution video record, it will help you to remember the real wildlife world with our trail when you are away
940nm No-Glow Infrared Night Vision
With fully automatic IR filter, this hunting camera capture shots of animals natural behaviors by using infrared flash illumination technology equipped with 36pcs LEDs. Trigger distance up to 20m. No glow night vision help you get great shots of animals in darkness without the animal realizes its being documented. Waterproof IP66
it will work good even in a dust weather or heave rain, and you can use the threaded tripod and mounting strap when install it in the wild.
There are several other similar products with wifi function in this series, but this one is the best selling, because it has the most complete functions, the most cost-effective, and is well received by customers. We only recommend the best to you. For example,
T80, T86, T75
, you can go to the official website if you are interested.