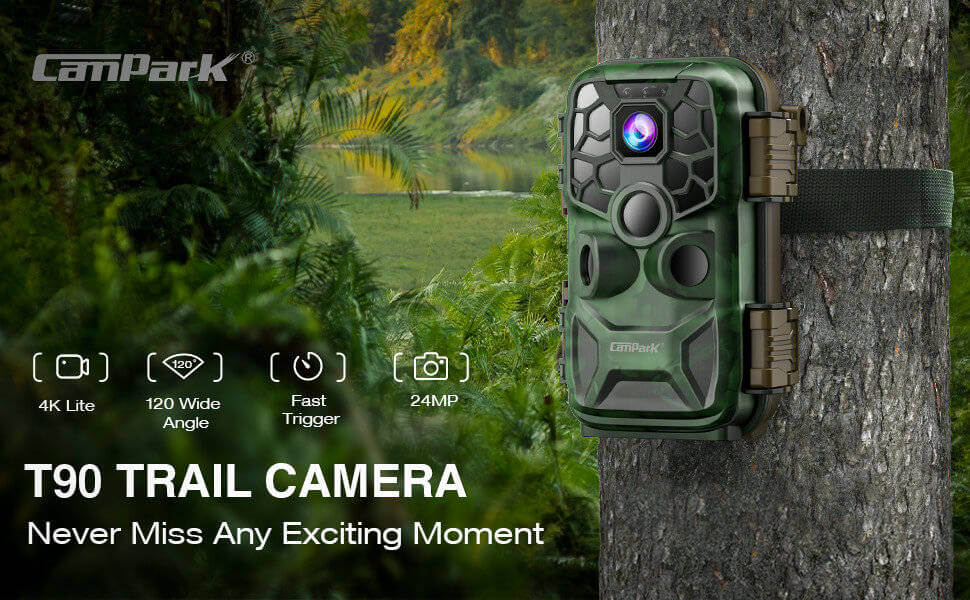 About this item
【Wifi Hunting Camera with APP Control】: This trail camera has a built-in Wifi function, you can control the wildlife camera via an APP(IOS & Android:"Hunting camera super"). If you need to install the application, please click to download. This allows you to view the pictures and videos as well as to configure the camera even it is installed in a hard-to-reach place.
【4K and 24MP still image】: The trail cam delivers crystal clear 24MP images and vivid 4K videos with clear sound. The videos are well compressed in the AVI format, the compact file size uses 80% less storage space than conventional ones,64GB memory card is included to record every moment
【Low Glow Night Vision Camera】: This outdoor camera uses 44 pcs 850nm invisible infrared LED, provides a night vision range of up to 30m. These Low-Glow IR LEDs make the camera very hidden and provide clear night images and videos in total darkness. You can record the night movement quietly and achieve an excellent night shot effect
【0.2s Trigger Time and 120 ° Detection Area】: The motion detector will be triggered within 0.2s when it detects the movements at a distance within 98ft, cover a total detection area of 120 °, the wildlife camera will not miss any quick movement. IP66 waterproof design protects this wildlife camera from rain or dust damage
【Multi-functions & long standby time】: Long standby time of up to 6 months with 8 AA 1.5V batteries (not included). This camera also can be used as security camera to to monitor the house with power supply 6V/1~2A, 3.5mmX1.3mm, power supply is NOT included in package.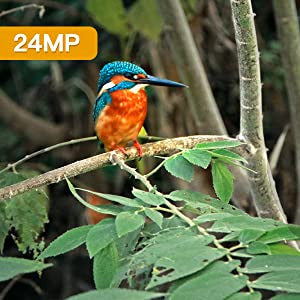 4K Lite High Resolution Video
This T90 Campark trail camera can record up to 4K Lite(3840*2160P Lite) videos with audio. You will record sharper videos and enjoy nature's richness. The trail camera will be great to share nature with people who have the same hobby.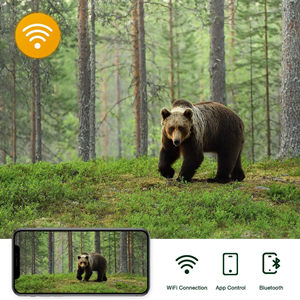 WiFi Connection and App Control
This trail camera adopts wifi design, you can connect wifi through bluetooth to view pictures and videos without taking down the trail camera from trees. Upgraded app and wifi makes it more quickly to download and save pictures & videos to your phone album. Easy Access to the pictures and videos!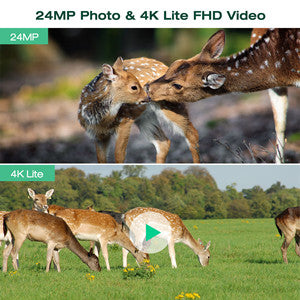 24MP Clear and Vivid Photo
Compared with other trail cameras, this T90 trail camera has a great innovation to provide better pictures for every trail camera lover. 24MP gives you more wonderful and sharper images. Enjoy the crystal and ultra HD pictures now!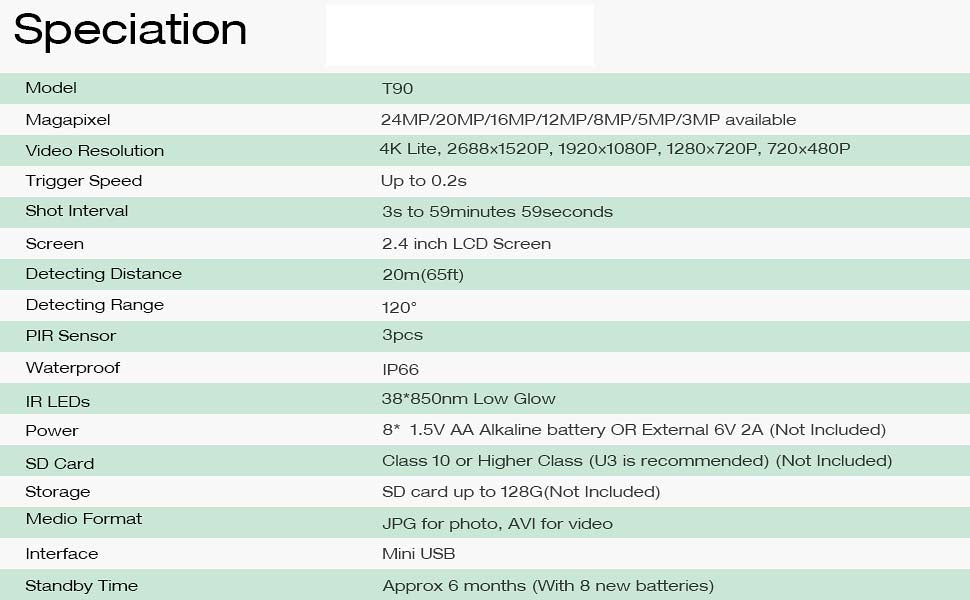 Battery Installation
1. Eject the battery case
Uncover the trail camera, push the button to eject the battery case.
2. Install batteries correctly
Take out the battery case and install 8 NEW AA Alkaline batteries correctly.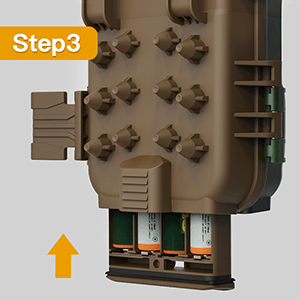 3. Intall the battery case
The side you can see batteries should face the bottom of trail camera. (There are tips on the battery case. )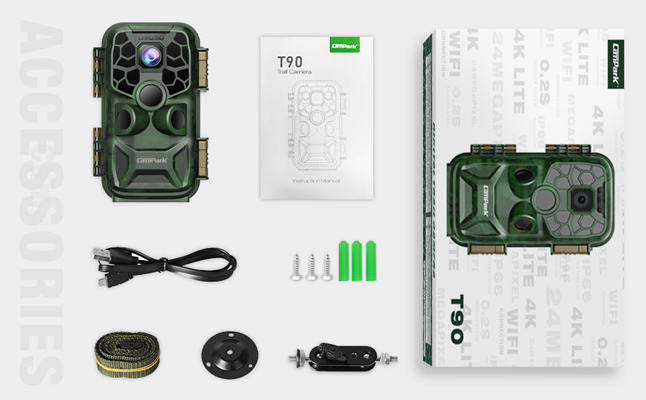 Important Notes:
1. SD card and batteries are Not Included in the package.
2. Please format the SD card when you use it for first time in this trail camera.