About this item
【4K Resolution and 32MP Images】: Featuring an Ultra HD sensor with 4K (3840×2160) pixel video and crisp, clear audio, and captures 32MP vibrant color still images. Monitor your active sites and view realistic photos, all without having to be there to shoot, perfect for any hunting or scouting. The video file format is: AVI
【Low Glow Flash with 0.3 Second Trigger】: Innovative low glow IR LED extends 65 feet to give you detailed nighttime images and video with minimal interference to your game. Activated by an adjustable PIR motion sensor and a pre-activated side sensor, the trigger speed is 0.3 seconds, which means the game camera won't let fast-moving animals slip by.
【120° Wide Angle Lens and Excellent Night Vision】 The Trail game camera is equipped with a 120° detection range, giving you a wider field of view. 36 850nm low glow infrared LEDs make it a stealthy device that doesn't invade its natural habitat. With a triggering range of up to 30m(100ft) daytime/20m(65ft) nighttime, it will record any animal action you want with a wide-angle lens even in rainy weather.
【IP56 Waterproof and Super Long Standby 6 Months】The whole deer camera adopts IP56 waterproof specification to maintain reliability in any weather. With the extra-long standby time, this rugged camera can work long enough to record the entire season. To ensure you have enough storage space to capture all your adventures, we recommend using a maximum of 128G SD card/SDHC memory card. (SD card is not included)
【External solar panel available】 TC03 supports external solar panel. There are two power sources available. You can choose to use batteries or external solar panels to power the camera.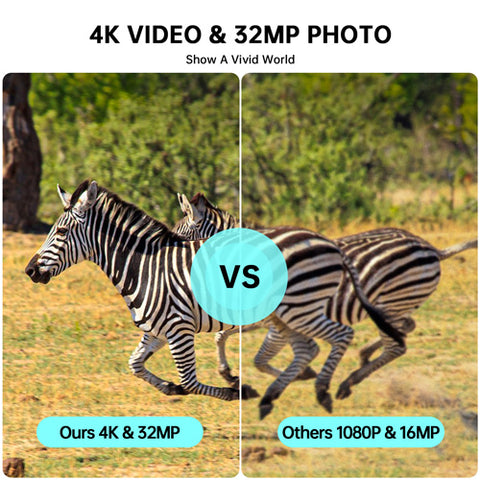 32MP images and 4K video
Equipped with advanced image sensors and lenses, it delivers high-quality 32mp still images and smoother, clearer 4K video with more detail than other trail cameras.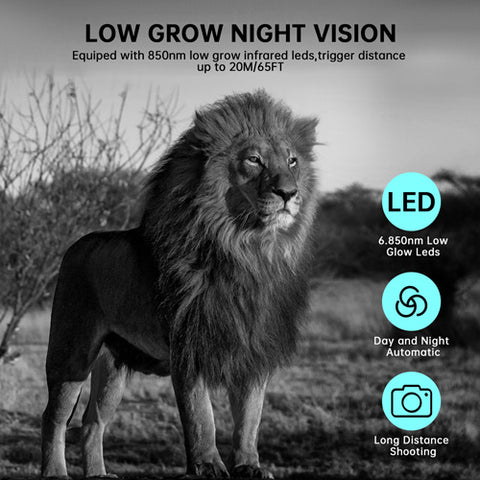 Advanced Ultra Infrared Night Vision
The camera is equipped with 36 850nm infrared LEDs, making it very stealthy on its own, as well as added infrared performance that allows a flash range of up to 65 feet, clearly showing wildlife behavior at night that is less likely to be noticed by deer, critters and other animals.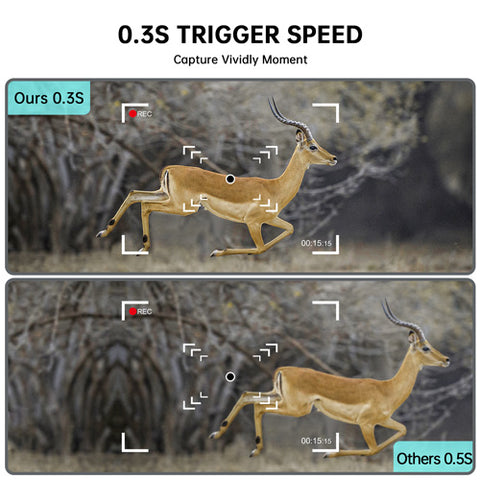 0.3 second trigger speed
Equipped with a high-speed processor that combines with an optimized motion sensor design to capture faster, more accurately and farther away while working with less power consumption. You won't miss a shot.
Tip
Do not insert or remove the SD card while the camera is turned on.
Remove the protective film from the camera lens in order not to affect the shooting effect.
Hold the camera at a height of 1-2 meters and aim the camera parallel to the ground in the desired direction to avoid overexposure.
The camera creates video in the AVI file format, which may not be supported by standard Windows video. We recommend VLC or Irfanview player.
To give the camera a longer standby time, we recommend using eight 1.5VAA alkaline batteries.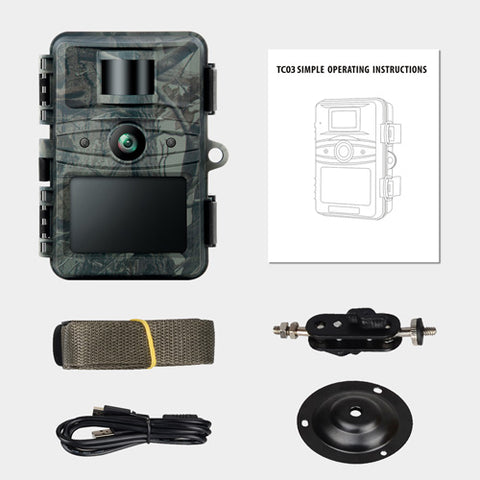 Specification
Photo resolution: 32MP/6480*4860, 20MP/5200*3900, 16MP/4608*3456, 12MP/4000*3000P, 8MP/3264*2448P, 5MP/2592*1944, 3MP/2048*1536, 1MP/1280*960
Video resolution: 4K/3840*2160, 2.7K/2688*1520, 1080P/1920*1080, 1280*720, 1280*720, 848*480, 720*480, 640*480, 320*240
Power supply: 4 or 8 AA alkaline batteries, external 6V DC power supply, at least 1.5A
Micro SD card: Support up to 128GB Micro SD card, Class 6 or higher speed card
Package
1 x Trail Camera
1 x USB cable
1 x User Manual
1 x 55" (1.4m) strap
1 x Mounting bracket
3 x Screws