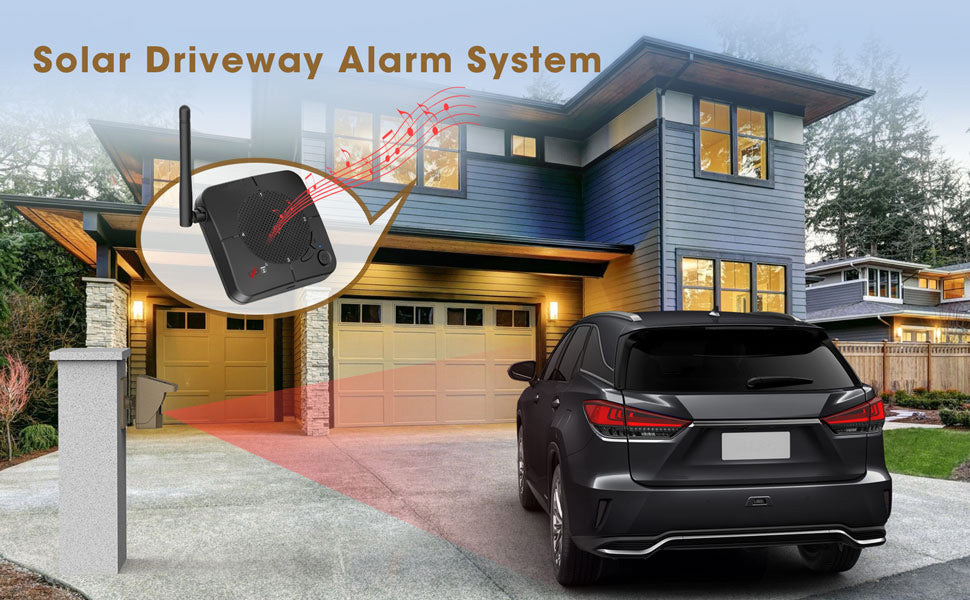 About this item
【Solar Powered PIR Driveway Alarm】The motion sensor is powered by a solar panel installed on top of it so that you don't have to be changing batteries constantly. It also can be charged by the included USB charging cord if the sensor will be installed indoors or in dark areas.
【Superlong Receiving Range】The sensor detects motion and transmits a wireless signal to a receiver in your home, sounding an alarm and notifying you someone is coming up your driveway. The motion detector alarm has a range of up to 1/2 mile away(the actual range depends on the local terrain).
【Fully Expandable Alarm System】Driveway motion sensor can be added to unlimited receivers and one receiver can be added up to 4 sensors to fully cover your property. There are 6 volume levels to adjust, 4 total channels to choose from, and 4 optional chimes to match different motion sensors around your property to distinguish where motion is detected.
【Low False Alarm Rate】The driveway sensor alarm wireless can detect moving people or vehicles or large animals within 30 feet front of it. It is featured with a low-rate false alarm, which is minimized by adjusting the sensitivity of the sensor "eye" with a switch (Low:20ft, High:30ft). You can swivel the mount to refine the focus and detection angle of the sensor.
【Plug&Play, Easy Installation】: The driveway alarm solar powered has been programmed before being shipped, so it only takes a few minutes to install and is ready to use. It is powered by a solar panel and charged by the included USB charging cord, which is perfect for driveways, backyards, gates, offices, properties, residential security, walking paths, and more.
【IP66 waterproof】 The Solar Driveway Alarm is IP66 rated. The outdoor driveway alarm sensor system features industrial-grade PVC housing, a rubber weatherproof/waterproof seal, and a rechargeable solar run. The waterproof design allows the PIR motion detector to work perfectly both outdoors and indoors. It has been tested in dense forests, hail storms, wind gusts, heavy rain, heat, and snow. You can easily mount the solar motion sensor on a surface using the included screws, perfect for houses, yards, gates, and any property you want to alert.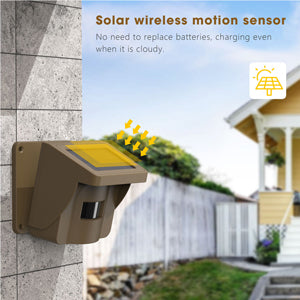 Solar Powered Wireless Sensor
The solar driveway sensor can be charged via micro USB and topped up with the solar The solar driveway sensor can be charged via micro USB and topped up with the solar panel, so you do not have to replace batteries regularly.
Expandable
The solar wireless alarm can be added up to 4 sensors, it has 4 different alarm sounds to identify each sensor. There is a CH1-CH4 key behind a rubber-style of sensor, you can toggle it as needed.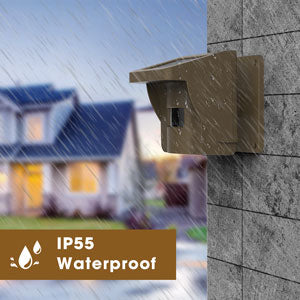 IP 65 Waterproof
The weatherproof motion sensor detector has Excellent Weather Resistance: IP 65 Waterproof, and will work properly in all seasons.
Why Choose a Solar Driveway Alarm System

Portable shaped and Weatherproof.

Up to 800 Meters long wireless transmission range.

Expandable up to 4 solar sensors and unlimited receivers.

The receiver is powered by (4) AA batteries (for backup) or included AC adapter.

The motion sensor can be charged via micro USB and topped up with the solar panel.

The indoor receiver has 6 volume levels and 4 different melodies to let you know which sensor was triggered.

Behind a rubber-style cover of the sensor are two switches – sensitivity (off/low/high) and channel selection (1/2/3/4).

Both sensors and the receiver came pre-configured and connected. No need wifi. There was nothing technical to be done.

The solar driveway alarm wireless and solar driveway alert system are produced in our factory.
Before buying a driveway alarm, you can read the following tips:
1. Please keep the PIR sensor from direct sunlight.
2. The detector should be installed 3-5 feet above the ground.
3. The receiver can be powered by AA batteries or DC 5V/1A external power supply.
4. Before starting the installation, please charge the detector with DC 5V/1A external power supply.
5. In order to avoid false alarms, please avoid objects like trees waving within 3 meters in front of the detector.
6. Please make sure all detectors are on different channels while with multiple detectors, or they might interfere with each other.
7. Please do not let the sensor eye aim at straight sunlight, or it would be affected by heat sources and cause a false alarm.
Specification
Transmission range: Max: 1/2 mile
Channels: Max: 4 channels
Solar panel: Max: 0.35W
Detector charging: DC 5V/1A
Waterproof rating: IP66
Detector low power notification: Support
PIR detection range: high/low sensitivity: 30 feet / 20 feet
RIR detection angle: horizontal: 60 degrees vertical: 40 degrees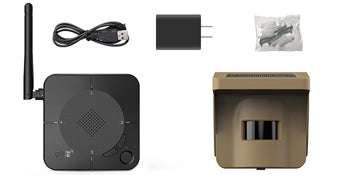 package
1x Driveway Alert Motion Sensor
1x Receiver
1x 5V/1A power adapter
1x Charging cable
1x Package Screw