A security system in your house should be both indoors and outdoors so that you can simultaneously keep track of whatever is happening inside and outside your property. Nowadays choosing the best smart home security systems can get quite tough as the technology is evolving and so are the safety requirements.
Campark stays updated with the latest trend in technology and also plays a pioneering role in introducing solar panels with the camera so that there is never shortage of power. At the same time, the video doorbell system is there with two-way audio to see who has come knocking at the door no matter whether it is day or night. Here are the three best security camera systems that you can consider -
Campark W500 8MP 4K Wired PoE Security Camera  with 3TB Hard Drive
When you can get four security cameras at an affordable rate, why not make the best out of it and install the cameras at four different vantage points? The Campark W500 security camera system has 8MP IP resolution for images and 4K video resolution for stunning footages capturrd with 3.6mm lens. You will get an ultra-wide 110° diagonal field of view while the infrared LEDs will ensure brilliant night vision for up to 30 meters. This IP66 weatherproof camera has customized alarm area and motion detection feature while it can work within the wide temperature range of -40°F to 140 °F.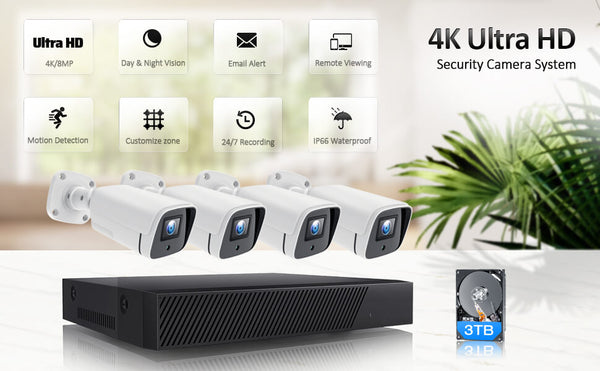 The PoE cable is there to connect the camera to NVR and its plug-and-play feature ensures that once NVR is connected, the camera automatically starts capturing video. These smart home devices have CAT5/CAT6 Ethernet cable that lets you take the camera 270-330 feet away without requiring power supply. With the 3tb hard drive and H.265+ video coding technology, continuous recording for up to 90 days is enabled and you can view the footages smoothly on any smart device.
Campark AP30 2MP Dual Lens PTZ Outdoor Security Camera
With 4X optical zoom, the AP30 outdoor security camera covers 110° vertical and 350° horizontal rotation range where you can control the rotation to see different angles inside and outside the house. It automatically tracks motion and adjusts the canera angle im such a way that the motion is at the center of the frame while a notification is sent to your mobile.
It can scare off intruders by activating the strobe light and siren while you can customize motion area and detection sensor to avoid false alarms due to subtle movements. Vibrant night mode for 100 feet is ensured by 6 pieces of infrared LEDs and 3 pieces of in-built bright floodlights. What is better, you get 30 days of cloud storage for free.
Campark AP55 1080 PTZ Security Camera With Solar Panel
With 360° rotatable solar panel mount that can absorb maximum sunlight, the AP55 is the best home security camera 2022 that can be connected to 10 feet USB cable for uninterrupted solar energy for a year. You can also use the mounting bracket to install the camera without solar panel. The camera gets stable and strong network reception with 3dbi dual antenna while you can access the footages over CloudEdge app using 2.4Ghz Wi-Fi.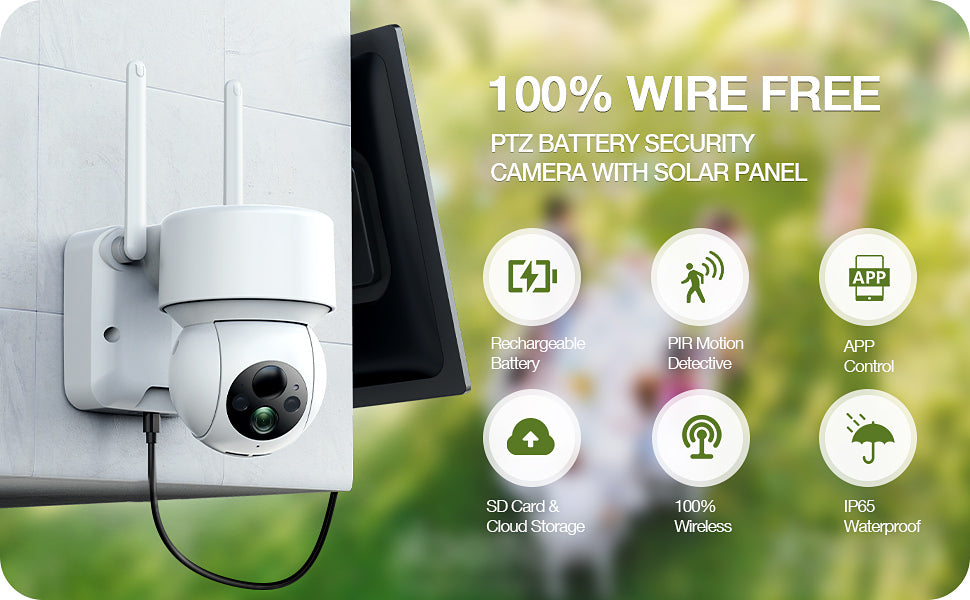 There are two infrared lights that automatically sense the ambient light to switch into night mode for up to 50 feet. Sensitivity level can be chosen from 1 to 10 along with alert schedule and interval. The in-built photo diode ensures instant alarm and you can share or download footages accordingly. It is safe from water and dust with IP65 rating while functioning smoothly within temperature range of -13°F to 140°F.
Apart from these three, you can also check out the Campark AP25 Solar Wireless canera, SC500 Solar Powered Security Camera, SC02 Solar Powered Security Camera System With Base Station, AP35 Outdoor Security Camera etc.