About this item
【Bang For Your Buck & Quality Assurance】This CE18A/DC07 dash cam is a product with good quality and stable performance in the same price range on the market. We have been committed to creating the best products to satisfy every customer. We have a group of well-trained support technicians who always support the product, communicate and follow up to eliminate your worries after purchase.
【IP68 Waterproof Rear Cam】The 170° front and rear 140° waterproof (IP68) cameras can even monitor the road conditions on the front and back of the car on rainy/foggy days, ensuring a safer driving environment.
【2.45'' Screen and 1080P High Definition】Equipped wide dynamic range (WDR) technology, the front lens can provide superior clear 1080P video/image and the back camera can provide good video/image. The dashcam can capture license plates and road signs clearly even at night.
【24 Hours Parking Recording】When parking mode is enabled, the dual car camera takes video when it detects vibration, ensuring the safety of your vehicle. The built-in battery is limited to Parking Recording and preserving settings. Please always keep the dash cam plugged in.
【Loop Recording & Emergency Accident Locks】The built-in G-Sensor will automatically lock the video when a car collision is detected. The car accident video will not be over-written. Please buy a Class 10 /U1/U3 /above high-speed Micro SD card and insert it in the dashcam to loop-record videos.
【Mini but Multifunctional】: Equipped with all the important functions of a Driving Recorder: Auto On/Off, Loop Recording, WDR, Emergency Lock, Parking Monitoring, Motion Detection, etc. This dash cam includes an 11.48ft car charger and a 21.32ft rear camera cable that is compatible with all car models.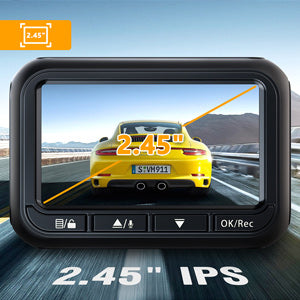 Mini Design but Powerful Function
When compared to other Mini dash cams 1/1.5-inch, this CE18A/DC07 dash cam with a 2.45-inch IPS high-definition screen is larger and has better colors. Easy to read allows you to adjust settings and settings more easily Preview material.
The 2.45-inch screen makes it easy to view the recorded video directly on the dashcam. Compared with the traditional black box recorder, it can help you operate and view the video quickly.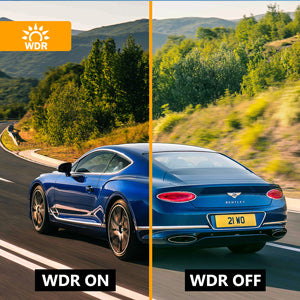 WDR Nigh Vision & FHD 1080P Recording
High-resolution FHD front 1080 and rear camera with WDR technology, 6 glass lens, F 2.0, and Sensor, offer crisper videos&images, capture an occurrence, and provide you with clear proof that might assist establish your innocence.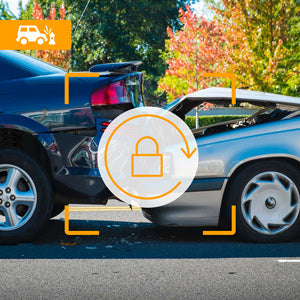 Loop Recording & Emergency Lock
The car camera with loop recording function, so the newest video overwrites the oldest, generate a continuous video clip of 1, 3 or 5 minutes (can be set)
If it detects the G-sensor technology's unusual vibration with the vehicle, it will lock the video, you can better save the evidence and protect you and your car.
Waterproof IP68 Rear Camera
This dual dash cam uses an IP68 waterproof rear camera, so you don't have to worry about the rear camera getting wet in the rain. To better see the front and rear perspective, don't miss important video recordings.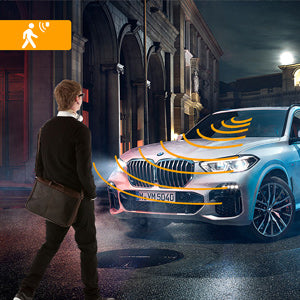 24h Parking Monitor
In this parking mode, when it detects an impact that reaches the G-sensor level set up on the camera. the dash cam will consume the internal battery to record and lock the video urgently to save the evidence. (Note: Please turn off motion detection when driving and dash cam is recording.)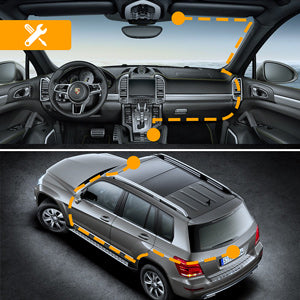 Easy to Setup and Install
The installation of this dash camera is very simple, will not block the line of sight, equipped with installation tools--Cable Clamps,Crowbar. can help you better wiring and fast and safe. If you have installation problems, please ask us for help.
Dual Dash Cam Front and Rear Camera 1080p FHD---Record What Matters Most, Protect Your Car Safety
This CE18A/DC07 Mini dash cam is a product with good quality and stable performance in the same range on the market. The dash cam front and rear, which are equipped with a high-resolution sensor, F2.0 wide aperture, and WDR night vision, offer a crystal image both front and rear of the car during the day and night, adding protection in the case of an accident and providing improved security and peace of mind.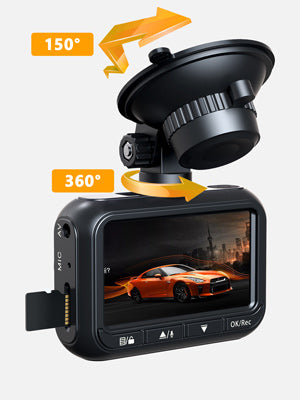 Warn Tips
No SD microcard is supplied; you have to prepare a high-speed Micro SD card class 10/U1/U3 or higher. (32GB-128GB is optimal.)
The built-in battery is only captured and saved by emergencies. Please leave the dash cam plugged in at all times.
Please turn off motion detection when driving and dash cam is recording, which ensure seamless video recording for safety. When car is parked, please turn on parking monitor.
Specification
Video Resolution: front 1080P + rear 720P
Display: 2.45-inch
Audio Recording: Yes
Product Dimensions: 7cm * 4.7cm * 3cm
Working temperature:-20°C~60°C
Screen Saver: YES
Auto On/Off :YES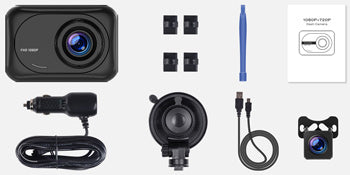 package
1x Dash Cam
1X 11.48ft Car Charger
1x 21.32ft Rear Camera
1x Mini USB Cable
1x User Manual
1x Suction Cup Mount
4x Cable Clamps
1x Crowbar