About this item 
【4K Native Video + 48MP Clearer Image】The Wildlife Trail Camera captures 4K audio video and 48MP crystal clear images, providing more high quality and exciting visual details day (color) and night (B&W). Up to 128GB SD/SDHC card can be supported to help you store more natural surprises. (32G SD card is included in the package)
【WIFI connection + APP control】TC05 trail camera supports WIFI and APP control functions. Download "Game Camera Pro" from App store or Google Play, supports Android and IOS. You can adjust settings to view or download photos and videos directly on your phone without the hassle of having to repeatedly install the camera.
【0.2s trigger speed】Equipped with a 120° wide-angle lens, once motion is detected, the trail cam will be triggered instantly within 0.2s , allowing you to never miss a shot. Equipped with 40pcs 940nm IR LEDs tracking camera with night trigger range up to 65ft (20m). The infrared LEDs used do not emit light, which will not disturb wildlife even in the dark night, and can easily capture clear images or videos. When no animal activity is detected or sensed, the wildlife camera is in energy-saving mode, extending the camera's standby time.
【IP66 Waterproof】IP66 Waterproof. The rugged housing greatly protects the Bluetooth game camera from damage by rain and dust. Even in harsh environments like deserts, grasslands, tropical rainforests, and more, off-road gaming cameras perform well.
【Easy Installation and Multiple Applications】This trail camera wifi has multiple recording modes and features (date/moon phase/temperature, timer, live playback, hybrid mode, etc.) that exceed your expectations. Great for not only hunting safaris, but also home security, field research, wildlife monitoring and scouting, and farm security.
【External solar panel can be connected】TC05 supports external solar panel. Two power options are available. You can choose to use a battery or an external solar panel to power the camera.
48 Megapixel Image and 4K Video
The trail camera supports 4K high-resolution video recording and 48 MP image, featured with motion-activated 3 sensors, which allows you to enjoy the wonderful animal world through super crystal pictures.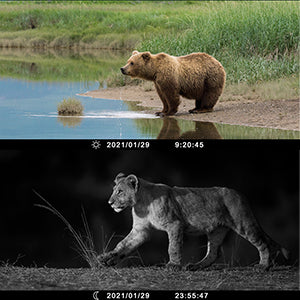 Updated no-glow Infrared Night Vision
The trail camera equipped with 40pcs 940nm infrared LEDs range 65FT(20m). With the updated no-glow 940nm infrared LEDs, it will not disturb the wildlife and then capture a clear image or video even in the dark night. Once detecting a movement, the hunting camera will be triggered quickly, so that you will never miss a shot.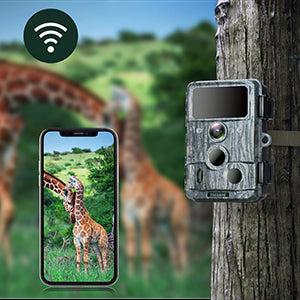 Bluetooth and WiFi & APP Control
The game camera is equipped with built-in WiFi. And Bluetooth make it easier to control the turn on/off of the WiFi. Download the APP in your phone to connect with WiFi and control the camera. You can adjust setting and check the photo /video on the phone directly. Please note: The camera is not a webcam, remote control has the limitation of range.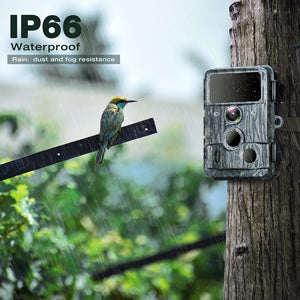 IP66 Waterproof & 120° Wide Angle Lens
IP66 waterproof level are higher than IP56, the sturdy case extremely protects the game camera from rain and dust damage. The trail game camera can perform well even in tough environments, such as deserts, grassland, and tropical rainforest. And 120°wide angle lens provide broader detecting scope. Each detected movement will be captured swiftly and precisely.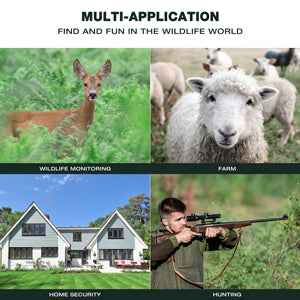 Easy to Install & Multiple Applications
This trail camera comes with multi-recording modes and functions(Date/Moon Phase/Temperature, Timer, Realtime Replay, Hybrid Mode Etc,) beyond your expectation. Not only trail game hunting but also home security, field research, wildlife monitoring and scouting, farm security. 
connect the trail camera
Step 1: Turn on the app and then click"TURN ON BLUETOOTH"

Step 2: On phone APP: Choose the camera under device list
Step 3: On phone APP: TURN ON WIFI

Step 4: On phone WIFI Setting: Connect with correct WIFI hotspot

Step 5: Back to the APP and click "+" to connect to the trail camerat.
Warm Tips
Batteries are Not Included in the package.
It is recommended to use SD/SDHC U3 Card up to a capacity of 128GB.

(32G SD card is included in the package)

We recommend using 8*1.5V Alkaline AA LR6 battery in this hunting camera to obtain maximum battery life. (NOT INCLUDED)
Videos created by this camera maybe not supported by standard windows video.We recommend Potplayer or VLC or Irfanview player.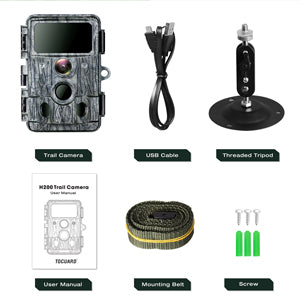 Specification
Photo Resolution:48MP,30MP, 24MP, 20MP, 16MP, 12MP
Video resolutions: 3840 x 2160 P (4K Native)
Detection angle of sensors: 120°
Memory: It is recommended to use SD/SDHC U3 Card up to a capacity of 128GB.
IR flash: 40 Pcs 940nm infrared LEDs
IR LEDs range: 20m (65 ft)
Photo Formats: JPEG;Vedio Formats: MP4
Screen:2.4" color TFT LCD
Waterproof :IP66
Operating Temperature:-20°C~60°C
Package
1x Trail Camera
1 x 

32G SD card

1x USB Cable
1x User Manual
1x Threaded Tripod
1x Mounting Belt
3x Screw