The trail camera, also known as the game or hunting camera is one of the most useful gadgets to keep track of animal activities in and around your farm or a hunting ranch or any protected forest region. Choosing the best trail cameras can be quite a tiresome task and often confusing, thanks to the plethora of brands present in the market with their own set of features. Be it for photographic purpose or as biological documentation, for hunting or monitoring security of your livestock, while choosing the trail camera, check out the following camera reviews –
Moultrie A Series
From A-25 to A-30i, the A Series of Moultrie Game cameras are popular for their standard 720P video resolution and 12 MP photo resolutions that is great support for monitoring animals in the daytime. By managing the direction range of the camera lens, the flash can reach up to 60 feet at night, and the 0.7 trigger speed helps in getting detailed images. However, its slow trigger speed during the night, incompatibility with high-class SD cards and cryptic codes on LCD makes it lag behind the durable trail cameras.
Lixada Wireless Trail Camera
The 3G trail camera from Lixada with its PIR sensors help in shooting footages both during daytime and nighttime. The 100-degree field of view and up to 60 feet infrared range makes sure crisp, and bright 12MP pictures and 1080P videos are recorded. With these, the camera is also IP66 waterproof and has a long-lasting battery life which makes it a bit expensive, especially with the monthly fee. Although a bit harder to install, its time-lapse feature, low battery notification, multi-language support, etc make it a prospective choice.

Campark T40 Game Camera
Undoubtedly one of the forerunners judging by its 14MP image resolution and 1080P video resolution, the Campark trail camera is affordable and comes with prime features. With wide 120 degrees field of view complemented by invisible upgraded 840nm 42 Infrared LEDs and three PIR sensors; this camera offers the best night monitoring. Up to 20 meters of distance is covered within 0.3 trigger speed, and its viewing screen lets you check the area to be monitored in a hassle-free way. Easy setup, simple interface, invisible flash, and micro SD support of up to 32 GB makes it a perfect choice for you.
Stealth Cam No-Glo G42
Although not as high resolution as the Campark T40, the Stealth Cam G42 with its 1080P video and 12 MP image resolutions maintained within 100 feet, Infrared range is something you can consider for trail monitoring. Just as its name suggests, its black 42 pieces IR emitters and unnoticeable flash does not scare away any animal and brings pictures with date, time, moon phase and temperature stamps. However, its narrow viewing angle and low battery support during nighttime can be drawbacks.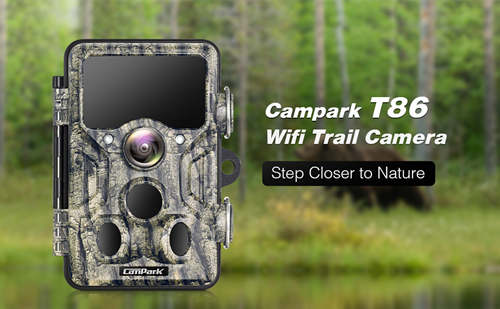 Buyer's Guide for Trail Camera
As these cameras are kept under the sky throughout their lifespan, a sturdy body and seamless performance both during day and night are mandatory.
● The image resolution should be around 12-14MP while video resolution should be 1080P, however, 720P is also useful for general purposes.
● Choose cameras with higher motion sensors and superior night vision supported by Infrareds.
● You need no-glow or red-glow cameras to keep the animals comfortable in their habitat.
● Battery life should be higher and so is applicable for trigger speed to ensure you do not miss any minute moment.
Durability, wide FOV, weather resistance, especially waterproofing and affordable price are also some of the factors to remember while choosing the best trail camera for your purpose.