Campark action cameras are rugged, compact, portable camcorders that record video and still photos of, well, action.On the gridiron, action is measured in the split second. The moment when the ball snaps, bodies collide and decisions are made in an instant.
Campark action camera capture these moments — so you can re-live them again and again.It's no surprise they've become popular among the extreme sport set—think snowboarders, skateboarders and skydivers. For team sports athletes, Campark action camera put a whole new twist on reviewing game tape They deliver an up-close, first-person view of plays as they happen.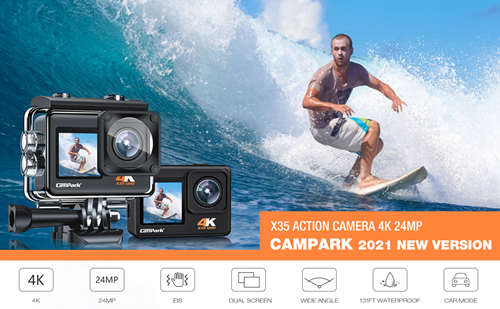 "Lacrosse, hockey, football," said Brett Phillips,"They are all using these cameras to improve their game. Lineman wear them on their chest so they can view how they're playing during practice, for instance."Wide-angle lenses and high-resolution capability make footage of your game or outing all the more compelling — and shareable on social media. Learn how to get started filming with these tips.

 

To make your edited video more engaging, try filming it a few different times with the camera mounted from different positions. This helps you get a more complete view. You may find that some positions work better than others. The handlebars on your mountain bike may yield rougher footage than the view from your chest, for example.DIY duct tape mounting isn't secure enough for play, so if you plan to wear your camera during practice, invest in a mounting device that's compatible with your camera model. Traditional mounts are available for your chest or helmet, but yu can get an especially unique look at the game with stick mounts for your hockey or lacrosse game.Film a little around your home to get the hang of things. A few key terms Your camera resolution is the number of pixels your device is able to capture. The more pixels, the better the image. The frame rate is the number of images your camera can capture per second. Keep in mind, 24 frames per second is the standard playback for film and video, but higher frame rates are available.

 

Don't let failing batteries come in the way of your footage. Always bring along two to three extras and be sure they're not exposed to extreme hot or cold temperatures.When you're editing video, avoid overly long shots and try to keep individual scenes at about three to five seconds.It sometimes helps to plan out a quick "storyboard" so you can shoot with an idea in mind.Always capture extra footage so you have plenty to work with while editing.

Look for cameras that have WiFi connectivity, so you can instantly share video or photos.

 

Likewise, many cameras come with on-the-go editing capability, so you can string together footage as you go. Many even feature built-in proprietary editing software.

[lang2]

Campark Action-Kameras sind robuste, kompakte, tragbare Camcorder, die Video- und Standbilder von Action aufnehmen. Auf dem Gitter wird die Action im Bruchteil einer Sekunde gemessen.

Der Moment, in dem der Ball schnappt, die Körper kollidieren und Entscheidungen sofort getroffen werd

 

Die Actionkamera von Campark hält diese Momente fest - damit Sie sie immer wieder neu erleben können. Es ist keine Überraschung, dass sie unter den Extremsportlern beliebt sind - Snowboarder, Skateboarder und Fallschirmspringer.

Für Mannschaftssportler hat die Action-Kamera von Campark eine völlig neue Dimension in der Überprüfung des Spielbands aufgenommen. Sie bieten eine unmittelbare Sicht der ersten Person auf die Spiele, während sie passieren.

 

"Lacrosse, Hockey, Fußball", sagte Brett Phillips, "alle nutzen diese Kameras, um ihr Spiel zu verbessern.

Lineman trägt sie auf der Brust, damit sie beispielsweise sehen können, wie sie während des Trainings spielen. "Weitwinkelobjektive und hochauflösende Funktionen machen das Filmmaterial Ihres Spiels oder Ihren Ausflug umso spannender - und lassen sich in sozialen Medien teilen.

Erfahren Sie, wie Sie mit diesen Tipps anfangen können.

 

Versuchen Sie, das bearbeitete Video ansprechender zu gestalten, indem Sie es einige Male mit der Kamera aus verschiedenen Positionen filmen.

So erhalten Sie eine umfassendere Ansicht.

Möglicherweise funktionieren einige Positionen besser als andere.

Der Lenker Ihres Mountainbikes kann zum Beispiel rauheres Material liefern als der Blick von der Brust. Die Montage von Klebeband ist nicht sicher genug für ein Spiel. Wenn Sie also Ihre Kamera während des Trainings tragen möchten, sollten Sie in ein kompatibles Befestigungsgerät investieren mit Ihrem Kameramodell.

Traditionelle Reittiere sind für die Brust oder den Helm erhältlich, aber Sie können das Spiel mit Stock-Reitern für Ihr Hockey- oder Lacrosse-Spiel besonders einzigartig sehen. Filtern Sie ein wenig um Ihr Zuhause herum, um den Dreh raus zu bekommen.

Einige wichtige Begriffe Die Auflösung Ihrer Kamera ist die Anzahl der Pixel, die Ihr Gerät aufnehmen kann.

Je mehr Pixel,

desto besser das Bild.

Die Bildrate ist die Anzahl der Bilder, die Ihre Kamera pro Sekunde aufnehmen kann.

Denken Sie daran, dass 24 Bilder pro Sekunde die Standardwiedergabe für Film und Video sind, jedoch sind höhere Bildraten verfügbar.

 

Lassen Sie keine ausfallenden Batterien in Ihr Material geraten.

Bringen Sie immer zwei bis drei Extras mit und stellen Sie sicher, dass sie keinen extremen heißen oder kalten Temperaturen ausgesetzt sind. Vermeiden Sie beim Bearbeiten von Videos zu lange Aufnahmen und versuchen Sie, einzelne Szenen bei etwa drei bis fünf Sekunden zu halten. Dies kann manchmal helfen Planen Sie ein schnelles "Storyboard", damit Sie mit einer Idee fotografieren können. Nehmen Sie immer zusätzliches Material auf, damit Sie während der Bearbeitung viel zu tun haben.

Suchen Sie nach Kameras mit WLAN-Verbindung, sodass Sie Videos oder Fotos sofort freigeben können.

 

Ebenso verfügen viele Kameras über eine Bearbeitungsfunktion für unterwegs, sodass Sie das Filmmaterial unterwegs zusammenstellen können.

Viele bieten sogar eine eigene proprietäre Bearbeitungssoftware.