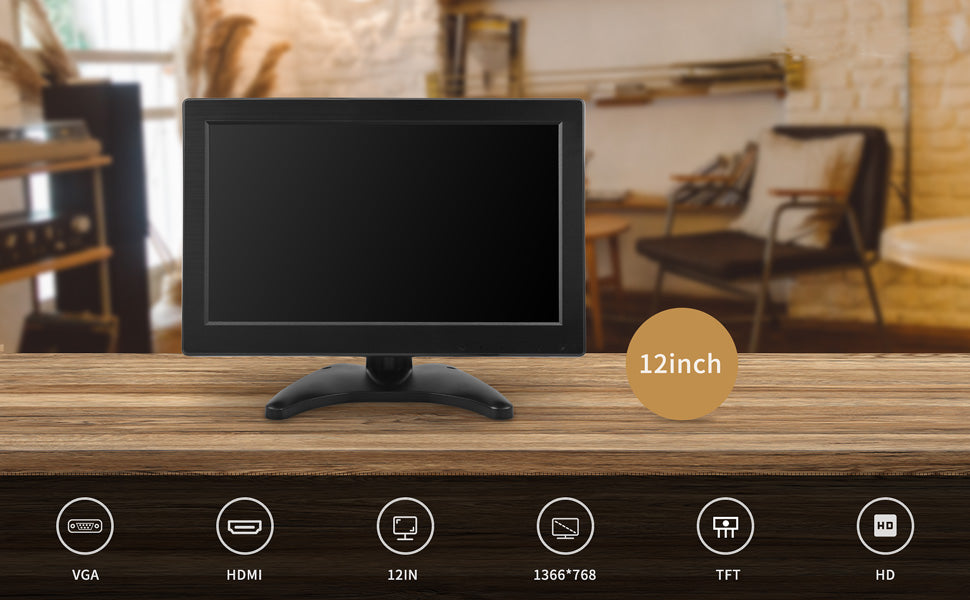 About this item
Multi video input(VGA, AV, HDMI, BNC), high sensitivity, strong anti-jamming features that can withstand interference; multi language OSD menu
Clear image and colorful display, 12inch 1366*768 high resolution TFT LCD monitor
The versatility of this screen enables it to be used in CCTV systems, PC monitors, rear view cameras monitor, and indoor security use. If you are a gamer, connect the screen to your gaming console and enjoy better viewing
Support audio output function,ear phone
12 inch TFT monitor supports audio output functionalities. It has a stable base that can be rotated 160 degree left or right, 35 degree up and 55 degree down.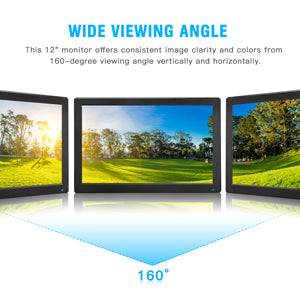 160°Wide Viewing Angle
Viewing angle up to H-160 degree,V-140 degree,display clear and exquisite image from different angles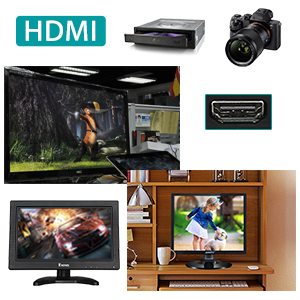 HDMI PORT
HDMI Port allows for connectivity to Raspberry Pi, Cameras, TV, DVD and PCs that support HDMI connectivity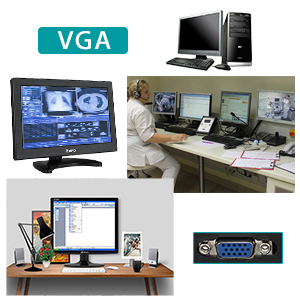 VGA PORT
Any PC with an VGA port can be connected to this Eyoyo LCD monitor and used as a mini PC monitor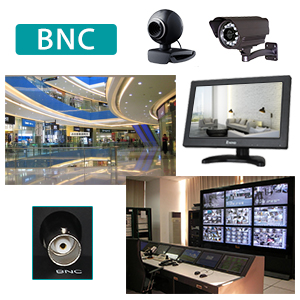 BNC PORT
This port is vital if you intend to use this monitor for security monitoring purposes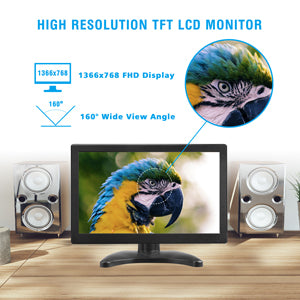 Secondary Monitor Display
It can be easily connected into the monitor and connecting it to the laptop or desktop. It's ideal for extending your screen on business working. 
Investing in home security is a critical investment, getting a camera is another, another major investment would be to have the best CCTV monitor to complement your camera system. This model is a portable 12-inch monitor with a resolution of 1366 x 768. You will experience bright and clear images at a wide viewing angle of approximately 160 degrees horizontally and 140 degrees vertically.
The aspect ratio is 16:9, the brightness is 350 cd/m2, and the contrast ratio is 600:1. You will experience more accurate color rendering when interfacing with other devices such as PCs, TVs, cameras, and DVD players or recorders. ......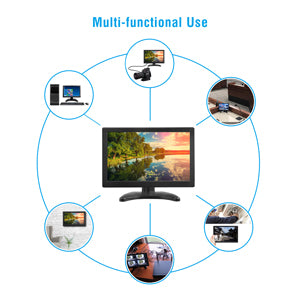 Specification
Screen Size: 12 inch
Screen Backlight: LED
Material: ABS
Screen Resolution: 1366x768 pixels
Aspect Ratio: 16:9
Screen Contrast: 400 : 1
Video System: PAL/ NTSC( Auto switch )
Screen Brightness: 350 cd /m2
Power Supply: 12VDC-2A 10W
Built in speaker: Yes
Language: English, Chinese, German, French, Italian, Russian, Spanish, Korean
Dimensions(W x H x D): 297 * 192 * 38mm
Weight: 1600g/ 3.52lb
Packing
1*12 inch Monitor
1*Power plug
1*HDMI Cable
1*VGA Cable
1*Mount Stand
1*User Manual