About this item 
【More stable and secure base station】: there is a wireless dedicated line connection between the base station and the camera to ensure more stable, farther, and faster transmission and maximum information security. (Note: The base station does not support 2.4G/5G WiFi, and can only connect to the router through the network cable.)
【Solar panel supply and 100% wireless】: Our solar security camera comes with a large internal rechargeable battery and an external 3W solar panel. No circuit wiring hassles, you can put it anywhere. Make sure the wireless outdoor security camera is fully charged and never worry about disconnecting due to lack of power. 365 days of uninterrupted power to keep an eye on what matters. (In places without any obstructions, the WiFi distance can reach 100m. Because the blockage of the wall will interfere with the signal, therefore, we recommend a length of 30m for the installation of the base station and camera.)
【4MP Color Night Vision】: This 4MP wireless home security camera features a 4mm lens, 5x optical zoom, and 2 built-in LED beads that automatically turn on at night to capture color detail when motion is detected. Color night vision will make everything more realistic and vivid than infrared night vision, and the Outdoor Wireless Home Security System will help you record real moments.
【PIR Motion Detection】: The 120° detection angle outdoor security camera uses a high-sensitivity PIR motion sensor. the PIR sensor detects only warm humans or mammals and pushes alerts to the app. once the PIR sensor outputs a pulse signal, the camera is activated and goes into recording. the PIR sensing distance is 32 feet. Recording time can be adjusted as needed.
【Two-way audio and IP66 waterproof】: The wireless home security camera system has a microphone and speaker on it to support real-time response. It will be more convenient to communicate with your family or guests through the app. With the original IP66 waterproof housing, the camera can be used indoors and outdoors for longer life.
Solar security camera
The camera has a built-in 8000 high-capacity rechargeable battery and is equipped with a 3W high-efficiency solar panel. Simply charge the camera once before use, then install the solar camera in a sunny location to ensure the solar panel receives maximum sunlight and provides uninterrupted power to the camera.
4MP Color Night Vision
This 4MP wireless home security camera features a 4mm lens, 5x optical zoom, and built-in 2 LED light beads, which automatically turn on at night to get color details after motion is detected.
Easy to operate
Wifi connection, 100% wireless. There is no need to connect any cables and network cables to the camera, and get rid of the trouble of various cables. You can place the camera anywhere you want and monitor it anytime. The base station and the surveillance camera have been linked before leaving the factory. Just scan the QR code on the base station to quickly obtain the remote images of multiple cameras.
PIR motion detection
When suspicious motion is detected, the camera sends an alert notification to the phone. Customize PIR sensitivity and set time schedules to easily filter out unwanted alerts.
Two storage methods
All videos shot can be saved to TF memory card (not included) or APP's cloud storage (free cloud storage for 30 days). The wireless home security camera supports Micro SD card (up to 128GB) and cloud storage (30-day free trial).
IP66 waterproof
IP66 weatherproofing provides protection from dust and water, allowing the camera to operate between -4°F to 122°F (-20°C to 50°C).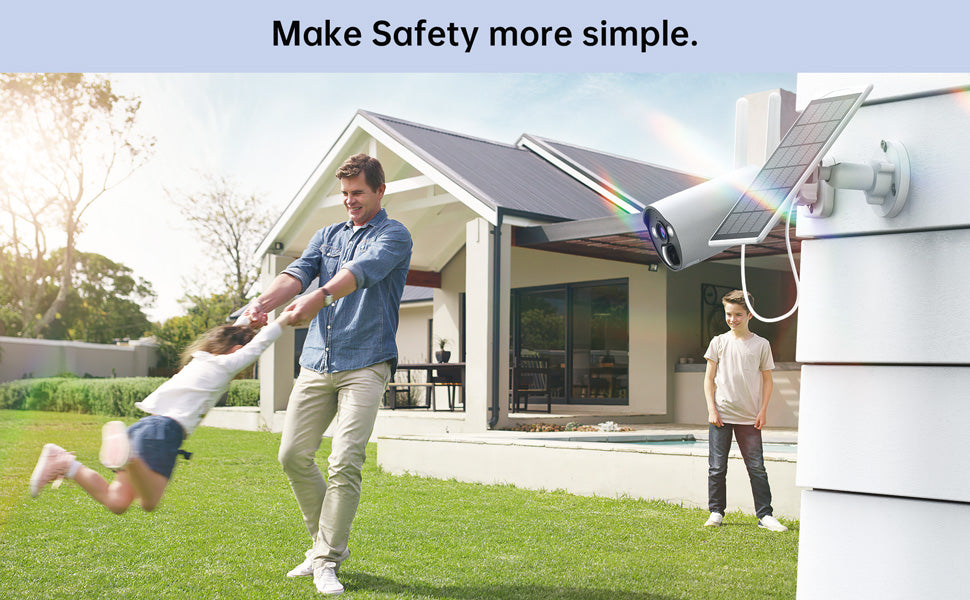 Tips
Please use the supplied power adapter to charge the solar outdoor camera for 5 hours before using it for the first time.
The base station to connect to the Internet only supports connecting to the router through a network cable and does not support a 2.4G/5G wifi connection.
The security camera cannot be used alone and must be used in conjunction with the base station.
A wireless camera system doesn't mean you can use it without any cables. The base station must be connected to the network cable and the charging cable to work properly. (The base station and the camera are transmitted through wireless technology to protect your privacy.)
Please try to avoid installing the camera on a busy roadside, where there are frequent pedestrians and vehicles, otherwise, the camera will be woken up frequently, resulting in frequent alarm messages and excessive power consumption.
Package
4 x Camera
4* Solar Panel,
1 x Wireless Base Station,
1 x Power Adapter,
1 x USB Charging Cable (for Base Station),
4 x Type-C Charging Cable (for Camera),
1 x Network Cable,
1 x User Manual,
4 x Screw Bags,
4* Solar Panel Holders;