Are you still using the outdated dash cam? Is your dash cam equipped with limited obsolete features? If yes, then we are here to guide you with the advanced and futuristic dash cam you can opt for. The latest features are updated and enhanced beautifully.
If you want the best cam with latest advanced features, then you may choose Campark's R10 which is beautifully crafted with precision, each corner is designed with the symbol of a masterpiece.
Modern dash cameras record continuously through the rear side or front side window of the vehicle. Advantage of these new generation Mirror Dash Cams would be the capability of recording even during the accident. The recorded footage from these dash cams could be used as evidence. Campark R10 dash cam is one example of these modern dash cameras. Campark is a dual mirror dashboard camera which has gained immense popularity among both commercial and private vehicle owners.
Given below are some of the upcoming trends for these modern dash cams.
Integration with Internet of Things (IoT)
All dash cams like Campark R10 would be using several IoT integrations for several of its features. Both car and dash cams manufacturers would use IoT technology for detecting errors and for protecting driver from unexpected incidents. This would also help in smoothing out the whole process of driving. These modern cameras have inbuilt Wi-Fi functionality, which allows the user to connect with the dash camera.
For example, Campark R10 dash cam has an automatic Gravity sensor which is for sensing any abnormal vibrations. This IoT technology would automatically start recording when in case of an accident and would lock the video of the incident. Together with these cameras, these advanced techs would help to increase the safety of the drivers.
Effective solutions to the user
Following the recent trends, car makers are collaborating with dash cam manufactures to offer several personalized offers to the drivers. There are several dash cam manufacturers, which would provide general features to drivers. For instance, in Campark R10 dash cam, the user would get WDR (Wide Dynamic Range) technology. This technology would automatically edit the image for creating balanced footage and pictures.
Touch Screen and night vision features
In, all modern dash cams have touch screen technology. This technology allows the user to operate various functions of the dash camera with ease. The widescreen would provide you with bright and clear real-time traffic conditions. This screen has 1080 pixel of resolution that would bring you crystal clear image of objects both in front and back side of the car.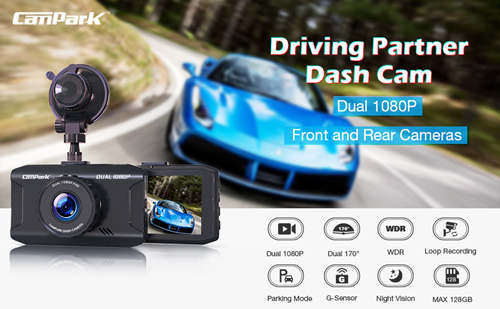 Superior night vision is another trend for these modern dash cams. For instances, Campark R10 dash cam is equipped with 6 glass lens and F2.0 aperture lens. This would enhance visibility at night and would give more color-accurate images. The driver would even read the number plate of the vehicle in front of him and would notice other relevant information during the night time.
Waterproof body structure
These modern cameras have a waterproofing body structure. If you consider Campark R10 dash cam, it has a waterproof standard of certified IP68 rating. It would ensure that this camera would be able to work even in rainy weather. The dash cam is fully capable of capturing the 140-degree view on the backside.
The points mentioned above are some of the new trends for the new generation dash cameras. Therefore, while you are buying any new dash camera, make sure that your new camera has all the features of the next generation camera.
When are you getting your Dash Cam?