About this item
【4K UHD Front Dash Cam 】- While on front and rear dual recording mode, the dash camera's front camera can up to REAL 4K(2160p@30fps), the cabin can up to 1080P. Simultaneously record and display the road in front, inside the cabin. It can clearly capture the detail of license plates and road signs then provide sharp, high-quality videos/images and powerful evidence in an accident.
【Triple Channel Dash Cam & Two Recording Options】 - The front(170°), rear(150°), and cabin(150°) lenses on the 3 channel dashcam record videos at 2K+1080P+1080P@30fps simultaneously. And you can configure the settings to record either the front and interior of your vehicle in 4K + 1080P high resolution. The built-in super microphone clearly captures sound to provide solid evidence during collisions and other incidents, providing you with all-around protection. The adjustable inside camera with ultra-wide-angle lens allows for greater flexibility and extensibility in capturing more details.
【Super IR Night Vision】 - With high-performance Excellent Sony IMX335 sensor and HDR technology. Enhanced night vision also allows the dash cam to perform well in low-light situations by F/1.8 6 glass lens carefully fine-tuning the exposure along with 170 DEGREE Ultra Wide Angle lenses. It provides great exposure and dynamic range even when the passenger cabin is in total darkness at night.
【Built-in GPS, Wifi, and Mobile App】 - Via our mobile APP to download, view and manage dash cam recordings instantly on your IOS & Android devices. With a GPS logger, the dash camera can log the current speed and GPS location. By using the app you can download your recorded 4k videos directly to your smartphone and easily share these on social media.
【Loop Recording & G-Sensor & Parking Mode】-When the memory card storage is full, the dash cam will automatically overwrite the oldest recording. The built-in G-Sensor will automatically lock the video when a car collision is detected. When parking, the park mode will consume the dash cam's small-capacity battery and record about 30 seconds of video. (If you need 24 hours recording, please consult customer service to purchase the matching hardwire kits)
【More Value-added Function & Warm Tips】-SupportTime-lapse, parking assist, Two types of installation options, 256GB Max Micro SD. Warm Tips: Dash cam's WIFI can't support surfing on the internet, so it will cause connection problems. (Cuz Some mobile phones give priority to using network /WiFi with Internet access. .)It is recommended that you turn off the mobile network, Authorize all the permissions of the app, exit the app completely, and reconnect the wifi and app.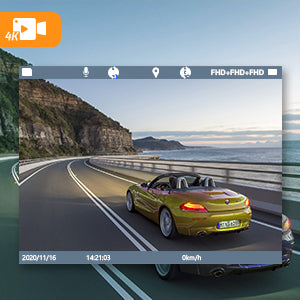 UHD 4K Dash Cam
The CE66A dash camera adopted a Sony sensor captures 4K UHD footage with clear details when front and inside dual channel recording. License plates in distance can be recorded in a very crisp 4K video.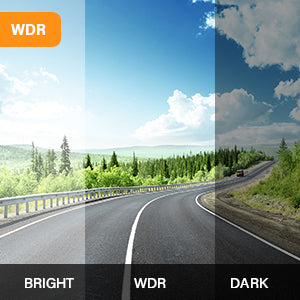 Widely Dynamic Range
The dash camera, which is equipped with WDR technology, provides excellent exposure and dynamic range in low-light situations such as driving into the sun or nighttime oncoming traffic headlights.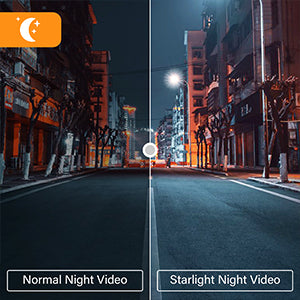 Clear Night Vision Video
This 3 way dash cam with a high-performance Sony sensor and a starlight night version automatically increase exposure in low-light situations to capture clear video footage inside and outside the car.
Selectable Installation Mount
Adhesive mount and suction cup mount are available in the package. You can choose what you prefer. A flexible rotatable three-camera lens offers more security and captures more instant scenery even driving.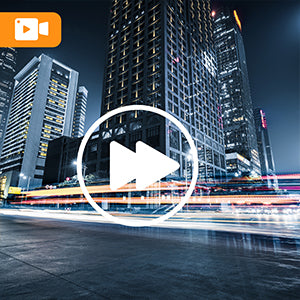 Timelapse Video Recording
Timelapse video will be recorded at a faster rate per second, which allowing the dash cam to run for longer periods of time while reducing video file size. This feature conserves memory card storage space while capturing awesome scenes for you.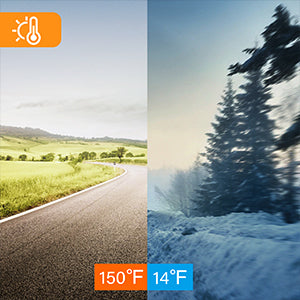 Durable Weather Resistance
This dash cam 3 channel works well in 14℉- 150℉. It performances more durable in horrible surroundings than another dash cam.

Upgraded CE66A 3.2" Three Channel Dash Cam
3-Channel Dash Cam records the front at UHD 1440P, the inside cabin, and the behind of the car at FHD 1080P resolution. Dash Cam CE66A featured generally decent video and audio quality, with no discernable lens distortion. Giving you peace of mind inside and outside of your vehicle.Perfect for Uber/Taxi/Rideshare drivers or people who need to record both scenery and happy time with your families.
TIPS:
1. This 4K dash cam does NOT include an SD card. Please prepare a U3 high-speed SD card and also format it before first use.
2. The Rear camera cable length is 19.6ft, please feel free to let us know if you need a longer 24ft cable.
3. Please be sure to use the original car charger in the package, another car charger may affect its work properly.
4. The built-in battery capacity is small, it's impossible to supply 2A of current independently. In order to make the driving recorder work stably,the car charger needs to be plugged in when recording
If you still have problems with a U3 card, please let our customer support know, we will help solve it at once.

How to use the APP to connect WIFI to transfer video from the dash cam?
This CE66A, 3-channel dash cam front, inside, and rear is equipped with WIFI & GPS. Comes with a dedicated APP connection, iOS can download "Guardcam" from Google Play/Apple Store, and for Android, please scan the QR code in the manual to download.
Download it from the application store or scan the code to get the APP.
Turn on the WiFi feature over the dash cam.
Open your smartphone to find 'GUARD APP' → Click 'Add a New device' → Select the 'Car Recorder'.
Turn on the smartphone setting menu → Find out this WiFi list → Select 'TO GUARD fceee646e23d' → Input the password '1234567890'.
Back to the APP interface → Click 'Go to Connect' → and then you can connect it easily.
Warm tips:
This 4K car camera with Wifi feature is only used to transfer the video or photo recording by this dash camera to the smartphone, the WiFi can't support surfing on the internet.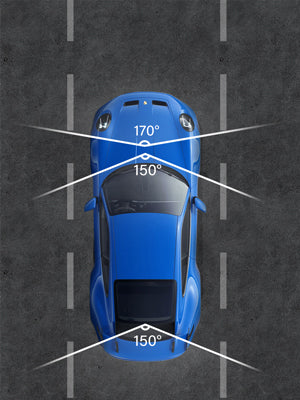 Specification
Front+Cabin+Rear Mode Resolution:1440p+1080p+1080p@30fps Max
Front+Cabin Mode Resolution: 4K+1080P@30fps
Max Memory Card: Support MA X256GB Micro SD card(U3 or above)
 Video:MP4 Photo:JPEG
Lens: F1.8 Large Aperture Lens
Screen: 3.2'' LCD
Sensor: SONY STARVIS IMX335 Sensor
WIFI & GPS & G-sensor & microphone & speaker: Build-in
Weight:1.39 pounds
Car Charger: DC5V 2A
Battery Life: aboue 10 minutes
Package
1x 4K Dash Cam
1x Rear Camera with Cable
1x 2.62ft Micro Mini USB cable
1x 11.5ft Car Charger
4x Cable Clamps
1x Crowbar
1x 3M Stickers
2x Replacement Sticker
1x Adhesive Mount
1x Suction Cup Mount
1xUser Manual