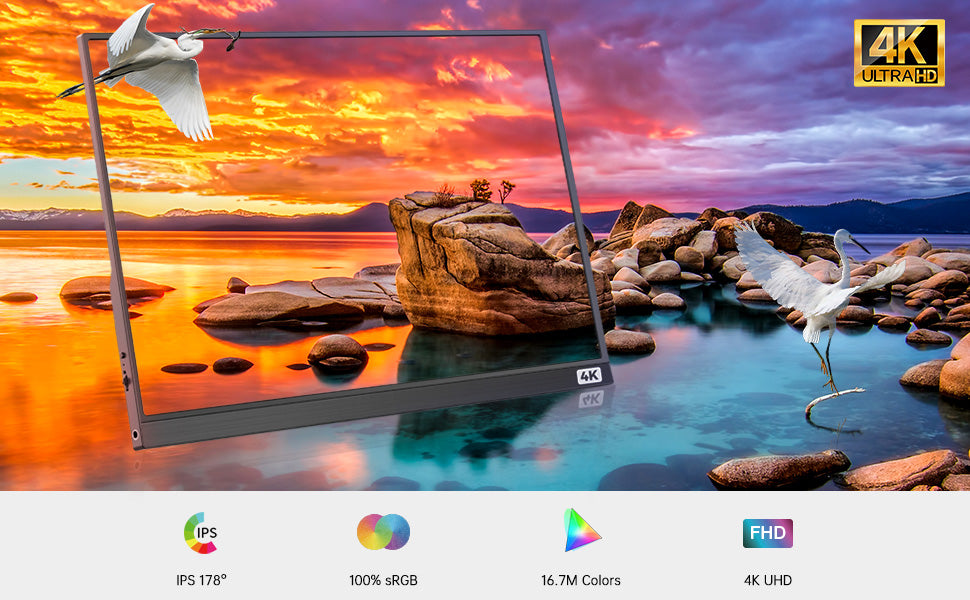 About this item
【4K IPS LCD UHD Mobile Monitor】 The mobile monitor features a high resolution of 4K UHD (3840 x 2160 pixels) and a vivid presentation with four times the number of pixels of Full HD (1920x1080). Displays a wider range of information than Full HD. Allows you to use a wider range of screen sections and enjoy a visual feast more comfortably. ● Equipped with FreeSync, HDR&WDR, and DCR technologies, it corrects extremely dark and bright images and displays native images and videos more clearly in high definition. Not only is the display more beautiful and realistic, but it is also more comfortable. Even when watching fast moving images, it shows smooth and beautiful video images, while giving you the ability to enjoy a highly immersive, highly detailed 4K gaming experience.
【Enhanced No Latency 15.6" large screen + response time 2ms + 100% color gamut】Refresh rate 60Hz with no latency. 1200:1 contrast ratio makes it easier to game/work more efficiently! Perfect for games with no lag. Works instantly without adding drivers and has a high speed response of 60Hz, allowing you to enjoy fast-paced content such as FPS games and action movies. ● With an IPS LCD panel that displays natural colors, you can get a wide range of 178° up and down and 178° left and right visibility for vivid images from any angle. ● 4K + 100% Adobe RGB color gamut reproduction covers a wide color gamut so you can enjoy more realistic images. It is also recommended for watching videos and games as it captures fast moving images clearly.
【Multiple connections】Can be used on a variety of seats, can be connected to smartphones, security cameras, popular game consoles, personal computers, Miracast, etc. Easy to operate and compatible with a variety of terminals. If you connect it with the included TYPC cable, you will be satisfied with the video, sound quality, data, charging and power supply functions of the mobile display. (PD-USB cable is required for power supply when power supply is insufficient)
【Multi-use】: Protable monitor has 3 input ports, one mini HDMI and two USB type C. Protable monitor can be connected to laptop, security camera, MacBook, PC, cell phone, Xbox, PS4, game console, etc. to play business presentations, surveillance, games, videos, TV shows, photos, etc. Dual speakers and a 3.5mm headphone jack make work, play and video more fun.
【Magnetic Case + 12 Months Warranty】 Outstanding Durability With removable magnetic holster stand that can be moved to 3 different positions, the screen can be used as a stand to prevent scratches, easy to put in your bag, and easy to carry. Please note: The D159 is VESA compliant, with 75mm screw hole spacing and M3 screws.
【Slim, lightweight and portable】: This laptop monitor extension is 0.39 inches thick and weighs 1.9 pounds, with a thickness of 6 to 10 mm (0.23 to 0.39 inches). Extremely lightweight, it fits easily into a backpack or suitcase. The mobile monitor is perfect for people who want to check their security cameras anywhere, gamers, students or engineers.
【Premium Aluminum】 The monitor also features a glossy aluminum frame, giving it a subtle, premium feel.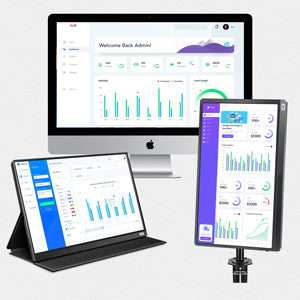 Landscape & Portrait Mode
The portable computer monitor offers landscape and portrait modes. You can easily switch between these two modes by changing settings. In portrait mode, the monitor immensely enlarges the vertical vision which makes it perfect for viewing websites or papers.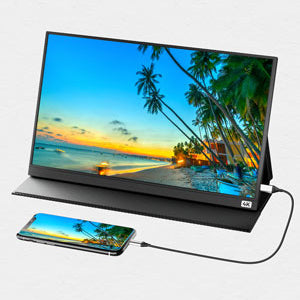 Extend Your Phone Screen
When combined with a smartphone equipped with a USB Type C terminal, you can expand the screen and project it to a monitor, so you can enjoy photos, movies, and more on a large screen.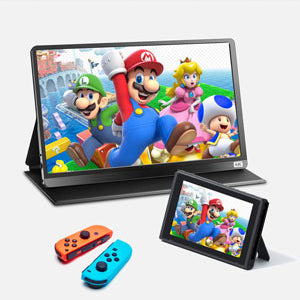 Mainstream gaming monitors
The portable monitor display has a Mini HDMI input interface that can adapt to a variety of game consoles such as PS4, XBOX, and SWITCH. Enjoy mainstream games easily anytime anywhere.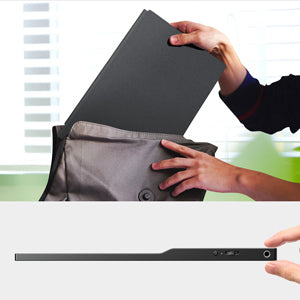 15.6" Lightweight Ultra-portable Monitor
Ultra-portable design at 1.97 pounds, 0.24-0.39 inches slim, and 15.6 inches display to pair perfectly with your devices. Product Dimensions - 8.7 x 0.25 x 14.2 inches. Equipped with a leather case and a high-quality aluminum alloy metal body, making the 4K portable monitor is easy to pick up to reduce travel burden.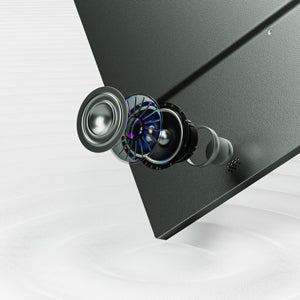 Dual Stereo Speakers
The 4K portable screen adopts customized 2W long lifetime dual stereo speakers to produce huge immersive 360-degree sound with deep and accurate bass. You can also add an earphone via 3.5 mm audio input if you don't want to disturb others.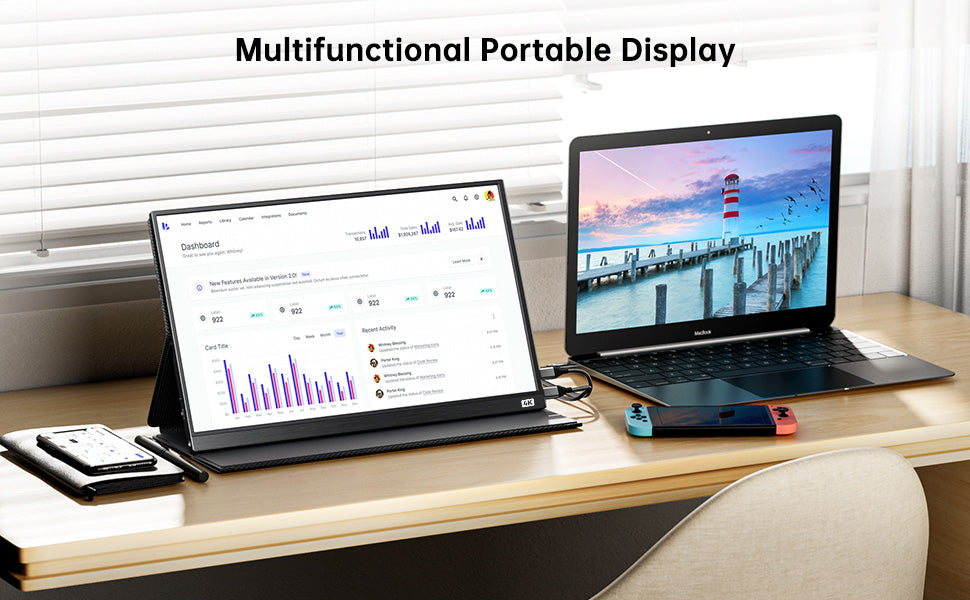 Kindly Note:
Please check if the Type C of your laptop/mobile phone/security camera is a full-featured Type C port. If there is no full-featured Type C port, you need to connect an adapter (iPhone requires a Lightning to HDMI adapter;Please use a Type-C to HDMI adapter to connect a security camera).
This portable monitor does not have a built-in battery.
When your laptop /pc, smartphone is 720P, the monitor images will show 720P resolution. You need to adjust your own device to 3840*2160 resolution, the portable monitor will show 3840*2160 vivid images.
Press "Windows + i" to enter into setting on pc/laptop, adjust display direction (landscape/portrait), resolutions. Press "Windows + P" to enter into display mode (duplicate, extend, second screen only) to choose.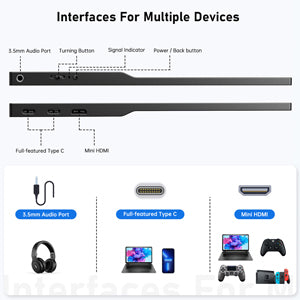 Features
Screen size: 15.6 inch
Weight: 0.89 KG
Display area: 363 (H) x 223 (V)
Display mode: IPS mode
Brightness: 300cd/㎡
Contrast ratio: 1000:1 contrast ratio
Resolution: 3840*2160P
Image format: 16:9
Viewing angle: 178°
Refresh rate: 60Hz
Color gamut: sRGB100%
Package
1 x 4K Handheld Display
1 x Cable Mini HDMI with HDMI
1 x Type-C to Type-C cable
1 x Type-C to USB-A cable (power supply)
1 x Foldable Leather Case
1x 30W Power Adapter
1x User Manual