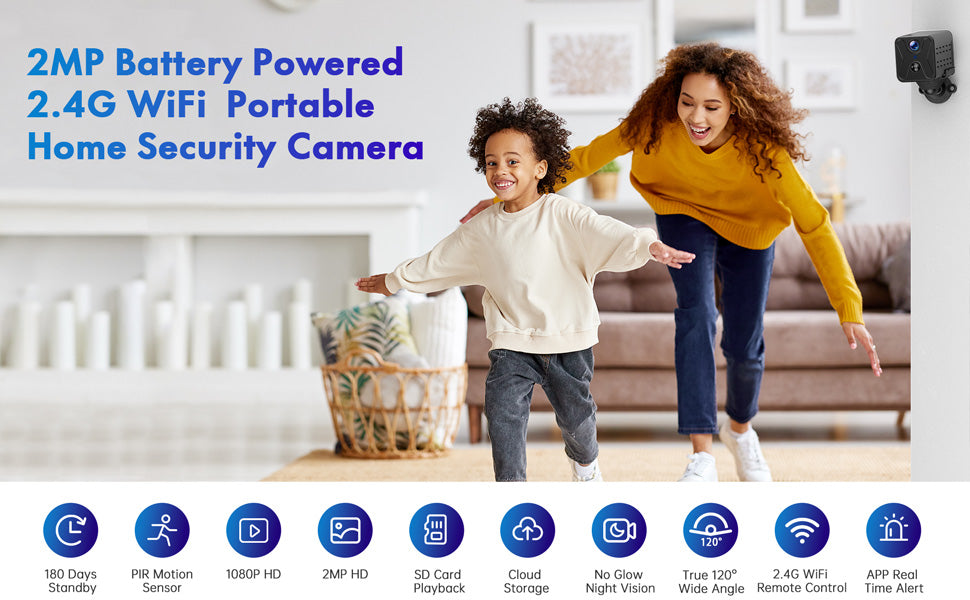 About this item 
【Mini WIFI Camera】This Mini wireless camera provides maximum value for the use of space. The built-in bracket is suitable for a variety of installation environments. It can be installed in many places, such as walls, balconies and porches, and the brackets included in the package can be rotated and adjusted to multiple orientations. Meet a variety of installation needs.
【Battery powered and long standby】: With the latest low power consumption tech and built-in rechargeable 2800 battery, this 2mp home security camera can realize 180 days' long standy time ( switch to full sleep mode via the remote On/Off feature on App) and 60 days' long working time (20-30 triggers per day). 
【PIR motion detection and 2MP night vision】: Equipped with 120°angle and 16ft distance's sensitive PIR motion sensor, this wireless security camera sends alerts to your phone in real time when motion is detected and enters to recording state at once; With built-in infrared LED lights, camera automatically switches to super clear night vision mode (black and white) when it detects that the light is dim. 
【2.4G WIFI connection and app remote control】: Noted that this battery powered home security camera NOT support 5G wifi, ONLY support 2.4G wifi, pls make sure to turn on 2.4GHz band for your router. 100% wire-free, no professional installation required, very easy set up, just turn on the security camera, connect it to WiFi and add it to the App. Compatible with both iOS and Android devices. 
【Audio recording and SD/cloud storage】: This portable nanny cam NOT support 2 way audio, it's single way audio, which means the recorded video has sound, but we can't talk via this wifi security camera; All videos can be saved to Micro SD card up to 128GB(NOT INCLUDED), or cloud storage service on APP, NO additional cost to download APP, but cloud storage is NOT free, as per your own needs choose the better choice(we offer 30-days' free trial for cloud recording).
【For all your monitoring needs and professional services】: Remote access to your house, office or any other property can be ensured through your cell phone. You can now travel or go to the office without worrying about the behavior of your family, elderly, children, babies, pets, thieves, babysitters, caregivers, etc.
Wide angle, easy to install
This wireless security camera features a 120° wide-angle lens and a high-powered glow-free 940nm infrared LED. it provides light for clear video in the darkest conditions, with a range of up to 16 feet. Even if the camera is left unattended, you won't miss any important events. This wifi security camera is not waterproof and should not be installed outdoors.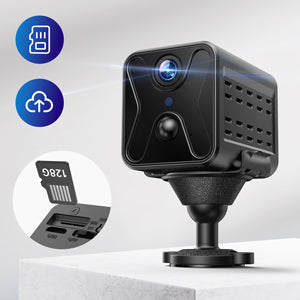 2 Storage options
The video captured by this 2.4G wifi home security camera can be saved to either a Micro SD card up to 128GB (not included) or to the app "UBox" cloud storage (free 30-day trial available)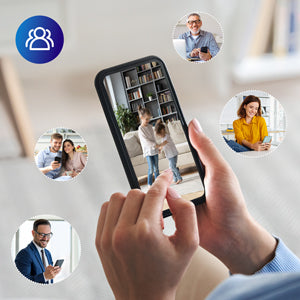 Multi-user Sharing
With this portable surveillance camera, you can easily share real-time home surveillance scenes by simply entering the user ID of the invitee or scanning their user QR code. Note: Up to 3 people can watch online at the same time.
Smart PIR Human Motion Detection and Super Night Vision, Always Guarding Your House and Protect Your Family
The intelligent PIR sensor with distance up to 16 feet can capture any slight movement of human, real-time alerts will send to you through the phone APP & record and save the video immediately. Plus 120° wide angle, you won't miss any important events even you leave the camera unattended.
The battery powered portable home security camera features high-power no-glow 940nm infrared LEDs. It provides light for clear video in the darkest conditions and the range can be up to 16ft.
As soon as this battery powered indoor security camera spots any activities mobile alerts and notifications will let you know immediately. It stores events with snapshots conveniently and securely in the App.
This home security camera supports remote control through the "UBox" APP, compatible with Android and IOS devices. This security cam only supports 2.4G Wi-Fi, pls don't choose 5G Wi-Fi when configuring.
120° lens of this wireless security camera brings a wider view. This wifi security camera is NOT waterproof, pls don't install it outdoor.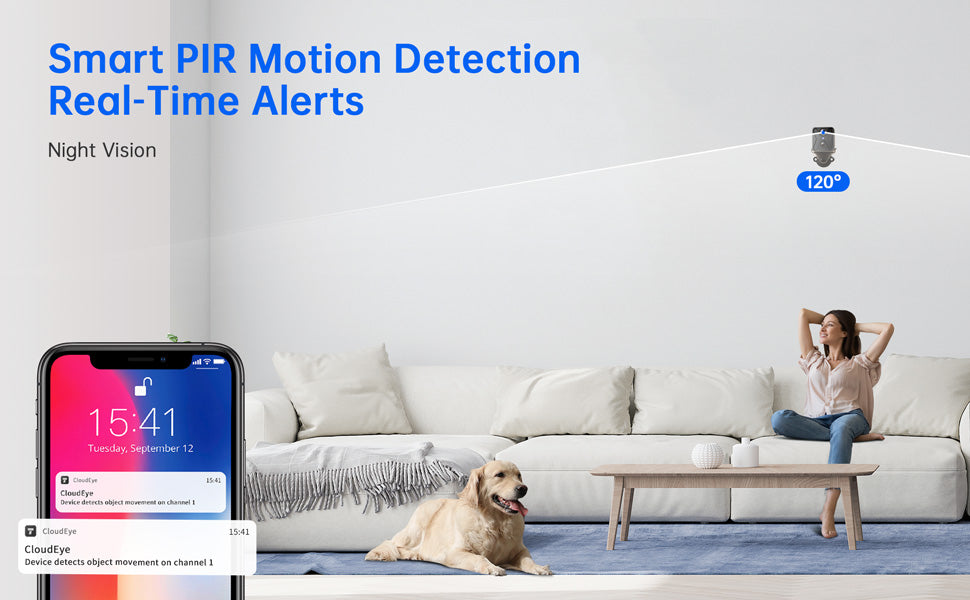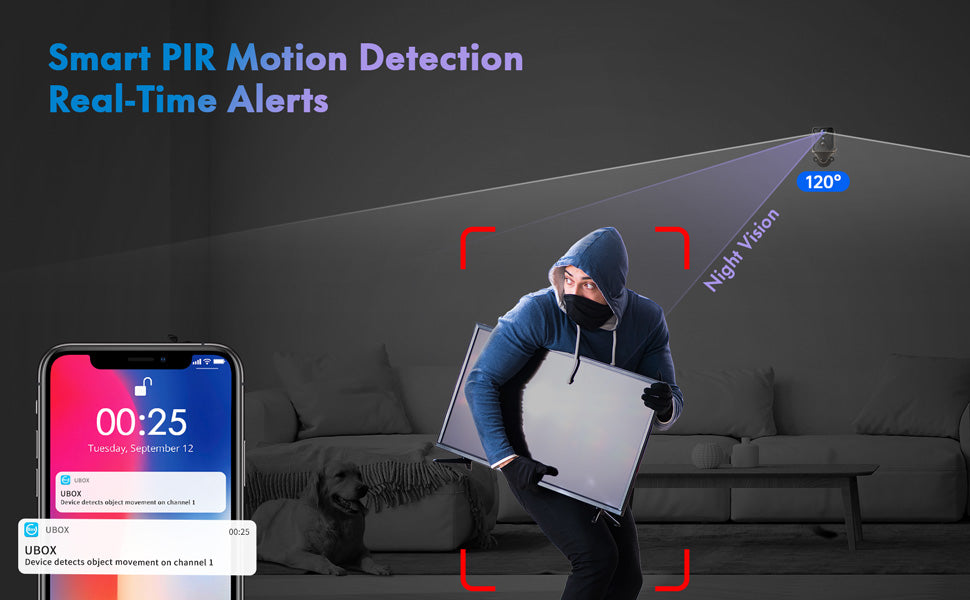 Easy Set-up and Multi-Situation Applicable Home Security Camera
Just download the UBox App for iOS or Android devices in Google Play or Apple App Store. Create account and add device. You're all set and can watch live feed from anywhere.
If you are caring about your home security, this portable nanny cam could be installed for your elderly, pets or babies when you are not at home.
This battery powered indoor security camera can not only apply at home, but also office or garage to protect your own property.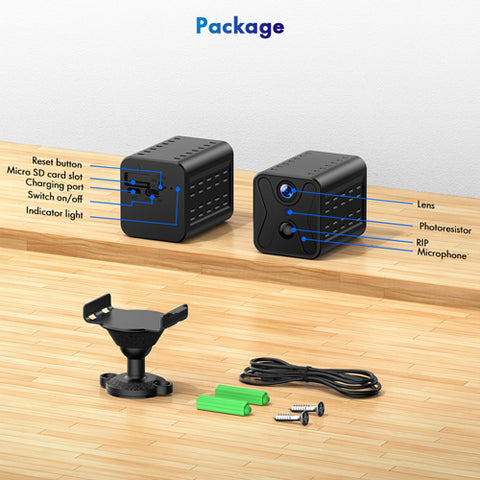 Specification
Resolution: 2MP
Daytime distance: 98ft (30m)
Night vision distance: 16ft (5m)
Audio: Built-in microphone
Smart security: Smart PIR Motion Detect and Instant
Storage: SD Card (not included)/ Cloud Storage
Maximum supported memory card: 128G
Waterproof: Not waterproof
Package Dimensions:4.17 x 3.5 x 1.65 inches
Item Weight: 6.4 ounces
Charging :5V/1A
APP: UBox