About this item
【3 Channel Dash Cam&Super Wide Angle】Campark M200 car dash cam operate in 3 channels camera record simultaneously in front, rear and cabin.This car cam supports record maximum to 1080P audio.The dash cam front and rear inside can supports a maximum 170° large wide-angle vision range, to ensure that your car can keep a safe distance from the front, rear, left and right cars, all details can be captured and protect your cars all-around.
【Superior Night Vision with IR Light & WDR Technology】The car dash cam adopted high resolution CMOS image sensor and built in 4 IR lights with F2.0 aperture to capture more light,the interior car camera equiped with night vision function ensure take clear image at night. In attention, the dashcam wide dynamic range can automatically balance overexposure or underexposure even at night or at the entrance and exit of tunnels to give more clearer and natural images for you.
【Dash Cam with GPS and Speed】This 3 channel dash cam built-in GPS accurately records your vehicle location, driving trajectory, and synchronous satellite design time.You can connect a Type-C USB cable on your computer to playback the video on Google Mapsvia GPS player. It will be helpful for you record the most important evidence in an accident.Perfect tripe lens channels gps dash cam for uber, taxis, rideshare, lyft drivers, commuters, and families.
【Seamless Loop Recording】The dash cam for cars loop recording will record video length to 1/3/5 minutes automatically overwrite the unlocked oldest clips with the newest one when the micro SD card is full,without manual deletion,seamless looping of memory space, and emergency locked video files will not be overwritten.This car dash cam supports up to 128GB of micro SD card (NOTE: card NOT included in package).
【Variable sensitivity G-sensor】The dash cam built-in variable sensitivity gravity sensor which can record and save the video automatically when the car shakes sharply or collision occurs (We suggest setting G-Sensor level at" low").It helps you ensure the restoration of the accident scene and keep you away from driving disputes,deal with emergencies promptly and effectivly,anti-collision porcelain, anti-scratch car, anti-theft.
【24 Hours Parking Monitor】When you set the car camera parking monitoring,the car surveillance camera recorder can automatically monitor the surrounding environment.After your car is turned off and the vehicle detects vibration while parking, the vehicle camera recorder will automatically turn on,record and lock the video,then save recording and turn off.24H parking monitor gives you peace of mind and keeps your car safe all day long.
【Points for Attention】This gps dash cam has a small built-in battery,which is used to save the video file and parking monitor after external power supply cuts off. Please keep the included CAR CHARGER plugged into the cigarette lighter to provide a constant 5V/1.5A external power supply.DO NOT leave the dash camera in direct sunlight for a long period oftime or where the temperature could go above 140°F(60°C).We recommend to use high quality U3 or above Micro SD card.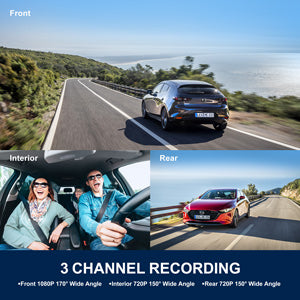 3-channel Rearview Mirror Car Recorder
The Campark M200 Car Recorder operates in 3-channel cameras in the front, rear and cab at the same time. The front and rear of the car recorder supports a wide angle field of view of up to 170°, ensuring that your car is at a safe distance from the cars in front and behind you, and that all details are captured, protecting your car in every way.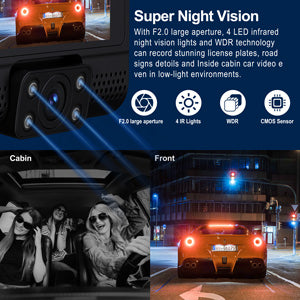 Full HD display
Support full HD (1920×1080) shooting, can clearly record the image when driving. With a bright F2.0 lens and a 1 / 2.7-inch image sensor, the image sensor can be enlarged to record clearer images than ever before. It is not only suitable for shooting in daylight and other dazzling scenes, but also allows you to record bright, high-definition images even at night.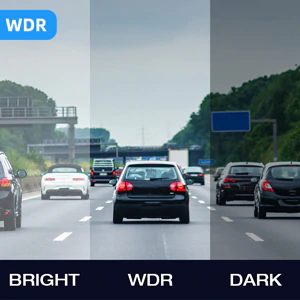 WDR function
Stable recording is achieved by suppressing "white and "black spots" that tend to arise in environments with sharp differences in light and darkness, such as backlighting, tunnel entrances and exits, and lighting while driving at night. The brightness of images with high brightness, such as tunnel exits, can be automatically corrected.
Seamless loop recording
With loop recording, old footage can be overwritten with new ones and then released from storage, so the SD card won't be fulfilled. G-sensor can automatically detect impact and lock emergency video without being overwritten. Support up to 128GB SD card (not included)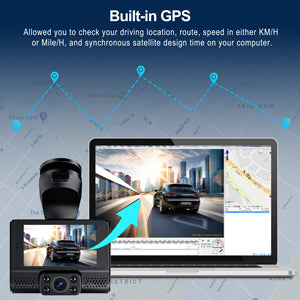 Speed, location, time tracking with GPS
The built-in GPS module helps the 3-channel dash cam accurately record the car's location data, including speed in KM/H or MP/H, location and time stamp during the trip, allowing you to track GPS data on your PC.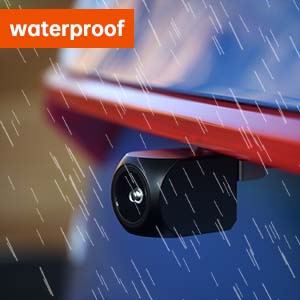 Waterproof and Weatherproof Reversing Camera
Upgraded rear camera, full potting process, equipped with the highest level IP68 waterproof and dustproof rear camera, can record clear video in weather conditions such as rain/snow/fog without missing important video recording.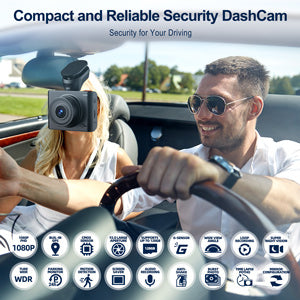 Specification
Front+Inside+Rear Resolution: 1080P+720P+720P; Front+Inside Resolution: 1080P+720P
Photo Resolution: 12M/10M/8M/5M
GPS:Built-in 
Display: 2.45 inch IPS LCD
Video Format: MOV/AVI
Picture Format: JPG
USB Port: Mini USB
Audio: Built-in 
External Memory: Micro SD card (U3 or higher, up to 128GB)
Package
1x Three Channel Dash Cam
1x Rear Camera with Cable
1x Car Charger
1x Type-C USB Cable
2x 3M stickers and screws
1x User Manual