About this item
【Astronomical level Dual-Lens & Starlight Night Vision】With advanced optical dual-lens design, the unique dual-lens track camera has different apertures, focal lengths and image sensors. Turn on the UHD camera during the day and automatically switch to image noise reduction mode at night, making the picture more exquisite and transparent without any noise. With the excellent starlight night vision camera feature, you can capture incredibly clear color pictures and videos in low light during the day and moonlight at night.
【Ultra HD 60MP Image & 4K Native Video】The trail camera features Sony IMX458 image sensor, Novatek 96670 chip and 6 layer premium glass wide-angle lens, you can get more details about wild animals whether it is day or night. With the saturation of 2.4'' LCD screen, up to 128GB SD card/SDHC U3 Card, you can enjoy the vivid world of wildlife. In addition, the video resolution can also be adjusted to 4K 30FPS, 2K 60FPS, and 1080P 60FPS. Files are stored in JPG/AVI format, compatible with any player, for easy reading and saving. 
【0.1s Trigger Time & 120° Detection Range】4K 30fps video recording with sound, replay more clearly, smoothly and save up to 90% memory card storage compared to MJPG videos used in almost all trail cameras. 120° Wide Angle, the trail camera with 3 PIR sensors is motion activated at an ultra-fast trigger speed of 0.1s as soon as animals' movements are detected. The trigger distance is up to 100ft day/65ft night.
【Bluetooth WiFi connection and APP control】 Please download the APP in Google Play or the APP store (IOS: "Game Camera Pro"; Android please download. If you can't download, please contact our technical team: support@campark.net) Manually connect your phone to the Trail cam's built-in WiFi or connect via Bluetooth, you can easily set parameters through the APP and save images or videos from the tracking camera to your phone. Tip: WiFi connection has a distance limit of 10m, depending on the surrounding interference.
【IP66 Waterproof and Ultra-Long Life】IP66 Waterproof and Operating Temperature : -10°C to 50°(14°F to 122°F). Makes the tracking camera suitable for all climates and protected from rain, snow, dust Damaged. Up to 8 months runtime on standby with 8 AA 1.5V batteries. (Batteries not included) 
【More Features】3 capture modes (photo, video, both photo and video), With the saturation of 2.4'' LCD screen, Time lapse, Password Protected, 65ft Night Vision, IR Night Vision Motion Activated, IP66 Waterproof. Even in extreme weather, the trail camera is still working, is perfect for hunting, wildlife monitoring, farm burglar, and even home security monitoring.
【External solar panel can be connected】TC06 supports external solar panel. Two power options are available. You can choose to use a battery or an external solar panel to power the camera.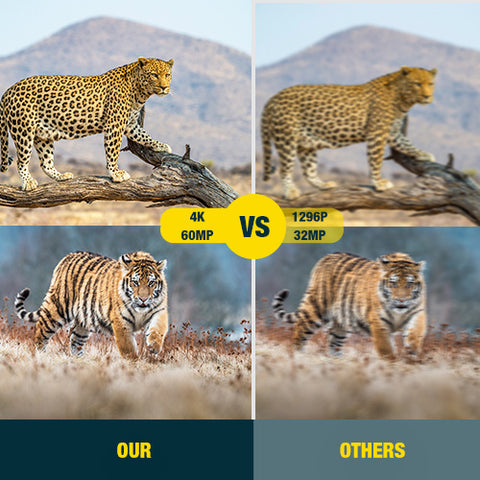 60MP images and 4K Ultra HD video
Equipped with an optical lens and image sensor capable of capturing crystal-clear images up to 60MP and Ultra HD video up to 4K. Dual lenses can switch between day and night vision effects according to different scenes, providing stunning picture quality. At the same time, optional image and video resolutions are supported, so that the image/video quality and storage space are well balanced.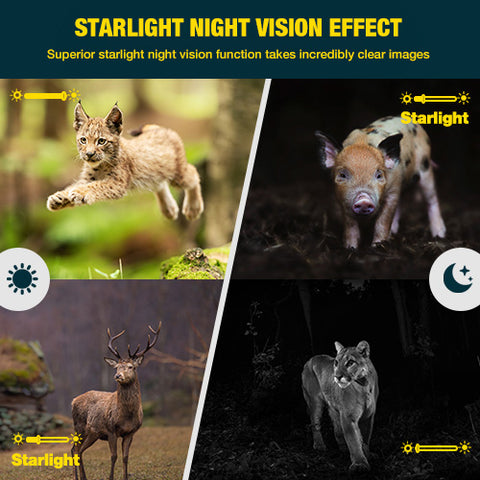 color night vision
Using the most advanced image sensor, high-quality starlight optical lens and next-generation imaging technology, it can capture colorful video and pictures in low light (with moon) night, and the video quality achieves stunning starlight night vision effect.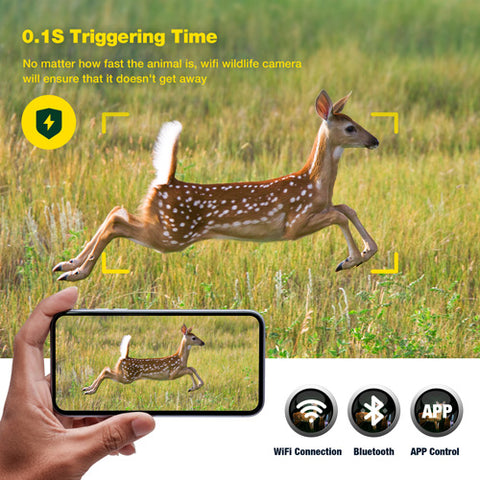 0.1s trigger speed and 120° wide-angle lens
Once the sensor detects any movement of the animal, the tracking camera will trigger immediately within 0.1 seconds. With a triggering distance of up to 65 feet (20 meters), every moment can be captured quickly and clearly.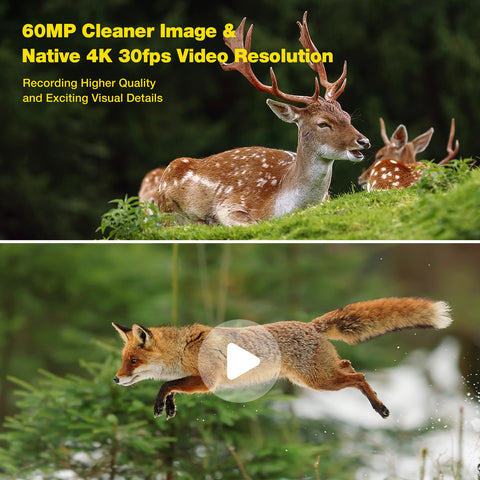 clear recording
This trail camera has a built-in 48dB high-sensitivity microphone, you can not only enjoy high-definition video, but also hear the sounds of wild animals and natural sounds. Enjoy the wonderful wild world.
WiFi and APP control
The camera is equipped with WiFi Bluetooth connection and APP control function. You can easily set to watch and download pictures and videos. Get pictures and videos without removing the camera from multiple installations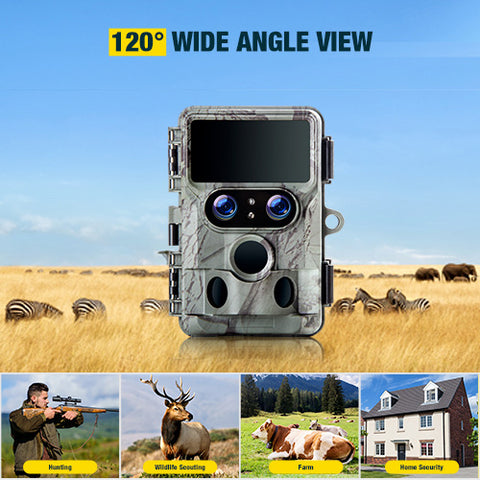 IP66 waterproof and durable
The sturdy housing protects it from rain and dust, making the hunting camera work well even in bad weather. Equipped with 8 AA 1.5V batteries, it can provide up to 8 months of runtime in standby. At the same time, it supports external solar panels.

Why choose our game cameras with night vision?
Astronomical level optical dual-lens trail cam
Amazing starlight night vision effect
Sony IMX458 image sensor, Novatek 96670 chip, and 6 layer premium glass wide-angle lens
60MP Clear Image and 4K 30 FPS Vivid Photo
WIFI Connection + APP Remote Control
0.1s Faster Trigger Speed
Warm Tips
1. Please format the memory card before using this wildlife camera.
2. Recommend using SD/SDHC U3 Card up to a capacity of 128GB.(user supplied)
3. Recommend using an 8*1.5V Alkaline AA LR6 battery in this game cameras with night vision. (user supplied)
4. This trail camera is NOT a webcam, APP control has range limits(15m).
5. To get the best night image, please eliminate obstacles in front of the camera as possible.
Specification
Dual lens: F=4.3; F/NO=2.0; Auto IR filter

Photo resolution:

60MP, 24M/20M, 16M, 12M, 8M, 5M, 3M

Video resolutions:

3840 x 2160P, 2688 x 1620P, 1920 x 1080P, 1280 x 720P, 720P x 480P

Screen: 2.4" color TFT LCD

Triggering time:0.1 second
IR flash: 850nm

Distance of Night Vision: 65FT

Triggering distance: up to 20 meters

IR Flash: 2pcs 850nm infrared LEDs

Memory card: SD card (U3 or

V30 

higher, up to

128

GB)
APP: IOS:"Game Camera Pro"; 

Android: "Game Camera pro2"

Waterproof: IP66
Package 
1*Wildlife Camera
1*USB cable 
1*Mounting Belt
1*Wall Mount
3*Screws
1*User Manual