About this Item
【Upgraded 4K Rea rview Mirror Car Recorder】: The front camera features a Sony Starvis IMX415 with 99.9% light transmission spherical glass lens to ensure HD recording in backlight and forward lighting. The rear view camera keeps colors soft and bright, making the front license plate clearly visible.
【Easier to use operating system and voice control】: 4k Car Recorder has basic voice commands, you speak, it listens and follows your commands. If you want to stop recording while answering a call, there's no need to touch the screen - just say the command. What's more, the rear view mirror car recorder supports on/off switch sound, button sound, and recording, providing you with an absolutely quiet driving environment so you can concentrate on driving.
【Play and set on your phone】: The wifi function of this rear view camera allows you to change settings and view recordings on your phone. You don't even need to remove the sd card. Saves tedious steps and time and facilitates important footage during insurance claims.
【GPS tracking of location and speed】: GPS data is integrated into the front and rear camera recordings. KM/H and MP/H speed units are suitable for most people's habits. You can view the current speed on the display while recording and the location while playing on your PC.
【2.5D 12-inch IPS full touch screen】: This rear view running camera has a much higher reflectivity, so you can easily deal with the high beam lighting of the vehicles behind you, completely away from the blinding headlights. In addition, this rear view camera driving recorder comes with an anti-glare film to reduce glare, and it helps you see more clearly what the rear view camera is projecting in the sunlight.
【Auto Reverse Full Screen】: With a wide-angle 170° front camera and 150° rear camera, the Rear view Mirror Driving Recorder covers at least 3 lanes of traffic. When the backup light is connected, the onboard camera will switch to full screen rear camera when reversing. It will help you avoid blurring of both side mirrors due to rain and fog. The rear camera supports mirror flip, so you can set the direction according to your reading and parking habits.

【APP】To use the wififunction pease install the APP aopication on the smartohone device. You can download and install the aop from Google Play or APP store by searching the"Roadcam" APP for the Android system and 0S system.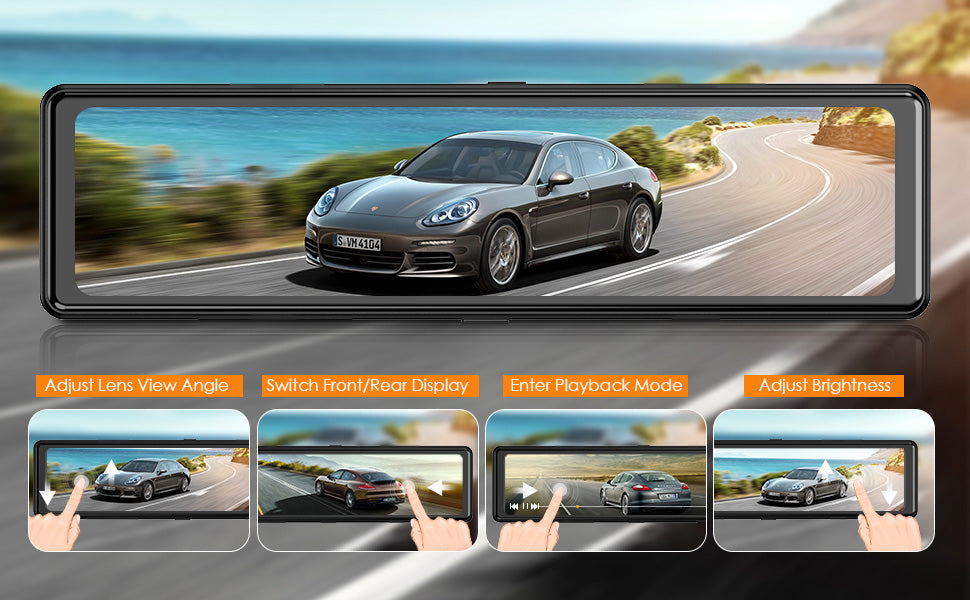 Why choose Campark 4K rear view mirror car recorder?
Sony starvis brand sensors last longer and are guaranteed to work in winter and summer
Anti-glare film on the mirror display helps reduce glare in the sun
170° wide angle covers at least 3 lanes to avoid blind spots and help parking
Mirror flip to fit everyone's reading and parking habits
Anti-interference to ensure your intercom works properly
Strap-on installation will not damage the original mirror, easy to remove at any time
WIFI and GPS provide you with important videos if needed for insurance claims
Voice control frees your hands to speak commands while you're busy driving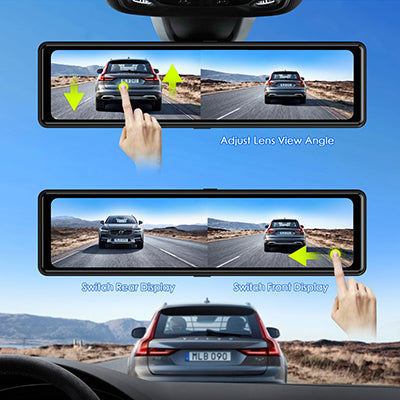 SPECIFICATIONS
Lens: 170° and 150° Wide Angle
Screen: 12" IPS Touchscreen
Aperture: F1.8
Battery: 500mAh Built-in Li-ion
Power Interface: 5V/3A
Working temperature: -4℉-140℉
Storage: U3 or above Micro SD Card, up to 128GB( NOT INCLUDED)
G-sensor: Off/Low/Middle/High
Parking Monitor: On/Off
Loop Recording: 1/3/5 mins
Auto Power off: Off/1/3/5 mins
interface: AV 

interface

APP: 

"Roadcam"
WHAT'S IN THE BOX?
1* 4K mirror camera,
1* Waterproof rear camera,
1* GPS cable,
1* Car charger,
1* Easy pry tool,
4* Cable clamps,
4* Rubber straps,
1* User Manual,
1* WIFI User Guide