About this item
【PTZ Camera + Bullet Camera System】 The security camera system comes with 2pcs 3MP PTZ cameras(Pan Tilt Zoom)and 2pcs 3MP bullet cameras. The ptz camera with 5×Optical Zoom, Vertical 90°, and horizontal rotation 350°, and can be remotely rotated up, down, left, and right thru your phone App, the combo CCTV system protecting your property without blind spots.(NOTE: Bullet Cameras not support rotation)
【5 X Digital Zoom & Night Vision】 The 2pcs ptz camera can be turned up, down, left, and right remotely by a mobile phone. 3MP 2304 x 1296P resolution camera and 5 X Digital Zoom provides super HD picture, you can see more clearly. Equipped with 4 white LEDs, the ptz camera shows a clear color picture even in complete darkness and extends your night vision distance to 65 feet. The bullet camera also with night vision(not full-color).
【Motion Detection & Two-Way Audio】 When the wifi security camera detects motion, it will send an alert to your phone within 2 seconds. The PIR motion detection function can enhance human recognition ability to reduce false alarms. This ptz camera built-in noise reduction microphone and speakers provide two-way high-fidelity conversation all the time, you can speak to those near the camera anytime, anywhere via the ''Eseecloud / CloudEye'' APP.
【Expandable 8CH NVR Camera System】The wifi outdoor camera system support connect 8 cameras to the nvr at the same time. It also supports 2.4 GHz WiFi networks and wired LAN connection. Operating temperature ranges from -20 ° C to 50 ° C, perfect for villa, home, office, shop, warehouse, smart community, or anywhere else. The wired design gives you 24/7 recording, you can view a real-time monitor on the APP, leaving thieves nowhere to drill.
【The WiFi installation is more convenient】When using, please plug the network cable and power cable into the NVR display, while the surveillance camera needs to be connected to the power supply, and the NVR monitor and the camera are connected through WiFi. Note: The maximum distance between the camera and the host WiFi communication is 150 feet; the distance between the camera and the camera WiFi can be linked to effectively expand the monitoring range. Wall thickness also affects WIFI signal strength. 
【Video capture resolution】: 3MP
【Mounting type】: Wall Mount
Why choose Campark W310 security camera?
3MP HD camera for clear, high resolution images. Twice the size of 1080P.
Outdoor security camera system  supports 24 hours 30 days or more of reliable recording.
Package with 2 PTZ cameras and 2 bullet cameras to cover every corner of your home
Home security camera system supports AI body and motion detection technology and real-time alerts.
Security camera with passive infrared motion detection and full-color night vision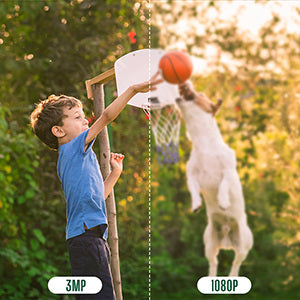 1280P 3MP Bullet Camera* 2 + 1280P 3MP Head Camera* 2
Compared to 1080P HD image quality, 3MP camera pixel image quality is sharper and has better details. The head camera can be rotated 350° left and right, and 90° up and down, which can be controlled by users.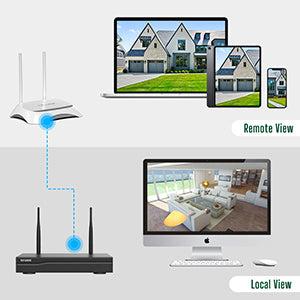 Multi-device connectivity
This product does not provide a dedicated monitor, but you can view it remotely from your PC, cell phone, tablet or monitor anytime and anywhere. If you have any need for a monitor, there are links to related products below for you to choose from!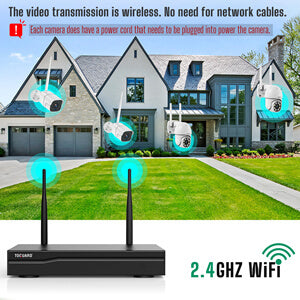 Easy to use via WiFi connection
We use the latest technology, the camera and NVR can be directly connected through WIFI, so you can say goodbye to the tedious wiring process. But it should be noted that the camera needs to be powered by the power supply!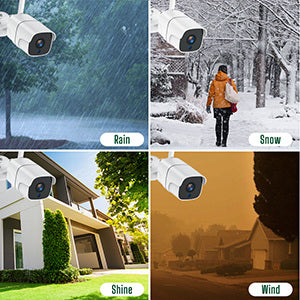 Multiple Applicable Scenarios
The outdoor security camera meets IP66 waterproof standard and can withstand working temperature from -4°F to 122°F (-20°C to 50°C). The number of cameras is flexible, so you can use different types of cameras in different locations as needed to protect your property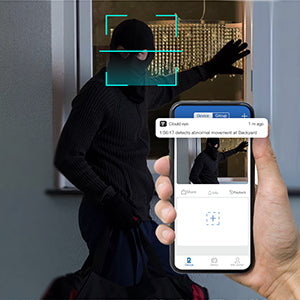 Intelligent Motion Alert
This product can automatically identify the movement of people, and you can customize sensitive areas to improve the detection sensitivity of key areas. When someone walks to a sensitive location, the system will automatically notify you in time through cell phone APP, SMS, etc. So that you can take preventive measures in time!

Tips
These 3.0MP cameras have bi-directional audio capability.
Please read the Quick Start Guide and test the camera's wifi signal before installation.
With or without Internet. The standalone camera system does not require Internet to operate. However, if you want to view the camera on your smartphone, tablet or computer to access functions such as remote monitoring, an Internet connection is required.
A system in this case means that the cameras are automatically paired with the NVR via the built-in wifi and no video cable is required between them. Each camera has a power supply, including a 10-foot power cord.
The system needs to use with a 1TB surveillance hard drive (

not included)

, and the four 3-MP cameras record continuously for about 30 days, with motion detection mode for longer recording time. When the hard drive is full, it will automatically overwrite. (In order for the hard drive to work properly, make sure the monitor is connected to a 12V/3A power supply)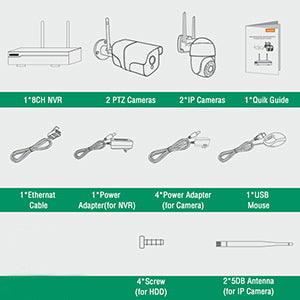 Specification
Image sensor: 1 / 2.7 inch 3 MP CMOS
Resolution: 1296P, 2304*1296
Lens: 3.6mm, 3 MP lens
Night version: 65 feet
Power supply: 12V/3A Remote device:
Mobile phone (iPhone/Android), Windows/MAC
Packing list
1 * 8CH network recorder
2 * 3MP PTZ camera,
2 * 3MP IP camera
4 * 12V / 1A Camera Power Adapter
1 * 12V / 3A NVR Power Adapter
1 * USB mouse / HDMI cable

1 * User Manual