Today we take a look at the Campark V40 best action camera under 200. A dual screen, waterproof,native 4k,with no case (up to 5 meters) budget action camera. Is it worth the cheaper price?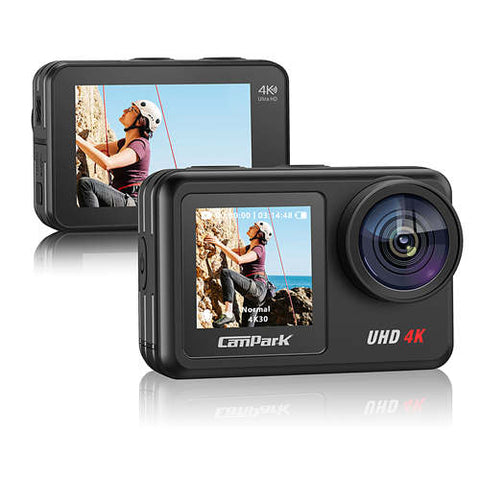 Overview:
It records in native 4k up to 30 frames per second has a front facing screen which is pretty awesome and is waterproof without a case.
Up to 5 meters or roughly 15 feet the camera itself feels well made and doesn't feel cheap.
It has a nice rubberized plastic and feels solid when it comes to build quality the top of the camera has a shutter button and a mode button the right side has a power and a wifi button.
V40 does have a quarter twenty screw on the bottom which is nice to attach the camera without needing an additional housing or case the back is a touch screen and feels pretty responsive.
It's bright and of nice quality but can be a little difficult seeing in direct sunlight .
The battery is 350 milliamp per hour and no dual charger ,you 'll have to make sure that you charge them from withtin side the camera ,will give two batteries so that's a nice touch press and hold the power button to turn it on press and hold the mode button to charge from the back screen to the front screen and vice versa.
Camera settings and how to use
This camera offers tap normal with the bottom to see the different recording modes,can tap the gear to get into the video settings.
Underwater camera dive up to 40M:  the waterproof camera can dive up to 10 meter without case
Voice record: you can enable or disable audio recording 
EV: you can change EV values if you would like

EIS: electronic image stabilization can be toggled on or off
Loop record: loop recording can be set or turned off
Time lapse interral: time lapse intervals can be changed and fast mode internal settings can be set
Compare with Campark V30:
The picture quality of V40 is more clearer, especially in dynamic scenes and has better neutral colour tone.But the colour is more saturated on the V30.Campark action camera's fans always like to compare these two models, if you have experienced both of these two models, please leave your comments.
Compare with AKASO Brave 7 LE:
These two models are people often care about.Compare with the Akaso Brave 7 LE.  One major strong point of the Campark is that the audio is 10x better than the Akaso, while the Akaso has a bit of a wider FOV than the V40, some people in Youtube review the EIS is slightly better in the V40 over the 7LE. Which  in image quality,  there are more resolution/frame rate choices on the Akaso.
You can also compare with Gopro HERO 6, the most same parameter, the price of Campark is less than 30%.
Campark Main Specifications(139.99USD):
4K30FPS Video/ 20MP Photo/ Advanced Electronic Image Stabilization/   H.265/ Auto Low Light/underwater camera dive up to 40M/Loop Recording/ Driving Mode/ Voice Record/helmet accessories compatible with gopro
Gopro Main 

Specifications(189.99USD):
4K / 1080p Resolution / advanced video stabilization /
2.4 GHz / use good in low-light conditions/
waterproof to 33ft (10m) / the 2-inch display / connected to the GoPro app / GPS
Conclusion:
The Campark V40 dual screens are great and work very well. The menu is fairly easy to navigate. If you are looking for a budget action camera that films in native 4k has a front-facting screen and has a ton of accessories this is not bad at all for the price and should be considered.