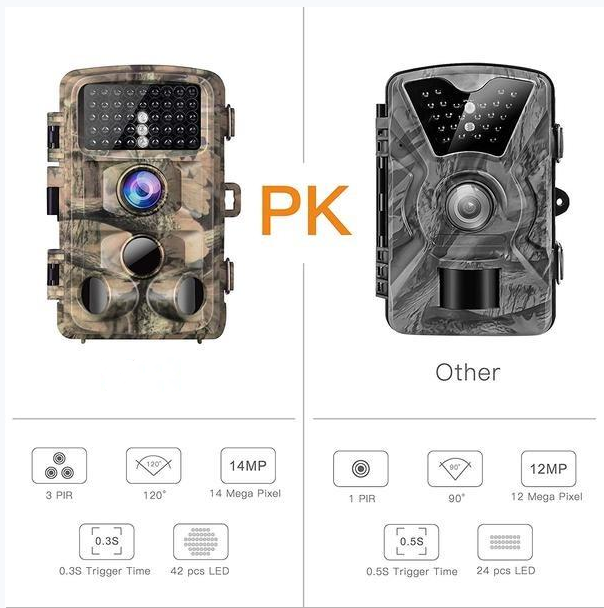 The pixels in this T45A camera is 4608 X 3456P. Compared with T45, the lens is changed, and the highest photo resolution is upgraded to 16MP. Video resolution is up to 1080P (1920 X 1080P),which can enjoy clear and high-quality pictures and videos.The video length is from 3s to 10min.
The 42 pcs 850nm low glow infrared LEDs of this camera lets you record animal world at night.The function of three continuous shooting allows you not to miss every wonderful moment.Hunting lovers should not miss this camera.
Waterproof level is IP56  with 120° detecting range,it can use for —20℃ ~ 60℃ environment.It will record any animal movements you want with wide angle lens even in rainy days.
It includes but is not limited to the above functions, which can make it suitable for field observation of animals. Home security,  if there are often small animals in your home nearby. Guard your farmland、courtyard from outside invasions during your rest moments.
Specifications:
Photo Resolution: 16MP(4608 X 3456P)
Video Resolution: 1080P(1920 X 1080P)
Photo format: JPEG    Video format:AVI
PIR interval: 5S-60min
Screen size: 2.3 inches TFT LCD
Memory card type:Micro SD card
USB interface type:Mini USB

PROS:
Inexpensive and fully functional
Good quality and long service life

CONS:
Without wifi function,  not convenient to adjust the camera position
Mini SD card is flush mounted and quite difficult to install and remove
Questions & Answers
Question:
Does it have a screen to view picture taken on the unit itself?
Answer:
No. It has a screen inside the camera so you can view what the camera sees while recording, however, once it records you need to have another device to view picture taken.
Question:
What's difference between 3 PIR and 1 PIR?
Answer:
With 3 PIR, the trigger time is shorter ,only 0.3Swhich will take photos and videos faster than the camera which just has 1 PIR.
Question:
How do play the video on my phone in real time?
Answer:
Use SD card reader,plug and play, it can let you watch photo and videos in real time. And 4 in 1 design supports multiple cards and devices.