Navigation
Hunting cameras have always been liked by everyone, but many people don't know much about the knowledge of trail camera 2021. This article will introduce trail cameras with wifi in detail from the following 4 aspects.
7 Factors That Affect Trail Camera's Longevity
1. Lithium battery
When setting up tracking cameras, we always use lithium batteries to ensure that we get the longest possible battery life from each camera location. We hope to collect 15-20,000 photos on a set of batteries. These photos were collected over a period of 7 to 8 months, and we cannot afford to lose tracking cameras during that season, otherwise it will not provide any information that applies to our hunting strategy.
2. Photo quality
The larger the image file, the greater the processing power required to manage the file. How good does the picture really need to be to get the information you need? Do you plan to enlarge your tracking camera photos to poster size to hang above your mantle? Larger files, more processing and drawing, shorter battery life .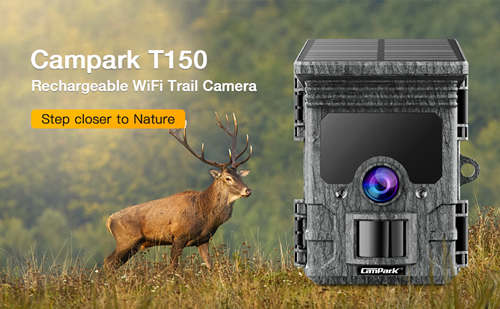 3. Weather
Extremely cold temperatures are very detrimental to battery life, so if you plan to leave the camera outside all winter and you live in a cold climate, you need to be aware of the extra pressure on the power supply.
4. Signal quality
Signal quality can be an important factor in battery life. The longer it takes for the camera to search for available signals, or the weaker the signal, the longer it takes for the camera to transmit photos. The faster the camera can find a reliable signal, the faster the photo can be transferred, and the less pressure on the battery.
5. Number of transfers performed
The number of transfers you make is also a major factor affecting battery life.
6. Placement technology
One of the most important things to consider when setting up a camera trap is to choose the location for the best results. Camera traps near mineral licks or along play trails can usually be seen, and animals are more likely to visit these places frequently. We don't always place the camera in direct sunlight, just put it in an indoor cabinet.
7. Personal use method
Everyone knows that the same product is used for different times in the hands of different people. When using the camera, we must learn to take care of it in order to increase its lifespan! For example: we can not use it on rainy days, or prevent it from being exposed to the sun for a long time.
Hunting camera buying guide
Best trail camera 2023 is a special kind of camera, so it will be very different from ordinary camera. It does not have the gorgeous appearance and exquisite size of ordinary cameras. It pays more attention to application. Its definition requires it to have higher reliability than ordinary cameras. Let me summarize the points that everyone pays the most attention to as the criteria for choosing a camera:
1. The image quality of the camera is usable and clear. (It may not be comparable to the image quality of ordinary Japanese cameras, but it has made great progress in the past)
2. The shooting speed when the camera is turned on. The starting time of taking pictures around 1S is the hot spot in the market now. (Because the animal may disappear from your camera's perspective when it is too slow to start taking pictures.)
Recommended video for you
3. The sensing distance of the camera's pir is generally 20m away. (If you can only shoot a few meters, then the camera's shooting range is too small)
4. The standby time of the camera. (For cameras used in the field, you cannot change the battery every day, so you have to work longer)
5. The stability of the camera. (This is the information that the market can slowly feed back to everyone to get)
6. Brightness of photos at night. (Determined by the effect of infrared LED)
7. The waterproof performance of the camera.
8. Whether there is LCD on the camera. (This is what you will find when you use it for a long time. You can't use PC to view photos every day, so LCD is very important)
Recommended 5 best hunting cameras
Campark TC08 Solar Trail Camera with WiFi
Campark TC01 5000mAh Rechargeable Large Capacity Battery WiFi Trail Camera
Campark TC07 WiFi Solar Power Dual Lens Wildlife Camera Trail Camera
Campark TC17 4G Cellular Solar PTZ Trail Camera
Campark TC18 4G Solar Powered Wireless Live View PTZ Trail Game
Campark TC08 Solar Trail Camera with WiFi
Features
4K UHD Video and 46 Megapixel Image
All trail cameras are in constant pursuit for a better quality image/video, thanks to the most advanced 4K UHD video resolution and 46MP picture resolution our engineers adopted which enables you to monitor wildlife alike watching them in a 4K resolution TV.
Trail Camera Super Night Vision
The TC08 trail camera is equipped with 36pcs 850nm night vision lights with a maximum distance of 65FT(20m). It detects nocturnal animals at night when passing by, capturing wildlife images in high-resolution clarity, much like spotting them with a low-powered beaming torch.
WiFi Bluetooth Connection & APP Control
The TC08 is in the WiFi Bluetooth connection and APP control function. Needless to remove the camera from where you installed it to get the pictures and videos captured. Instead, you can do it remotely at the most convenient.
Super-Durable and High Capacity Solar Panel
The solar panel has a battery capacity of 4400mAh and can work in an environment of 0°C~60°C. Its small size offers great convenience for installing up. We advise mounting it up under a sunny spot for extended use.
Campark TC01 5000mAh Rechargeable Large Capacity Battery WiFi Trail Camera
Features
4K 42MP Clear and Vivid Photo
Compared with other trail camera features, this TC01 trail camera has a great innovation to provide better pictures for every trail camera lover. 42MP gives you more wonderful and sharper images. Enjoy the crystal and ultra HD pictures now!
WiFi Connection and App Control
This trail camera adopts wifi design, you can connect wifi through bluetooth to view pictures and videos without taking down the trail camera from trees. Upgraded app and wifi makes it more quickly to download and save pictures & videos to your phone album. Easy Access to the pictures and videos!
4K Lite High Resolution Video
This TC01 Campark trail camera can record up to 4K Lite(3840*2160P Lite) videos with audio. You will record sharper videos and enjoy nature's richness. The trail camera will be great to share nature with people who have the same hobby.
Campark TC07 WiFi Solar Power Dual Lens Wildlife Camera Trail Camera
Features
Support 10 Continuous Shooting
The rechargeable solar panel trail camera supports up to 10 continuous shooting, and you will get more pictures. Photo number from 1~10 is available.
Support to be Powered by AA Batteries
The rechargeable solar panel trail camera can be powered by lithium battery and solar panel. The lithium battery may not work well in low temperature. You can also put AA batteries to charge for the the trail camera. (AA battery is not included)
Rechargeable and Solar Panel Equipped
The special thing about the TC07 is that you can charge the
best wireless trail camera 2023
when it is out of power. In addition, the trail camera has a solar panel, which allows it to be used without batteries.
WiFi Bluetooth Connection & APP Control
The TC07 rechargeable solar panel trail camera is equipped with WiFi Bluetooth connection and APP control function. You can get the pictures and videos in the camera more conveniently. There is no need to take down the camera from the place where you installed it multiple times to get pictures and videos.
Campark TC17 4G Cellular Solar PTZ Trail Camera
Features
Home Security
The trail camera is also as a home security monitor, which would be a multi-functional device.
Hunting
TC17 trail camera is a helpful assistant to track animals for the hunter.
Advanced Clear Night Vision
This trail camera has 36pc 850nm infrared LEDs range 65FT(20m), clearly shows you the night behavior of animals. It helps you easily capture every wonderful moment and image at night, providing you a good visual experience.
Innovative Cellular Transmission
When this camera detects motion, it generates pictures and videos. After about a minute you will receive photos and videos from the camera. Whether you are at home or at work, you can receive pictures and videos of animals taken by the tracking camera anytime and anywhere. It saves you a lot of time and effort retrieving your SD card and helps you can focus on what's important.
Campark TC18 4G Solar Powered Wireless Live View PTZ Trail Game
Features
3 Vision Modes
Infrared Night Vision Mode: This mode helps to capture black and white video and it will not scare away wildlife.
White Light Mode: This mode has white light at night, which captures color night vision video and it may scare away wildlife. This mode can be used for farm surveillance.
Day Vision: This mode captures full-color video.
Ideal for Wild Areas
Equipped with a solar panel and a built-in 8000mAh battery in the trail camera, it can work even 365 days after being fully charged. The trail camera is connected to the Internet of 4G cellular network so that you could remotely view and download videos.
Remote Access and Flexible Storage
This trail camera is a 4G cellular trail camera. Insert a micro sd card (not included) and the provided SIM card, you could view and download the videos on the free app remotely no matter where you are.
People also ask these questions
How long should a trail camera last?
The average life of a trail camera battery is approximately 30,000 photos. However, there are many variables that can affect a batteries life span, such as ratio of night to day photos, video modes, inclement weather and the batteries that you are using.
Why do trail cameras stop working?
In trail cameras, the battery is one of the first things that wear out. ... If the batteries are doing great, you need to check the SD card. A corrupted SD card can cause the trail camera to shut down. Try to format or install a new SD card in your device and see if it turns on.
Why is my trail camera not taking videos?
The cause of this may be a firmware issue or bad sectors on the SD card. Reformatting the card and a fresh install of the latest camera firmware will usually solve this problem. If you're using an Apple computer and having problems playing back video files, it may be down to the file format.
Can trail cameras be repaired?
Your trail camera will probably be one of the most expensive outdoor gadgets that you can own, which is why it can be frustrating when it doesn't work as well as it should. But there's no need to panic though because there are trail camera repairs which you can do on your own and won't cost you a penny to do.
The above is the sharing of 4 aspects of hunting camera knowledge, I hope it can be helpful to you.
Read More