No matter how you use them, there is no denying the benefits of tracking cameras for hunting. The best tracking camera is very suitable for wildlife photographers and nature observers. This article will introduce hunting cameras in detail from the following four aspects.
The 8 best trail cameras in 2021 for animals and nature
People also ask these questions
The 8 best trail cameras in 2021 for animals and nature
Campark T85 WiFi Bluetooth 20MP 1296P Trail Hunting Camera
Features
Waterproof IP66
It will work well even in dust weather or heavy rain, and you can use the threaded tripod and mounting strap when installing it in the wild.
940nm No-Glow Infrared Night Vision
940nm no-glow Infrared technology clearly shows the night behavior of animals without disturbing them.
1296P HD Video Record
The game camera supports a 1296P high-resolution video record, it will help you to remember the real wildlife world with our trail when you are away.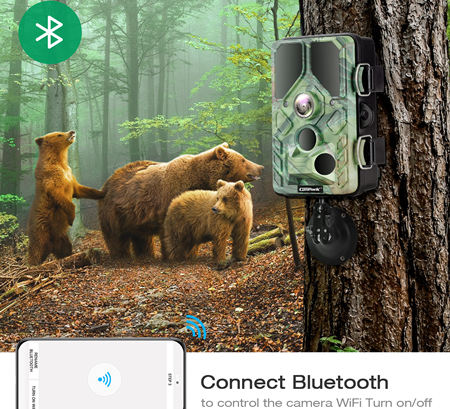 20MP Ultra-high Resolution Photo
Featuring 20MP picture resolution, the T85 trail camera helps you capture vivid characteristics of wildlife and show the most primitive pictures
Convenient WiFi + APP Control
This trail camera built-in WIFI and APP control function. Download the APP "Trail Camera Pro" on your mobile phone and then connect with WIFI. You can adjust the setting; View/download the photo/video on the phone directly.
Price
$99.99
Campark T80 Trail Camera-WiFi 20MP 1296P Hunting Game Camera
Features
Home Security
The game camera is also as a home security monitor, which would be a multi-functional device.
Farm Monitoring
Help you monitor your farm, preventing strangers or animals.
Hunting
T80 hunting camera is a very helpful assistant to track animals for hunter.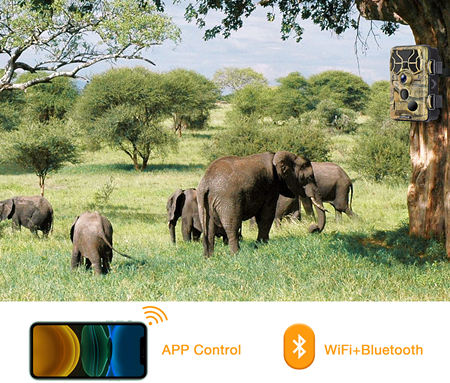 Advanced Night Vision
This trail camera have 36pc 850nm infrared LEDs range 65FT(20m), clearly shows you the night behaviour of animals, help you easily capture every wonderful moment and image in night.
WIFI Connection and APP Control
Campark T80 Trail camera built-in WIFI and APP control function. Download the APP"Trail Camera Pro" in your mobile phone and then connect with WIFI. You can adjust setting and check the photo /video on the phone directly. This trail camera is not a webcam, remote control has range limits
Price
$99.99
Campark BC179 Trail Camera Solar Panel 3000mAh Solar Power Bank
Features
IP56 Waterproof+Sophisticated Circuit Protection
IP56 Waterproof protects the solar feeder light from raining, moist, dust, corrosion, etc.
3000mAh Sufficient Capacity +Save Money
3000mAh solar power bank is enough for your long-time use. It can absorb more sunlight to keep your hunting camera works well during days and nights. You don't need to waste time to change the batteries of your trail camera frequently.
Compatible With All Trail Cameras
Designed specifically for outdoor trail cameras, compatible with all DC 6V /2A Output popular trail camera. Just connect the panel to your hunting camera, then place it into outdoor.
Price
$65.99
Campark T100 4K 30MP WiFi Bluetooth Trail Game Camera
Features
✔️ 4K Native Video + 30MP Clearer Image.
✔️ WIFI Connection + APP Control.
✔️ Advanced Image Sensor, Super Low Light Sensitivity.
✔️ Advanced Night Vision + 65FT Triggering Distance.
✔️ IP66 Waterproof, Sturdy For Lasting Use.
Price
$119.99
Campark T20 Mini Trail Camera-16MP 1080P
Features
Easy to install+Not affected by rain
Camera can be easily tree mounted with its included mounting rope. The waterproof grade of this trail camera is IP56. It will not have any affect even rain drops on the surface of the camera.
Mini Trail Camera & 2" LCD Color Monitor
This trail camera is tinier than other similar camera. The trail camera has mini size 70*105*40mm. It's portable. You can install the trail camera in any place and would not be found easily. Smaller than regular hunting cams though, advanced function still. With a 2" LCD color monitor, which is used for previewing photos and videos, camera targeting and browsing the menu for easy operation. Stunning Wildlife Images can be captured.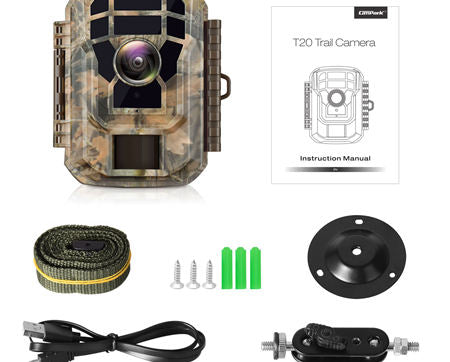 120°Wide Angle Lens & 65ft/20M Day and Night Vision Distance
120-degree wide angle lens of the game camera can offer huge shooting scope and infrared LEDs for night shots, sensitive and automatic infrared technology to 65 ft/20M capture pictures and record videos at Day/Night.
IP56 Waterproof
The trail camera has IP56 waterproof, this protective case can defend from rain and dust, so T20 game camera can operate in any type of weather.
65FT/20M Super Night Vision
The trail camera is equipped with 120°wide angle and 850nm infrared LEDs which can get more vivid animal movements in the bigger detecting range even in the rainy days and catch any moment even in complete darkness.
Campark T200 4K 30MP Solar panel Trail Camera with WiFi Bluetooth
Features
✔️ Equipped with Solar Power & NO Battery Required: The solar power trail camera can work alone without putting in a lithium battery, because it is equipped with solar panels. This makes the hunting camera work longer. If you use solar panels alone, you can save dozens of AA batteries a year. [Note: Please search for "Hunting 4K" on Google Play or scan the QR code to download the APP]
✔️ 30MP Image & 4K Native Video High resolution: Every time an action is detected, the wifi trail camera will take a 30MP clear image and 4K Native video (note: black and white at night), providing you with a better and more realistic wildlife world
✔️ APP Control & WiFi Bluetooth Connection: When you want to set the trail camera, you can set it directly through the mobile APP (Hunting 4K). The solar panel trail camera has wifi and bluetooth connection function, no need to take it off frequently, very convenient
✔️ 0.2S Trigger Speed & IP66 Waterproof: When the T200 solar panel trail camera detects movement, it will trigger in 0.2 seconds, allowing you to record every wonderful moment. The IP66 waterproof allows the camera to adapt to more bad weather, whether it is raining, snowing or sunny. It can maintain normal working condition
✔️ Wider View & Diversified Uses: 3 PIR Sensors and a viewing angle of 120°, which can easily capture a wider field of view. The 2.4-inch LCD display shows you the clearest image and video. You can use the trail camera for mutiple application, such as wildlife viewing,deer hunting, outdoor hunting, and even home security and farm monitoring
Price
$129.99
Campark T150 4K 30MP Solar Powered WiFi Bluetooth Trail Camera
Features
4K Video and 30MP Photo
Campark trail camera T150 features 4K resolution and 24 megapixels, capturing even more exciting moments. It brings you an excellent visual experience. The video is mp4 format, compatible with more players.
Rechargeable and Solar Panel Equipped
The special thing about the T150 is that you can charge the trail camera when it is out of power. In addition, the trail camera has a solar panel, which allows it to be used without batteries.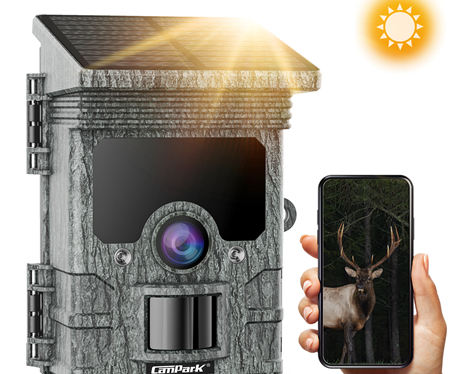 WiFi Bluetooth Connection & APP Control
The T150 rechargeable solar panel trail camera is equipped with WiFi Bluetooth connection and APP control function. You can get the pictures and videos in the camera more conveniently. There is no need to take down the camera from the place where you installed it multiple times to get pictures and videos.
Support to be Powered by AA Batteries
The rechargeable solar panel trail camera can be powered by lithium battery and solar panel. The lithium battery may not work well in low temperature. You can also put AA batteries to charge for the the trail camera. (AA battery is not included)
Price
$129.99
Campark T40-1 Trail Game Camera 16MP 1080P Waterproof Camera
Features
16MEGA 1080P VIDEO
16 Mega and 1080P Video ,an impressively fast trigger speed of less than 1 second ensure each detected movement in real time is captured quickly and accurately.
Super Infrared Night Vision
42 pcs low glow Infrared LEDs helps the night vision trail camera to get great shots of passing animals at night
High Trigger Speed & Long Trigger Distance
Amazing fast trigger speed only 0.5 second allows to catch every wonderful and exciting wildlife animal world's moments in real time, this hunting camera guarantee to never miss any shot of animals even 22 meters away
Price
$69.99
Finding the right tracking camera
The first step is to find the right camera for yourself. The market for driving recorders is huge, and some amazing products can be found at amazing prices.
Fortunately, this is not always the case. The campark hunting camera is very user-friendly and can take beautiful photos without breaking the bank. Take the time to shop around and find a camera that perfectly suits your specific needs.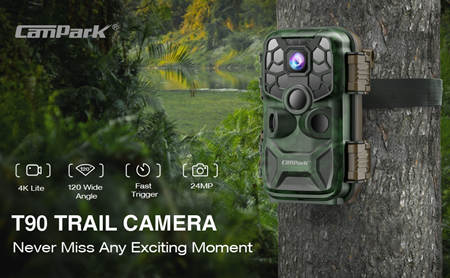 Strength
Power and juice your camera. If your camera has been in the box for a while or is brand new, you need to check it and replenish the battery.
Turn it on at home and adjust all settings as needed. This includes your shooting mode, sensor sensitivity, and time and date.
Checking SD card
Triple check your SD card. The SD card is the pirate's treasure chest, bank vault and the key to hunting. All your hard work will be saved to your SD card. If-God bless-you forget to put it in or the format is incorrect, you will lose all the images.
Interviewing before going out
Tie your tracking camera to the kitchen stool and walk around in front of it in different settings. It is useful to understand how the camera reacts to different movements, light, heights, etc.
Placing your tracking camera
Maybe you placed the tracking camera on the 100 acres of land where you lived, or you are trying it out on a brand new piece of land that you haven't seen until today. Either way, collecting information about the land before placing it is key.
Setting up early
Place your camera early in the season. Realize that you may need some time to adjust to the learning curve, just like all of us. Use the earlier days to hone your camera craftsmanship and gain more experience. As you approach the hunting date, expect better results.
Direction
A camera facing the sun may activate the thermal sensor and capture a lot of photos of the sun, nothing more. Try to place your camera facing north or south so you can miss the sunrise and sunset activities.
High
Ideally, you place the camera at the same height as the chest of the target animal. For large animals like deer and elk, this is often about 3 feet or around your waistline.
Remember to check the angle of the land in front of the camera. If it drops or rises sharply, adjust your camera angle to match the slope to avoid capturing the tip of antlers or hooves.
Safety
Lock your camera with a steel cable and tie it to a tree. This should prevent any unfriendly people from snatching your gear, preventing your camera from scratching and hitting it on the ground or simply changing the angle.
After you have prepared, placed and ensured the function of the camera, all you need to do is go home and wait. Check your camera as much as possible, hope you will find the target soon.
How to buy a trail camera?
Trigger Speed
Movement triggers a trail camera's shutter. ...
Resolution
As with cameras in general, the higher the resolution, the higher the potential for a sharp picture or video. ...
Flash
Nighttime photography requires artificial light. ...
Memory Cards vs. Cellular Plans. ...
Power Supply.
People also ask these questions
Do trail cameras light up at night?
These cameras flash a white light when triggered at night. It's the same effect as setting off a DSLR camera flash in the dark. The flash illuminates the image, but it will also scare game most of the time.
How can I hide my trail camera for home security?
Hide the camera inside the bushes or a tall tree which is invisible from the eyes, but its lens should be toward your house. Many trail cams come with a camouflaged exterior which makes it easier to hide them inside bushes or trees.
Are trail cameras good for home security?
Many people don't know that game cameras ( aka trail cameras) can be used for your home security needs. However, they can be a great choice in some instances. In fact, the same aspects that make a trail camera great for photographing wildlife and scouting deer also make it great for home security.
What should I look for when buying a wildlife camera?
Image Quality. The resolution or quality of the picture seen on the camera is measured in mega pixels. ...
Trigger Time. ...
Battery and Power Options. ...
Detection Circuit. ...
Memory. ...
Flash vs. ...
Video or Picture. ...
Security Boxed and Anti-Theft Cables.
There is so much knowledge about hunting cameras, I hope it will be helpful to you.