About this item
【HDMI output supports a variety of monitoring methods】The best thing about this security camera is that not only can you view videos and pictures outside your phone, but it also supports an HDMI output display. Equipped with an HDMI cable and a wired mouse, the camera can be directly connected to the monitor, and you can view the video shot by the camera in real-time on the monitor. HDMI is uncompressed and allows viewing of 4MP HD native visuals. The display interface supports up to 4 split-screen previews and playback. In addition, it can also support real-time detection and viewing on a tablet, PC, or cell phone if a monitor is not available.
【4MP & 120° Wide Angle】The solar powered security camera captures 4MP sharp images within 120°wide view. When the light gets weaker, IR lights automatically sense ambient light and switch to night vision mode. It provides the highest quality in pictures and videos regardless of the time.
【100% WIRE-FREE & Solar Powered】Wifi connection, 100% wireless. No need to connect any wires and network cables for the camera, get rid of all kinds of wire troubles.  you can put the camera anywhere you want, and monitor it anytime you place it. 100% wire-free. Equipped with a 2W solar panel and built-in 6700 rechargeable battery to provide an uninterrupted power supply for this home security system, no need to worry about running out of battery or taking off the cameras frequently. Note: The longest distance between the camera and host communication is 150 feet; camera and camera wifi distance can be linked to effectively expand the monitoring range.
【Base Station& Scan to Connect】 The security cameras have been matched with the base station at the factory. You only need to download the App (Android: "EseeCloud", IOS: "CloudEye") and scan the QR code on the base station. Then you can watch the videos on your phone. It supports Max.128G Micro SD card (NOT INCLUDED) to store pictures and videos. With the base station, you can achieve strong and stable signal transmission and never worry about signal loss.
【Smart PIR Motion Detect & Two-Way Audio】 The solar security camera for the home is equipped with a smart PIR motion detection system, only reacts to mammals or anything above temperature 86 ° F(30° C), and sends your phone video recordings automatically. The outdoor security cameras have a built-in noise reduction microphone and speaker, which provides two-way high-fidelity conversations all the time.
【Local or Remote Access, Playback Anywhere】 View and control your security system remote devices locally by connecting the system to a monitor without the internet, or through a tablet, PC, or through a smartphone APP (Android: "EseeCloud", IOS: "CloudEye") on your mobile device. You can also play back important evidence or interesting video recordings by searching for different dates, hours, or minutes.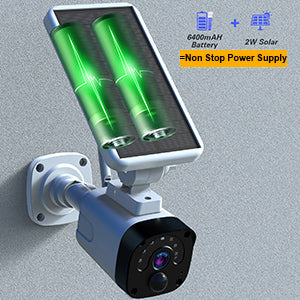 Solar Powered Battery Camera
The camera has a built-in 6400 large rechargeable battery and is equipped with a 2W high-efficiency solar panel. Just need to charge the camera once before use, after which install the solar cameras in a highly sunny place, ensuring that the solar panel can receive maximum sunlight and provide uninterrupted power to the camera.
100% Wire-free
The base station can be used as an NVR. When you insert an SD card into it, the events or videos will be recorded into the SD card. Connect the base station to your display device via HDMI, you can watch the videos on your display device to achieve high-definition visual effects. You even don't need a WiFi or network to use this system!
4MP Video Resolution
With 4MP HD resolution, the outdoor solar camera provides you with all the details of the surveillance area to help you protect and monitor your property. The monitoring screen on the APP can be zoom-in up to 5 times so that it is easy to check every detail in the coverage area without missing any suspicious points.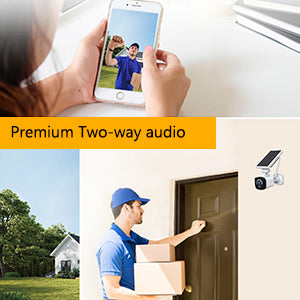 Two-Way Audio
The campark outdoor camera built-in microphone and speaker. Click the "microphone" in the APP to achieve clear 2-way audio communication. With this feature, you can not only talk to family, and friends but also scare off intruders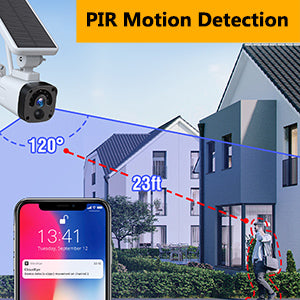 PIR Motion Detection & Instant Alert
The upgraded solar-powered camera is equipped with a PIR detection sensor, which reduces false alarms caused by insects and fallen leaves by 95% and accurately captures human movement. Once the camera detects suspicious motion, it will immediately instant push pictures/videos to your phone.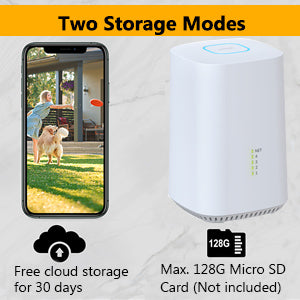 SD Card / Encrypted Cloud Storage
Insert an SD card (max. 128G, NOT INCLUDED), you can playback and download stored pictures and videos on your phone. You can also choose a fully encrypted cloud storage service, and never worry about personal privacy leaks after the camera is lost.
Stunning Night Vision
With built-in 2 infrared LED lights, the solar camera automatically switches to black-and-white night vision images when it detects that the light is dim. The camera has a 120° monitoring angle and a night vision range of 32ft, which can record any abnormal events even in the dark without lights.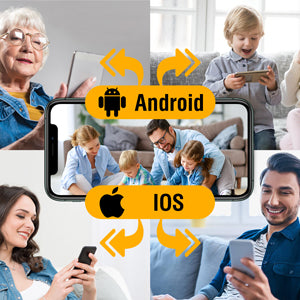 Multiple User Sharing
Sometimes you may ignore the prompt information of the alarm. You can share the access rights of the camera with your family and friends through the APP, and multiple users can get real-time viewing at the same time to protect your safety and property together.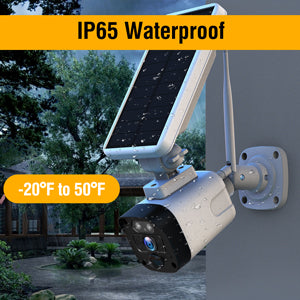 IP65 Waterproof
The Cover is made of premium ABS material, rating waterproof IP65, waterproof, dustproof, anti-high temperature, and frostproof, and its quality is enough to withstand the test of various bad weather. It can withstand temperatures from -4°F to 122°F(-20℃ to +50℃). Don't worry about its stability and durability.
Warm Tips
Please charge the camera for 5 hours before the first use
Download the APP

(

Android: "EseeCloud", IOS: "CloudEye")

and scan the QR code on the base station to add the solar camera system to the APP
Support storage in MicroSD card and 30 days free cloud storage service
The solar outdoor camera is only triggered when motion is detected and doesn't support 24/7 continuous recording
Micro SD card is NOT included
The camera and base station only need to be connected through wifi, no network cables and wires are needed. But the base station needs to be plugged in with network cables and wires in order to use it.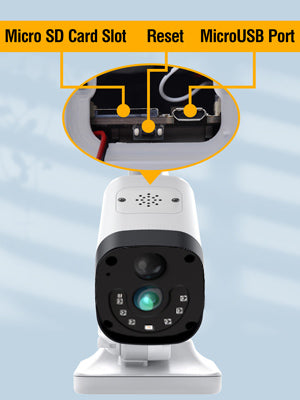 Specification
Video Resolution: 4MP,Live View
lmage Sensor: 1/3.2" CMOS Image Sensor
Field of View: 4mm fixed lens
Motion Detection: 120°and detection range of 23ft
IR Distance: 33ft
Digital Zoom: 5x digital Zoom
Operating temperature: -20 ℃ to 50℃(-4℉ to 122°F)
APP: CloudEye
Battery Capacity: 6400
Charging :5V/1A
Solar Panel: 2W
Audio Alert: Siren
Package
Solar Security Camera
1 x Wifi base station
1 x Manual
1 x Antenna
1 x Screw Pack
1 x USB cable
1 x Network cable